Vietnamese food is among the best in Asia, and some would argue even the best in the world. Here is our pick of the best Vietnamese food in Saigon that you must try!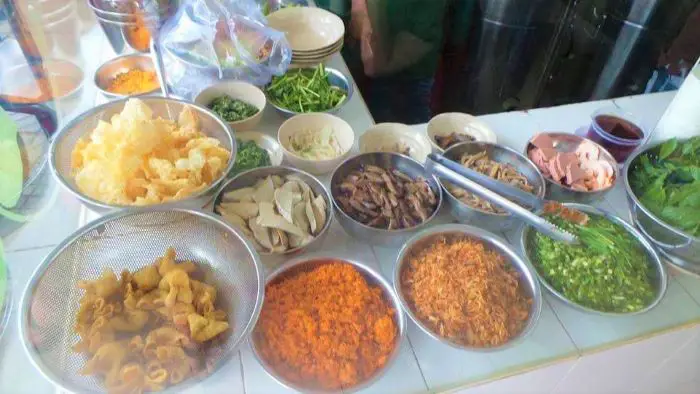 Disclosure: Wander Vietnam contains affiliate links. If you click on these links and make a purchase, we will earn a small commission at no extra cost to you. You can find our full disclosure policy and privacy policy here.
Finding the best Vietnamese food in Saigon
We have been all over Asia, from backpacking Thailand to backpacking China, and without a doubt, Vietnamese food is by far the best. Filled with tons of variety and flavours, it's not difficult to find a dish to make your taste buds pop and leave you wanting more. No matter if you have 3 days in Ho Chi Minh City, or 2 weeks, make sure to tuck into some of the best food you will ever have.
Over the course of our two years in Saigon, we didn't cook a single meal (unless you count cereal)! We did this not out of laziness (ok, maybe some laziness), but because the best Vietnamese food in Saigon was being cooked on our own doorstep.
Most local restaurants and eateries in Vietnam specialize in just one particular dish, sometimes with a few different variants. We found this a better eating experience, having trust in the chef to deliver us a tasty meal; considering it's the only food they have on the menu. So, let's crack on with our first and most popular dish; Phở.
Phở – The best Vietnamese food in Saigon
Phở, pronounced "Fur?", (a question mark, that's right! You say it as if you are confused or asking a question) is the national dish and most popular Vietnamese food among locals and foreigners. Phở is made up of rice noodles, meat (beef or chicken), onion and broth. Accompanied by Phở is always a side of bean sprouts, lemon, chilli, cilantro and Thai basil. You also have the option to add hoisin and/or Sriracha sauce.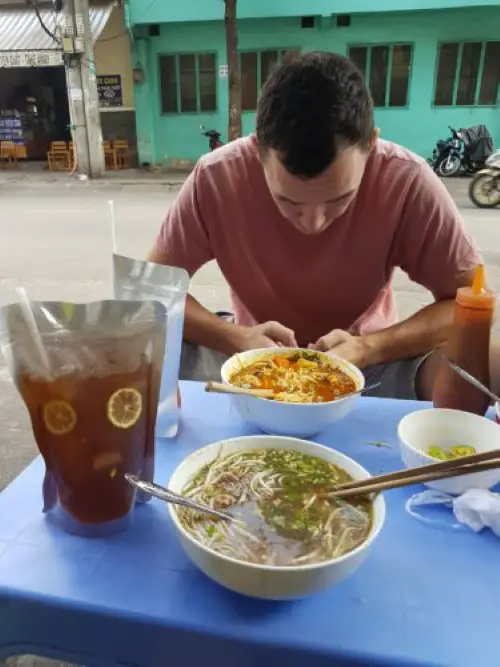 What makes Phở so unique and interesting is the number of different flavour combinations that can be made with the selection of optional ingredients at your disposal. After much experimentation, our personal favourite combination is a generous pinch of bean sprouts, a bunch of Thai basil (8-10 leaves), a squeeze of lemon and a bit of sweet chilli sauce.
Hủ tiếu – The best Vietnamese food in Saigon
We discovered our next dish through desperation and starvation! Whilst teaching English at a school on the outskirts of Saigon, our choice of food was limited to just one dish from a small dusty restaurant by the roadside; Hủ tiếu chay (chay meaning vegan). Hủ Tiếu Chay consists of many ingredients of different tastes and textures, giving you a variety of flavours in one bowl. The contents of Hủ tiếu chay include; rice noodles, tofu, fried tofu skin, chả lụa chay (vegan sausage), fakon (fake bacon), daikon, carrot, bean sprouts, mushrooms, cucumber and tomato.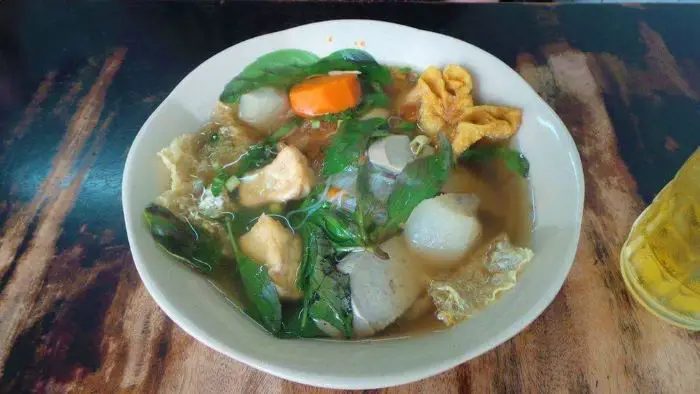 We were very lucky to have found a vegan restaurant near our apartment that specialized in Hủ Tiếu Chay. Our recommendation is the spicy Hủ Tiếu Chay. It has all the same ingredients found in their regular Hủ Tiếu Chay, with the addition of peanuts and thicker spicy broth. The address is 315 Lê Văn Sỹ, Quận Tân Bình, HCM.
Cơm tấm – The best Vietnamese food in Saigon
Com Tam (meaning broken rice) is the most common rice dish in Vietnam and can be found on most street corners. It consists of rice accompanied by either pork (heo) or chicken (gà). It's a very basic and simple-looking dish. However, its wow factor comes from the preparation and tenderness of the meat. We may have only lived in Saigon for just two years, but we genuinely believe we have discovered the best cơm tấm dish (both pork and chicken) in the entire city.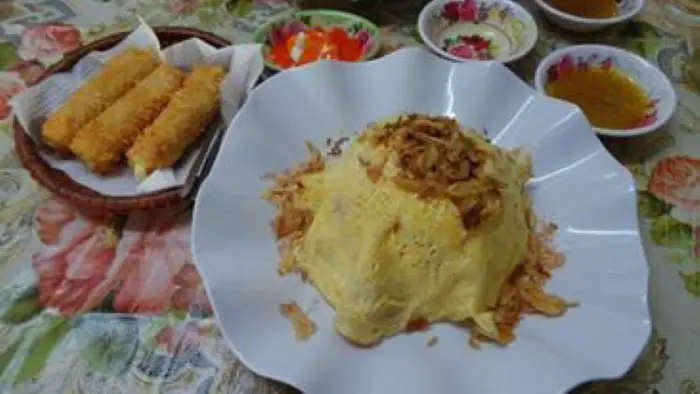 Quán Ăn Vặt Hẻm 16 is tucked away on a quiet street in District 3 and is run by a very kind and welcoming family. Their Cơm Gà Trùm Mền is creatively deconstructed with a domed shape of rice. The centre of which is filled with pieces of succulent chicken. The top is covered with a thin omelette and sprinkled with fried onions. However, this dish isn't complete without their homemade chicken sauce, drizzled all over the chicken. Alongside this meal, I would recommend a portion of cheese sticks and chilli/mayo dipping sauce. The address is 16/73 Nguyễn Thiện Thuật, P2, Quận 3, HCM.
Cơm tấm Ba Ghiền – The best Vietnamese food in Saigon
Cơm Tấm Ba Ghiền is a very popular restaurant in Phú Nhuận District. No matter the time of day, the staff are churning out slabs of meat to their carnivorous customers. Most Cơm Tấm dishes cost around 20,000 – 30,000 VND ($0.86 – $1.29), but for 50,000 VND ($2.14) Cơm Tấm Ba Ghiền offers a piece of meat the size of Dwayne Johnson's hand. A piece of meat so big and juicy, we nicknamed it 'meaty-meat'! The address is 84 Đặng Văn Ngữ, phường 10, Phú Nhuận, HCM.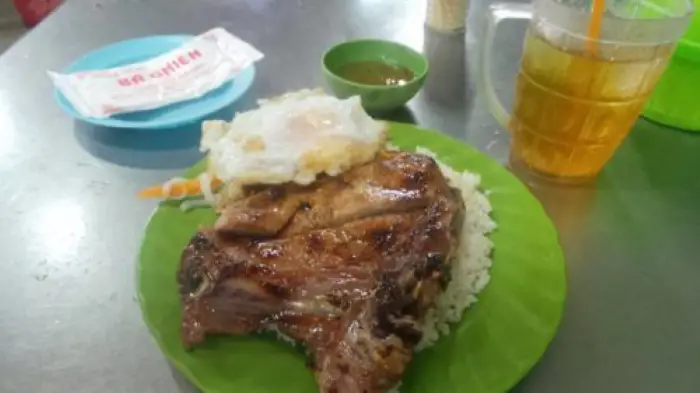 Bún chả – The best Vietnamese food in Saigon
This Vietnamese food has grown in popularity among tourists thanks to President Obama and his recent visit to Vietnam in 2015. Many restaurants across the country now display a photo of him tucking into Bún Chả and a beer.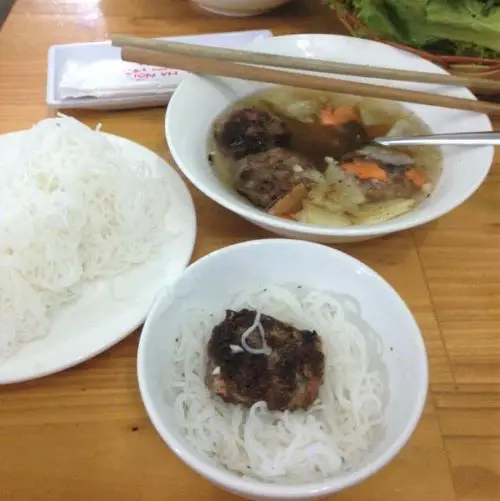 Bún Chả is a basic meal consisting of noodles, pork and assorted green veg. The meat is soaked in a sweet broth made up of fish sauce, sugar, rice wine vinegar, salt, honey and lime juice. Thinly sliced carrots and papaya are also added. The meat is presented in two cuts; small juicy burger patties and strips of pork belly, giving you a welcoming difference in texture, to a basic dish. First-time diners beware! Bún Chả is a difficult meal to get your hands around. The noodles are often dry and difficult to separate using the utensils you have. Each element of the dish is presented individually, and it's your mission to piece it all together into your small bowl to how you desire.
Bánh mì – The best Vietnamese food in Saigon
Another popular dish, particularly for those who follow a busy schedule and just want to pick up something quick and tasty, is the famous Bánh Mì. Ordering your first Bánh Mì can be an overwhelming experience. Even despite the language barrier, the sheer amount of choice of what to pack your sandwich full of is a task that should be planned, to avoid the disappointment of your first bite. It's for that reason, we will gift you with the lowdown of ingredients on offer and how to successfully order your first bánh mì.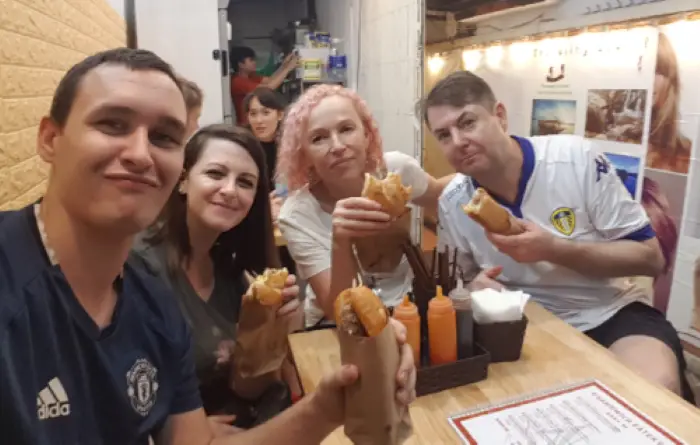 Bánh Mì simply means bread. The longer and thinner option is called Bánh Mì Que (breadstick). To avoid dryness, you may want a spread of cheese, pâté and/or mayonnaise. Your option for meat is extensive. Roast pork & crackling (heo quay), pork sausage (chả lụa), head cheese (giò thủ), ham (Jambon) and cured/fermented meat (nem chua). Canned fish is also available, either mackerel and/or sardines. If you're not a meat eater then you can opt for fried egg (op la), if the stall has a pan. Your vegetable options are limited to the following; onion/carrot, cucumber, coriander and chilli. Sauces at request are soy, chilli and salt/pepper. An ingredient that is often overlooked, especially by tourists is rousing / meat floss (chà bông). We recommend a pinch of this on a Bánh Mì op la.
Bò né – The best Vietnamese food in Saigon
Bò Né is the Vietnamese equivalent of a fry-up. The dish is served on a hot skillet, with the eggs still bubbling away from the heat. As well as eggs, there are 3 types of pork; nem, chả lụa & xúc xích. It's also optional to have a sardine and a segment of cheese spread in this dish. Each meal comes with a Banh Mi and a glass of cola included.
Our favourite aspect of the dish is the self-named 'fire-beef'. A slab of raw meat is placed on a bed of sliced onion, with a knob of butter on top. It is then lit from underneath, for which it cooks for about 5-7 minutes before it's ready to be eaten. This meal can be great for a Sunday morning fry-up or perhaps a drunken late-night substitute for a kebab. There is a popular Bò Né chain called "Bò Né Ba Ngon" with many restaurants scattered across Saigon.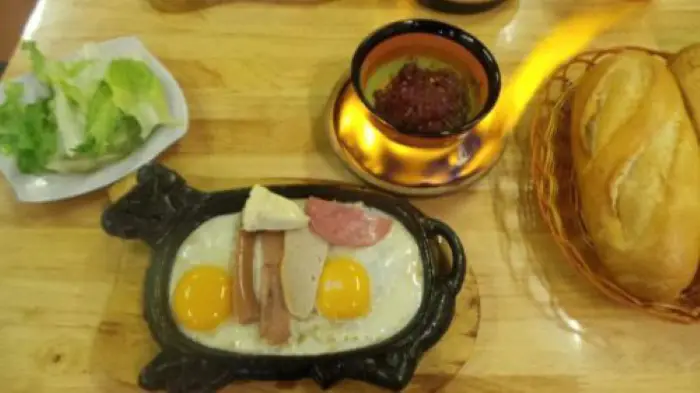 Bún thịt nướng – The best Vietnamese food in Saigon
This yummy Vietnamese dish is a fresh and filling meal. It consists of cold rice-vermicelli noodles with grilled pork meat, grilled pork sausage, spring roll, pork skin, peanuts, bean sprouts, and finely sliced salad. We were lucky to live nearby a very popular Bún Thịt Nướng restaurant, called Anh Ba, located at 126 Lê Văn Sỹ, phường 10, Phú Nhuận, HCMC. They have the best spring rolls you will ever taste!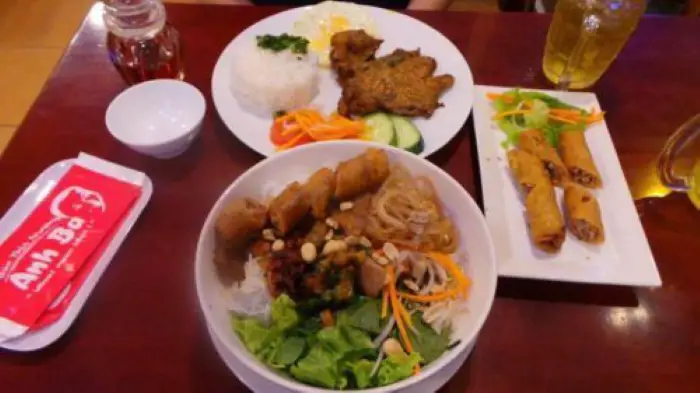 Where to stay in Saigon
Galaxy Capsule Hotel – Excellently located less than a minute's walk from Bui Vien Street, but also tucked in a quiet alleyway for a good night's sleep. The staff are extremely friendly and helpful. The rooms are new, modern and clean. You can book tours and bus tickets here as well.
For more prices and deals on properties in Saigon, CLICK HERE.
Essential resources for travelling in Vietnam
Travel Insurance – It's a good idea to have insurance, particularly if you're going to be riding a motorbike. Our personal choice is Safteywing. You can opt for automatic monthly payments, just like a subscription. It can be purchased whilst already travelling and there is no cap on travel duration.
Visa – You are highly likely to need a visa for Vietnam. iVisa is a fantastic website that is super easy and quick to use. You can quickly make a visa application online.
Accommodation – Booking.com is our go-to when looking to pre-book accommodation online. Booking.com tend almost always to have the best rates and a FREE cancellation policy for most properties.
Overland transport – Our go-to website for overland transport is Bookaway. They have routes all over Vietnam and host a range of transport modes and companies. It is easy to book online and have your ticket sent to your phone.
Tours & Activities – If you want to book tours and activities for Vietnam online, make sure to check out Get Your Guide. Get Your Guide takes the stress out of booking activities abroad. You will also find a range of benefits, such as skip-the-line passes, lunch included in your tours, and so much more.
We hope you enjoyed reading about these delicious Vietnamese foods. If you have time whilst in Hanoi, why not consider a Hanoi street food tour? The flavours in Hanoi are slightly different but still just as good!
Like this Vietnamese food in Saigon post? Pin it for later!