Looking for an off-the-beaten-path destination in Vietnam that combines awe-inspiring natural beauty with authentic cultural experiences? Look no further than Pu Luong Nature Reserve. Tucked away in the country's northwest region in Thanh Hoa Province, this hidden gem offers travellers a chance to escape the crowds and immerse themselves in breathtaking landscapes, traditional villages, and outdoor adventures. From trekking through lush rice terraces to interacting with friendly locals, there is no shortage of things to do in Pu Luong. Whether you are seeking tranquillity or adrenaline-pumping activities, this article will guide you through some of the must-see attractions and unforgettable experiences that await in this enchanting corner of Vietnam.
Disclosure: Wander Vietnam contains affiliate links. If you click on these links and make a purchase, we will earn a small commission at no extra cost to you. You can find our full disclosure policy and privacy policy here.
Hanoi to Pu Luong Nature Reserve transport options
Private mini-van or bus
The most convenient and cost-effective way to reach Pu Luong from Hanoi is by taking a private mini-van or bus. This option allows flexibility and comfort. Most operators leave from various points within Hanoi, with Hanoi Opera House being a popular pick-up location. Upon arriving in Pu Luong, you will be dropped off at a restaurant along the main road very close to the valley entrance. From there, motorbike riders from your accommodation will come to collect you to take you to the hotel. You can book transport from online booking sites such as Bookaway, or you can book the vehicle directly from the accommodation you plan to stay at in Pu Luong. The journey takes around 4 hours and the prices of private mini-vans or buses range from 250,000 – 300,000 vnd per person each way.
Public bus
An alternative option is taking a bus from Giap Bat or My Dinh Bus Station in Hanoi to either Ba Thuoc or Canh Nang Town near Pu Luong. Local buses are much cheaper at around 100,000 vnd but take a lot longer due to many stops along the way. Not only that, you will also need to take transport to and from the bus stations, so you should account for these costs as well. From Ba Thuoc and Canh Nang, you should plan to add another 40 – 50 minutes to your journey before reaching your accommodation in Pu Luong.
Private car/taxi
A more costly, but comfortable and flexible option, is to take a private car from Hanoi. A private car will pick you up from your accommodation in Hanoi and drop you off directly at your accommodation in Pu Luong. Make sure to book a car in advance so you can arrange a pick-up time with your driver with plenty of notice. The price for a private 4-seater car is around 1,500,000 vnd.
Motorbike rental from Hanoi
If you enjoy riding a motorbike and want more flexibility, you can rent one in Hanoi and ride to Pu Luong. The distance is around 150 kilometres, and the route will take you through scenic landscapes. However, be prepared for challenging roads, including some mountainous terrain. You can ask your accommodation or tour agency about motorbike rental. Rental prices are around 150,000 vnd per day.
Take a tour
Another option is to join a guided tour that includes transportation from Hanoi to Pu Luong. Many travel agencies offer day trips or multi-day tours to Pu Luong, where transportation, accommodation, and activities are all included. You can also find tours that explore Mai Chau and Pu Luong.
>>> Book a Pu Luong Tour here <<<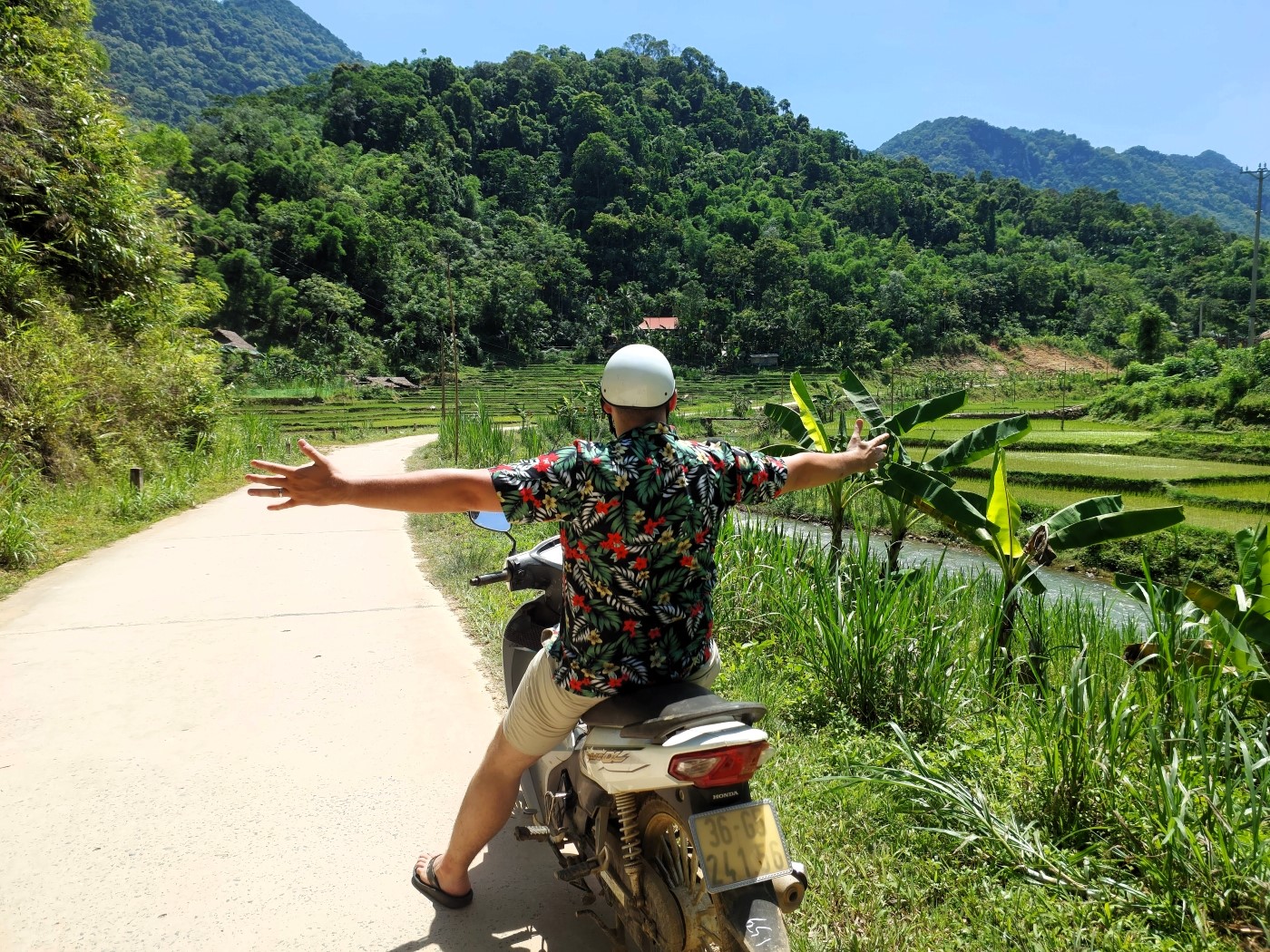 What to do in Pu Luong Nature Reserve
Enjoy the resort and swimming pool
Pu Luong has plenty of luxury resorts to choose from. It is the perfect place to get away from the city and relax in a tranquil environment. The resorts have stunning swimming pools overlooking the rice terraces. You could spend all day relaxing by the pool, admiring the magnificent views.
Visit the Pho Doan Market
If you happen to be in Pu Luong on Thursday or Sunday, a trip to Pho Doan Market is a must. Here you can experience the vibrant atmosphere and observe the daily lives of the local people. The market is typically centred around providing essentials for the local community but provides visitors with an exciting insight into the daily lives of the local people. Many vendors and locals visiting the market wear traditional dresses. A visit to the market will allow you to meet many different ethnic people. Note: If you plan to go to the market, you will need to go before 10 a.m. The market starts running as early as 6 a.m.
Take a dip in Hieu Waterfall
Upon reaching Hieu Waterfall, all senses are awakened by its thunderous roar and refreshing mist that fills the air. The multi-tiered cascade drops from a height of over 100 meters, forming crystal-clear pools at each level where visitors can take a dip or simply relax amidst nature's embrace. Don't worry if you forget your swimsuit, there is a small stall that does swimsuit rentals for a fee of 50,000 vnd.
Try your hand at a bamboo raft
A popular activity in Pu Luong is bamboo rafting. Bamboo rafts are used daily for transport by the Thai ethnic group to catch fish for their family. Head down to Cham River for a chance at a ride on a raft, or even try your hand at it yourself. The scenery is serene and the perfect way to spend an hour admiring the local area and taking a dip into the cool stream. The price is around 50,000 vnd per person.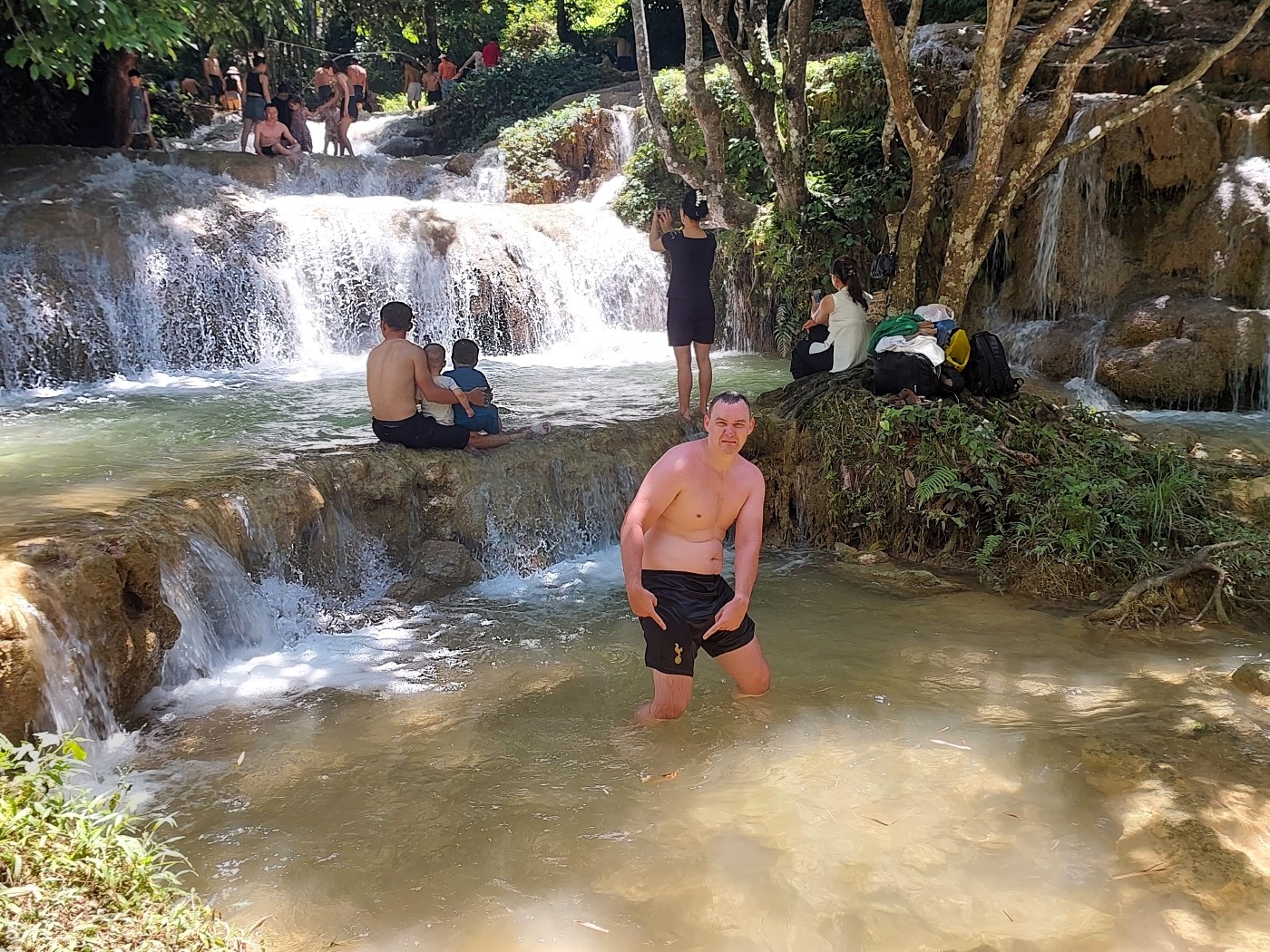 Ways to get around Pu Luong
Trekking and Hiking: Explore the stunning landscapes of Pu Luong by embarking on trekking or hiking trails. There are various routes available, including through rice terraces, bamboo forests, and ethnic minority villages. Enjoy breathtaking views of valleys, mountains, and waterfalls along the way.
Cycling: Rent a bicycle and pedal your way through the scenic countryside, passing by traditional villages and enjoying the peaceful atmosphere. Cycle along quiet roads or take more challenging off-road routes for an adventure.
Motorbike rental: If you arrive in Pu Luong via private transfer or public bus, you have the option to rent a motorbike from your accommodation. As Pu Luong is relatively remote, the price of a motorbike rental is higher than what you would pay in Hanoi. We paid 300,000 for a motorbike rental with a full tank of petrol from Pu Luong Natura Resort.
Pu Luong Nature Reserve tours: If you fancy a more relaxed way of getting around, without having to navigate yourself, most accommodations offer an organised tour of the area. If this option is something you are interested in, you should speak with staff at your accommodation the night before you plan to take the tour so it can be arranged.
Where to Stay in Pu Luong Nature Reserve
Pu Luong Natura Resort is a popular accommodation option in Pu Luong, Vietnam. The resort is nestled in the heart of Pu Luong Nature Reserve, surrounded by lush mountains, terraced rice fields, and picturesque landscapes. It provides a peaceful and serene setting for visitors to immerse themselves in nature. There is a variety of rooms such as bungalows and traditional stilt houses. The rooms feature modern amenities while maintaining a rustic charm. Some rooms offer panoramic views of the surrounding countryside. The resort provides guests with a range of facilities and activities to enhance their stay. These include a swimming pool overlooking the rice terraces, spa services and a restaurant serving local cuisine.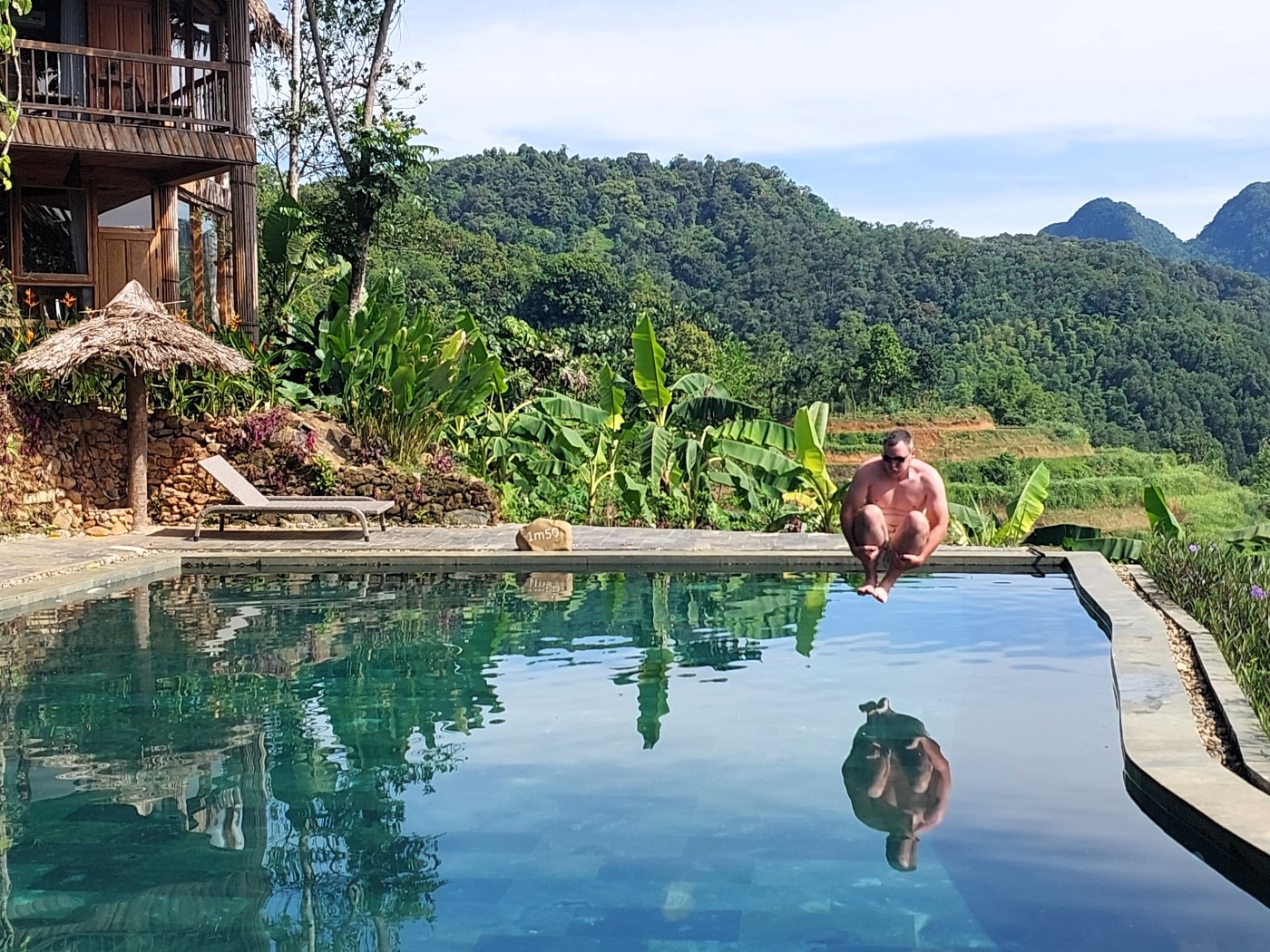 Eating in Pu Luong
Pu Luong is relatively quiet. There aren't any bars or restaurants around. Most people opt to eat at their accommodation. Most accommodations have their own restaurant selling a variety of local dishes, BBQ and hotpot. Whilst more expensive than restaurants in Hanoi, the food is very tasty and fresh. If you're in Pu Luong over a weekend, many hotels provide entertainment in the evening to enjoy whilst you eat. The entertainment consists of traditional dances and songs by local ethnic people.
The best time to visit Pu Luong
The best time to visit Pu Luong in Vietnam depends on your preferences and the activities you plan to engage in. Here are some considerations for each season:
Spring (March to April) – This is an excellent time to visit Pu Luong as the weather is mild and comfortable. The landscape is vibrant with blooming flowers, and rice terraces are being prepared for cultivation.
Summer (May to August) – Summer brings warmer temperatures, making it an excellent time for trekking and exploring the lush green scenery. However, it can also be quite humid and prone to occasional rain showers.
Autumn (September to November) – Autumn offers pleasant weather with cooler temperatures and clear skies. The rice fields turn golden during this time, creating a picturesque landscape that's perfect for photography.
Winter (December to February) – Pu Luong experiences colder temperatures during winter, especially in the evenings and early mornings. It's ideal if you enjoy cooler weather and want to witness foggy mornings and misty valleys. However, note that some homestays might have limited availability during this season.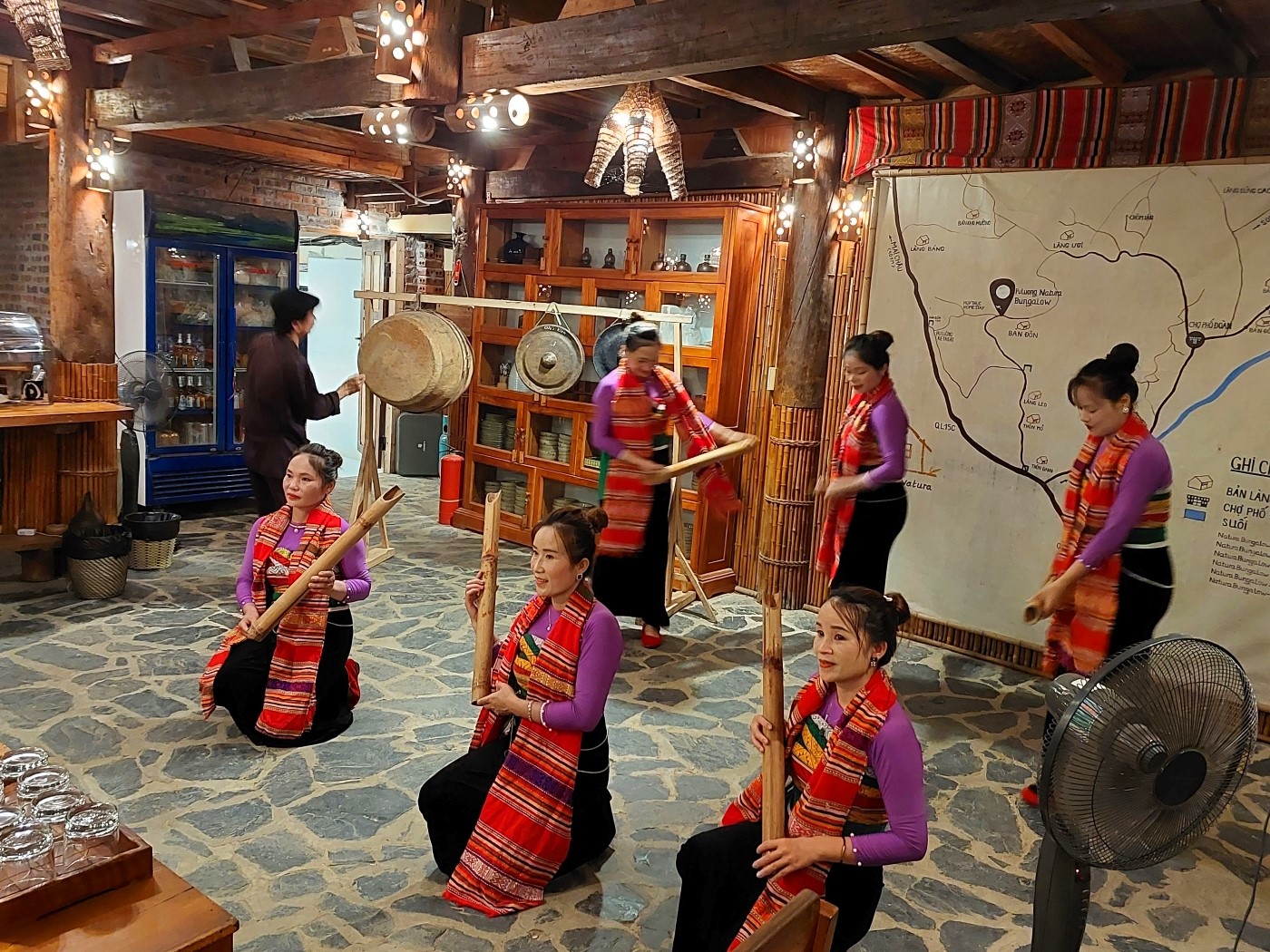 Essential resources for travelling in Vietnam
Travel Insurance – It's a good idea to have insurance, particularly if you're going to be riding a motorbike. Our personal choice is Safteywing. You can opt for automatic monthly payments, just like a subscription. It can be purchased whilst already travelling and there is no cap on the duration of travel.
Visa – You are highly likely to need a visa for Vietnam. iVisa is a fantastic website that is super easy and quick to use. You can quickly make a visa application online.
Accommodation – Booking.com is our go-to when looking to pre-book accommodation online. Booking.com tend to almost always have the best rates and a FREE cancellation policy for most properties.
Overland transport – Our go-to website for overland transport is Bookaway. They have routes all over Vietnam and host a range of transport modes and companies. It is easy to book online and have your ticket sent to your phone.
Tours & Activities – If you want to book tours and activities for Vietnam online, make sure to check out Get Your Guide. Get Your Guide takes the stress out of booking activities abroad. You will also find a range of benefits, such as skip-the-line passes, lunch included in your tours, and so much more.