Hanoi is the perfect city for an insight into Vietnamese culture. Filled with history museums, crumbling walls, and a chaotic atmosphere, Hanoi has it all. Whether you're on a flying visit to Hanoi, or it's on your backpacking Vietnam itinerary, your trip wouldn't be complete without a shopping spree at the market. Read on to find out everything you need to know about Hanoi's famous night market + essential tips and tricks for your visit.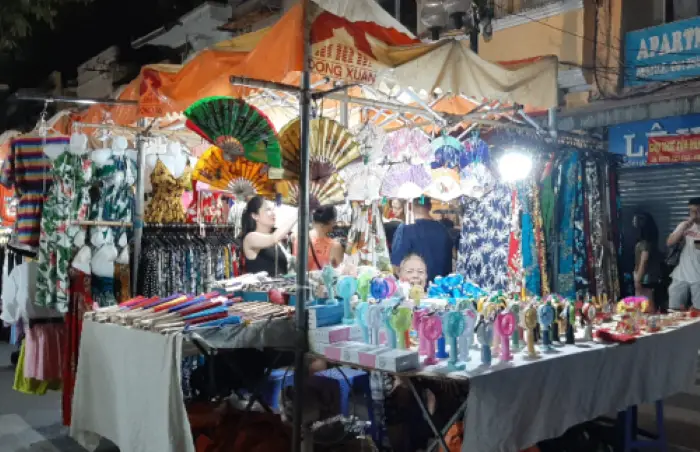 Disclosure: Wander Vietnam contains affiliate links. If you click on these links and make a purchase, we will earn a small commission at no extra cost to you. You can find our full disclosure policy and privacy policy here.
Things to do at Hanoi Night Market
Shop until you drop
Hanoi Night Market is a bustling market in the heart of Hanoi's Old Quarter. Fully equipped with endless Vietnamese souvenirs and cheap goods, it's a shopper's paradise! There are countless stalls selling everything from handicrafts, paintings, gimmicky souvenirs, jewellery, clothes, and electronics. If you're looking for exotic gifts for your family and friends back home, you can easily pick up thoughtful items such as a non la (traditional cone hat), customised paintings, or even a simple handmade pop-up card of a lady carrying baskets of fruit.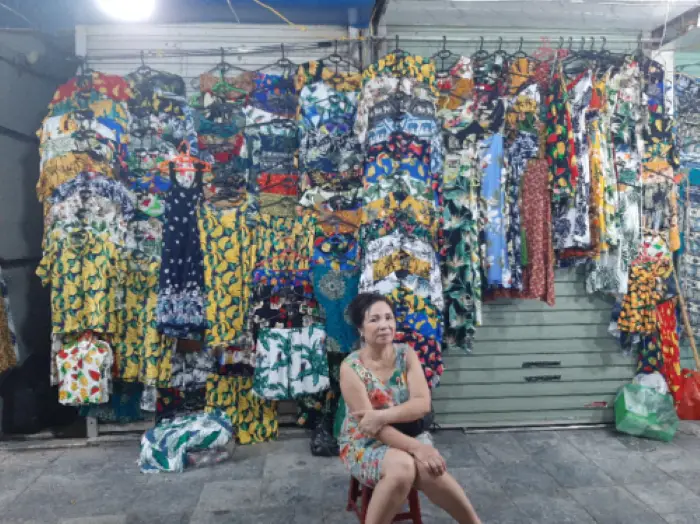 Whilst travelling in Vietnam, travellers and backpackers should certainly take the opportunity to pick up any new items they need for their onward journey. There are plenty of vendors selling cheap-as-chips backpacks, money belts, North Face jackets, and more. If you find that your clothes have torn, or just become too worn and discoloured, there is a variety of shorts, t-shirts, skirts and dresses to replace them at a fraction of the cost you would spend at home. Just make sure to brush up on your haggling skills. Haggling is a way of life here, so there is no need to beat around the bush.
Eat until your stomach is about to burs
As you stroll through the night market, the familiar smell of grilled meat fills the air. After all that shopping, you may as well treat yourself to a bite to eat. From sausage on a stick, and scrumptious spring rolls, to sweet potato fries sprinkled with a dusting of cheese powder, you're sure to find something to satisfy your taste buds. If you have more of a sweet tooth, the ice cream rolls are a must-try! Or you could even tuck into a 5,000 vnd ($0.21) ice lolly on a stick made right in front of you by the portable spinning ice cream maker.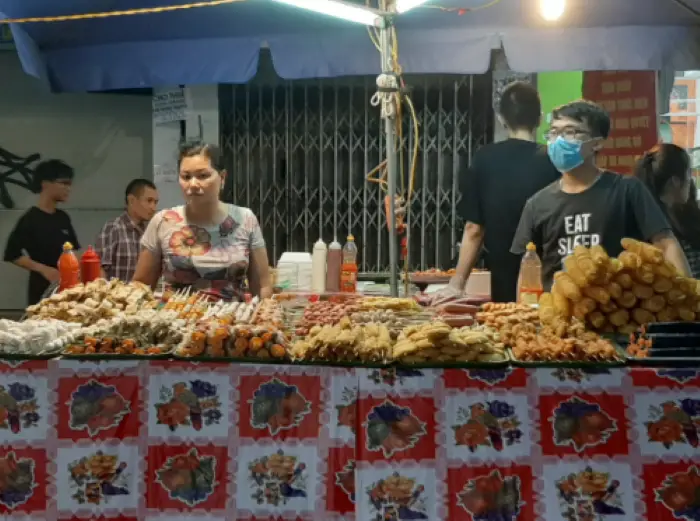 When is Hanoi Night Market open?
Friday from 6 pm – 12 am
Saturday from 6 pm – 12 am
Sunday from 6 pm – 12 am
Whilst the night market opens at 6 pm, we recommend heading there a little later. By 8 pm, all of the stalls are in full swing and the atmosphere is buzzin' with locals and tourists rummaging their way through for a bargain.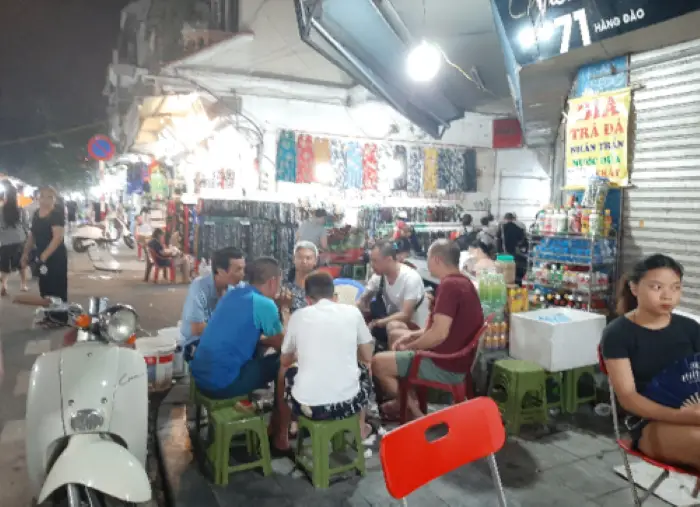 Where is Hanoi Night Market?
The night market is situated on one of Hanoi's busiest streets and stretches a whopping 3 km long; from Dong Kinh Nghia Thuc Square (the famous roundabout by Hoan Kiem Lake) to Dong Xuan Market Gate. Whilst you can start at either end of the market, we recommend you start at Dong Kinh Nghia Thuc Square. This way you can start your evening with a stroll around Hoan Kiem Lake before tackling the night market. If you get tired of shopping halfway, you can always branch off onto Hang Buom Street. Aka. Bia Hoi Street!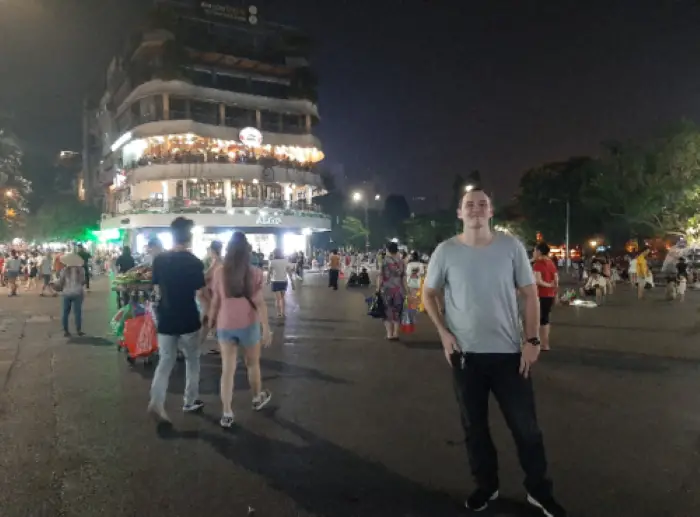 How to get to Hanoi Night Market
Walk
The Night Market is conveniently located in the tourist district, with plenty of hotels and hostels within walking distance. If you happen to stay in the area, we recommend you walk. You can download Maps.Me on your phone to help you navigate to the start of the market. Just be careful of your surroundings and avoid using your phone on the main road. If you need to check your phone for directions, turn away from the road and hold your phone firmly, to avoid opportunists on bikes swiping it out of your hands.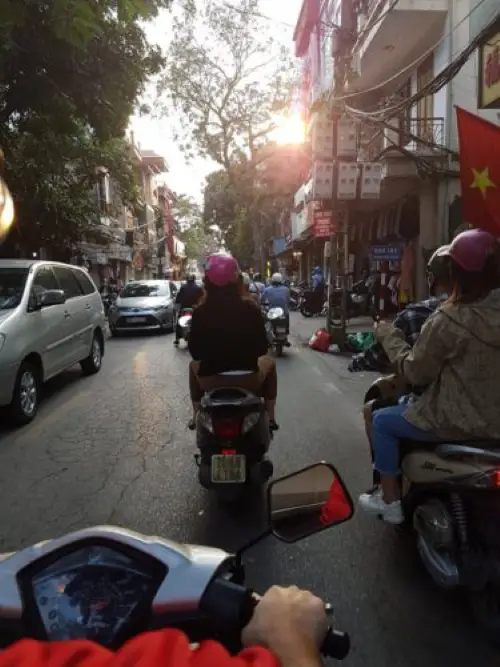 Taxi
If you're not within walking distance of the market, you can easily take a taxi. We recommend downloading the Grab app. Grab works just like Uber. You can order a taxi and see the price beforehand. There is no need to book in advance. Taxis generally arrive within 5 – 10 minutes of placing an order. With the Grab app, you can choose to ride comfortably in a car or opt for a scooter taxi.
Whether you take a street taxi or a Grab taxi, we recommend you ask your driver to drop you off at 34 Hang Gai (the KingRoti Restaurant). This will make it easier for your driver to drop you off, as the roads around the night market are blocked for vehicles. Once you get out of the taxi, walk through the barriers and straight ahead. Here you will see the famous roundabout. To your left, you will find the entrance to Hanoi Night Market.
Essential tips for visiting Hanoi Night Market
Haggling
As mentioned previously, haggling is a way of life in Vietnam. You will notice that most items on the market do not have price tags attached. Here is your chance to grab a great deal. Get a feel for the seller's prices and use your common sense of how much things are worth. You can expect up to a 300% mark-up on prices. Haggle your way down and be prepared to walk away if the price is still too high. You will be surprised at how quickly vendors retract their initial offer.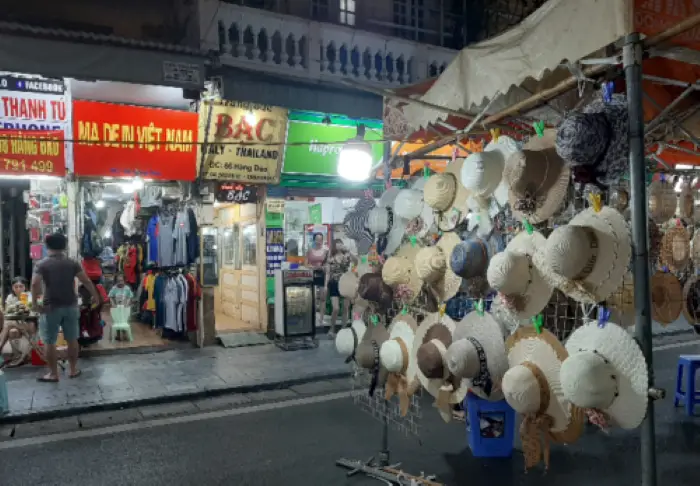 Shop around
Don't just jump at the first offer. There are plenty of stalls selling the same items. Shop around for deals. You can always go back to the start if the first deal was the best.
Buy more for a better deal
If you're planning to buy a few items or souvenirs, or a non la (cone hat) ready for your basket boat trip in Hoi An, try to source them at the same stall. The more you buy, the better deal you will be able to negotiate. Don't be afraid to ask for discounts if you're purchasing more than one item. 9 times out of 10, the vendors will jump at the chance of a sale.
Be mindful of your personal belongings
Hanoi Night Market can get super crowded and busy. Be mindful of your personal property. Thieves and pickpockets operate in the area and can take the opportunity to brush past you whilst dipping their hands into your handbag. Keep your handbag close and make sure it is fastened at all times.
Avoid driving there yourself
The night market and the surrounding area are particularly busy during the weekend. Furthermore, police and security guards patrol the area. No vehicles are allowed to drive through the night market or around Hoan Kiem Lake on the weekends, including Fridays. Whilst you can park your bike at the entrance, it's better to take a taxi or walk there to eliminate the risk of your bike "going missing".
Like these tips? Make sure to check out these 31 essential Vietnam travel tips!
What else is there to do in the area?
After a hectic time of shopping at the Night Market, there are ample other things to do at night in Hanoi. If you fancy kickin' back and relaxing with a majestic water puppet show, just head over to the famous Thang Long Theatre. Tickets are just 100,000 vnd ($4.28) and shows take place every evening of the week. Furthermore, Hoan Kiem Lake is right at the start of the night market, so you can opt for a leisurely walk around the romantic lake. Or, if you're in the party mood head on over to Bia Hoi junction for an evening of socialising and clashing beers with locals and tourists.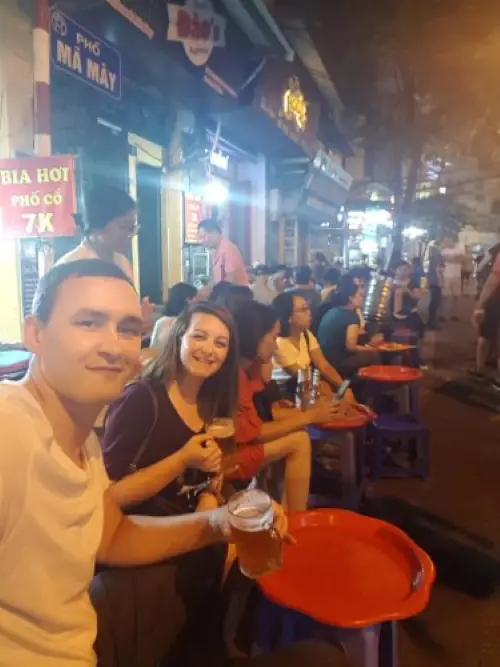 Where to stay in Hanoi
Acoustic Hotel & Spa – A stunning modern hotel in the heart of Hanoi. This hotel is perfect for those who want a relaxing stay in Hanoi to either start or end a Vietnam adventure. The hotel boasts large comfy beds, TVs, spa services, and a lovely rooftop bar for you to kick back and relax at the end of the day.
Nexy Hostel – A relatively new funky hostel that is in an excellent location; just 500 meters from Hoan Kiem Lake. The rooms are modern, clean and cosy. The hostel has both dorm rooms and private rooms, making it perfect for couples on a budget and for solo travellers who want to meet other people in the bar area.
For more deals on properties in Hanoi CLICK HERE!
Essential resources for travelling in Vietnam
Travel Insurance – It's a good idea to have insurance, particularly if you're going to be riding a motorbike. Our personal choice is Safteywing. You can opt for automatic monthly payments, just like a subscription. It can be purchased whilst already travelling and there is no cap on travel duration.
Visa – You are highly likely to need a visa for Vietnam. iVisa is a fantastic website that is super easy and quick to use. You can quickly make a visa application online.
Accommodation – Booking.com is our go-to when looking to pre-book accommodation online. Booking.com tend almost always to have the best rates and a FREE cancellation policy for most properties.
Overland transport – Our go-to website for overland transport is Bookaway. They have routes all over Vietnam and host a range of transport modes and companies. It is easy to book online and have your ticket sent to your phone.
Tours & Activities – If you want to book tours and activities for Vietnam online, make sure to check out Get Your Guide. Get Your Guide takes the stress out of booking activities abroad. You will also find a range of benefits, such as skip-the-line passes, lunch included in your tours, and so much more.
Like this Hanoi night market post? Pin it for later!