A Tam Coc boat tour is one of the top attractions in Tam Coc, Ninh Binh. Visitors from all over the world flock to the scenic area located just 2 hours away from Hanoi. Among the things to do in Ninh Binh, the Tam Coc boat tour is top of the list. Here is everything you need to know before you go. In this post, you will find out how to get a ticket, the price, what you can expect to see, and more.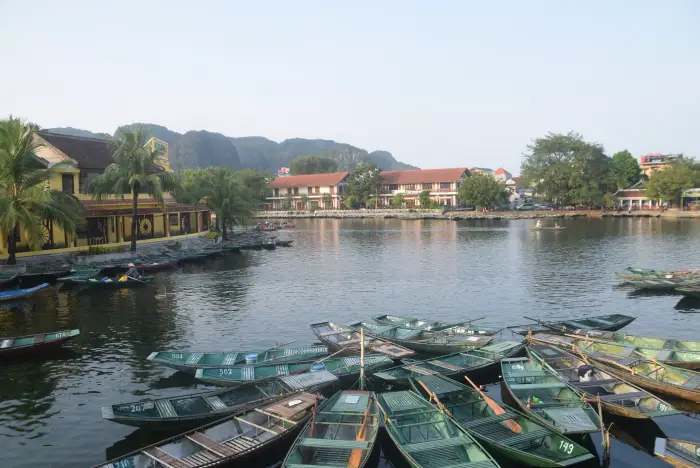 Disclosure: Wander Vietnam contains affiliate links. If you click on these links and make a purchase, we will earn a small commission at no extra cost to you. You can find our full disclosure policy and privacy policy here.
How to get to the Tam Coc boat tour
Tam Coc is located around 90 km from Hanoi and takes around 2 hours to get there by road. You can also catch a 3-hour train to Ninh Binh and then hop in a taxi from there. The taxi ride is short and should take less than 15 minutes to reach Tam Coc scenic area. You can find a more detailed guide on how to reach Tam Coc and Ninh Binh here!
Once you arrive in Tam Coc, the boat tour departure point is difficult to miss. It is in the heart of the scenic area, surrounded by bars, eateries, and shops. If your accommodation is in Tam Coc, you can easily walk to the boat departure point or even cycle. Bicycles are a popular way to get around and almost all hotels and hostels offer them complimentary or for a small fee of around 30,000 vnd per day.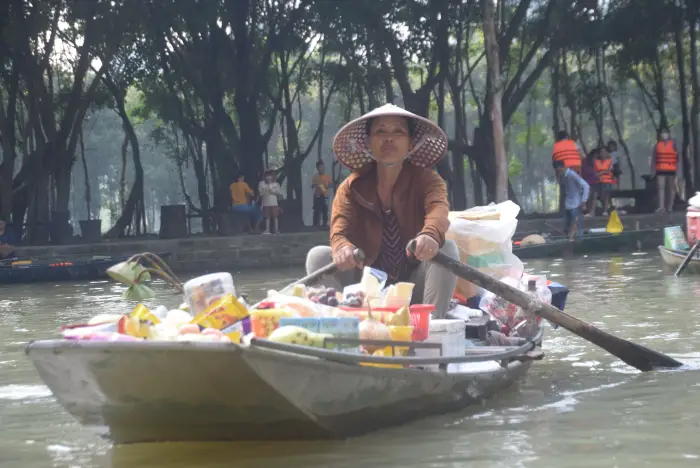 The price of a Tam Coc boat tour
The price is broken down into two parts, and both parts are compulsory.
Firstly, there is a sightseeing entrance fee set at 120,000 vnd per person for adults and 60,000 vnd for children (under 1.4 meters).
Secondly, there is the boat ride fee which is 150,000 vnd in total for everyone on the boat. The boats accommodate 2 foreign guests or 4 Vietnamese guests.
Tipping and other costs
Whilst tipping is not compulsory, your rower works very hard and a tip will go a long way. A tip of around 40,000 – 50,000 vnd would be a generous amount and your rower would appreciate it a lot.
Other costs you may incur are the cost of any snacks or drinks you may buy whilst on your boat trip. Around halfway, before turning the boat around to head back to the dock, there is a small floating market. Beware…the sellers will insist you buy a drink or snack for your rower. This is totally up to you, and you shouldn't feel pressurized into doing so. You can politely decline.
Finally, another cost you may incur is the cost of any photos you buy. Along the way, some photographers will snap a photo of you in your row boat. Once you reach the docking station, you can purchase your photo.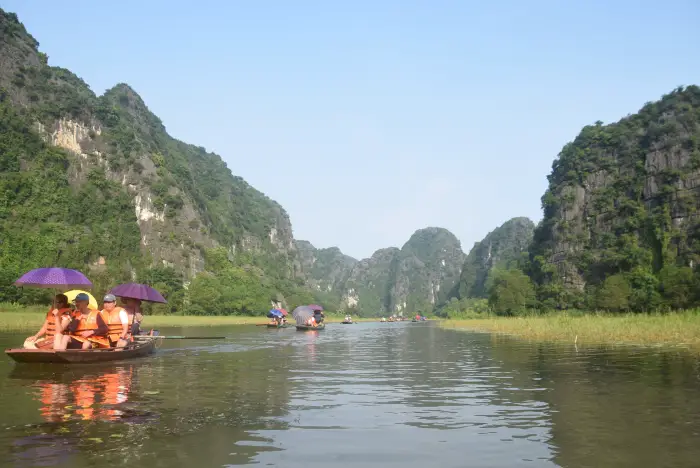 What to expect on a Tam Coc boat tour
The Tam Coc boat tour is a 2 hours scenic boat ride. From leaving the docking station, until returning you will be met with splendid landscapes and interesting caves. As you wallow in the beauty of "Ha Long Bay on land", your rower will row you through the golden rice fields alongside Ngo Dong River using only his/her feet to control the two oars.
As you enjoy your journey, you will also go through 3 caves; Ca, Hai and Ba. As you row through, keep an eye out for wildlife such as bats, as well as admire the interesting shapes of the shining stalactites.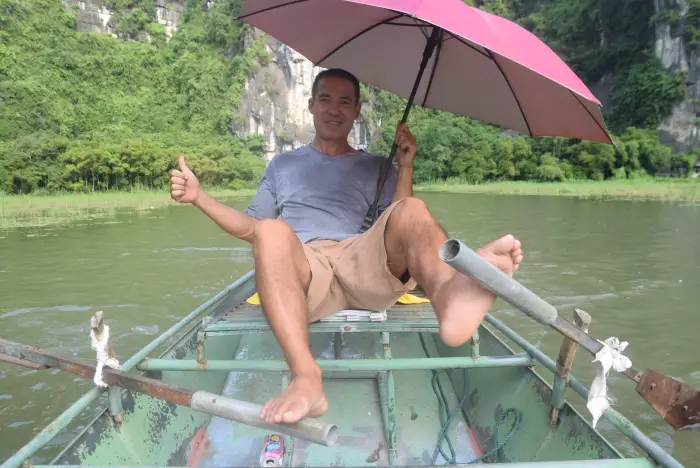 Times of the Tam Coc boat tour & the best time of year
The Tam Coc boat tour is open for visitors from 8 am – 6 pm every day, rain or shine. However, we recommend taking the tour early in the morning, to take shelter from the beating heat during the summer months, or towards the end of the day to float away to the beautiful sunset.
In regards to the time of year, whilst it is open year-round, the best time to visit is around May and June as this is when the rice fields bloom in yellow colours. June through to September is the rainy season, but it tends to only rain for a few hours a day. Towards the end of November, the weather starts to get cooler and you will need to wear a coat to combat the chill.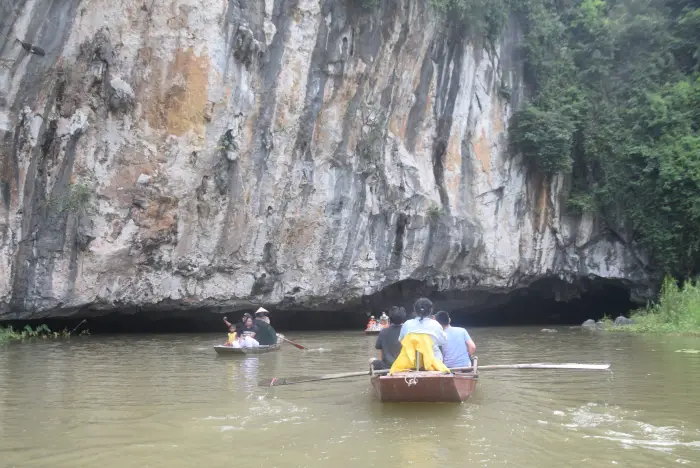 Where to stay in Tam Coc
Hotel Tam Coc Golden Rice – For a relaxing stay, this hotel is perfect. It's fully equipped with cosy rooms, an outdoor swimming pool, air conditioning, and a continental breakfast each morning. The hotel is within walking distance of the main strip filled with eateries and bars.
The Banana Tree Hostel – Centrally located to Tam Coc's main attractions. This hostel is welcoming to all kinds of guests, from families and couples to a group of mates. The hostel is modern and clean, making for a comfortable stay. There is also a swimming pool, bar, and restaurant. Perfect for social butterflies!
Search for more properties in Tam Coc HERE!
Essential resources for travelling in Vietnam
Travel Insurance – It's a good idea to have insurance, particularly if you're going to be riding a motorbike. Our personal choice is Safteywing. You can opt for automatic monthly payments, just like a subscription. It can be purchased whilst already travelling and there is no cap on the duration of travel.
Visa – You are highly likely to need a visa for Vietnam. iVisa is a fantastic website that is super easy and quick to use. You can quickly make a visa application online.
Accommodation – Booking.com is our go-to when looking to pre-book accommodation online. Booking.com tend to almost always have the best rates and a FREE cancellation policy for most properties.
Overland transport – Our go-to website for overland transport is Bookaway. They have routes all over Vietnam and host a range of transport modes and companies. It is easy to book online and have your ticket sent to your phone.
Tours & Activities – If you want to book tours and activities for Vietnam online, make sure to check out Get Your Guide. Get Your Guide takes the stress out of booking activities abroad. You will also find a range of benefits, such as skip-the-line passes, lunch included in your tours, and so much more.