For some strange reason, something about abandoned places sparks human curiosity. Is it the creepiness? Or is it the story behind it? Like all other humans, we are no different. When we were searching for what to do in Hue, Vietnam, we just had to check out Ho Thuy Tien Park – the abandoned water park in Hue! The only problem was that the government have officially closed the water park, resulting in guards preventing members of the public from entering. In this post, we will tell you exactly how to get to the water park, how to get past the guards, and what to expect once you are inside.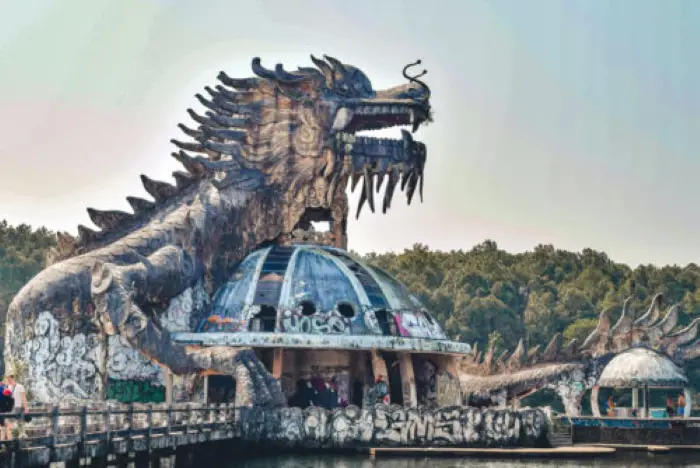 Disclosure: Wander Vietnam contains affiliate links. If you click on these links and make a purchase, we will earn a small commission at no extra cost to you. You can find our full disclosure policy and privacy policy here.
How to get to the abandoned water park, Hue
By self-driving motorbike
The best way to get to the abandoned water park, Hue is to rent a scooter and drive there yourself. If you have already driven the Hai Van Pass, then the journey should be no trouble at all for you. Motorbike rental prices vary depending on where you rent your motorbike. Prices range from 100,000-180,000 vnd per day.
The distance from Hue centre (backpacker scene) is just 8.2 km. We recommend mapping the location on google maps or maps.me, which is one of the most useful travel apps you will ever download! You can easily pin the location and follow the map. The route is pretty much direct, and shouldn't take more than 20 minutes to drive there at a safe leisurely pace. Otherwise, if you're old school, whip out a classic tourist map of Hue to help you navigate!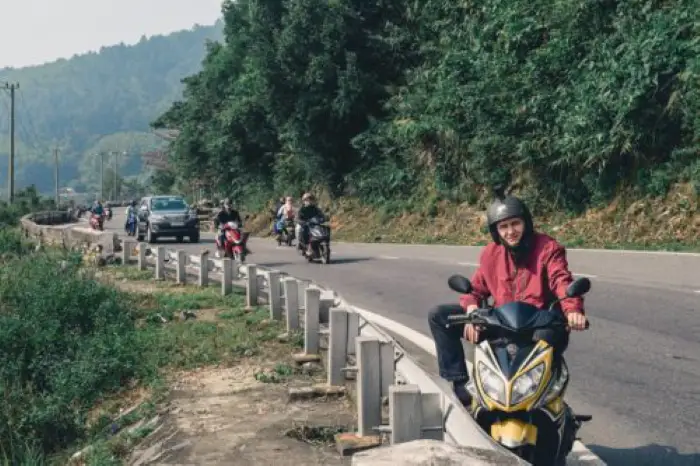 By motorbike tour
As the government has formally closed the water park, there are no longer any official tours that will take groups there. However, you could book a motorbike tour! You can choose multiple places of interest in Hue to visit, and a local driver will drive you to all of the locations you have selected. You can book your tour online beforehand, or you can wait until you arrive in Hue to inquire at the many tourist shops that line the streets in the backpacker area.
Background information on Hue's abandoned water park
The reason the water park became abandoned, remains quite a mystery. The park originally opened its doors to visitors in 2004, but sadly, the operation of the park stopped shortly afterwards. Accordingly, investors poured millions of dollars into the local fun family amusement park. However, since the park's closure, all that remains in the park are graffiti-covered decaying slides and overgrown shrubs, combined with a lifeless atmosphere. So, if decaying amusement parks aren't your thing, you may want to check out the more life-filled Sun World Ba Na Hills over in Danang instead!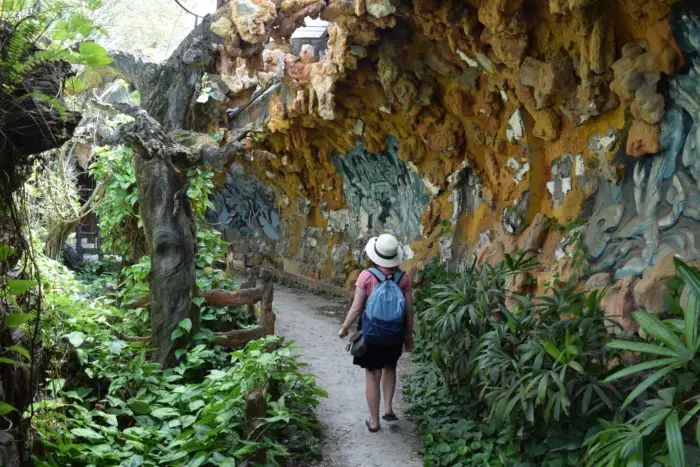 Entrance to the abandoned water park, Hue
According to other blogs online, the abandoned water park seemed easy to enter and unguarded. As of late, guards are now patrolling the park and kicking out intruders, whilst showing a sign that reads something about safety. BUMMER right? But don't worry, there is still a way – at your own risk!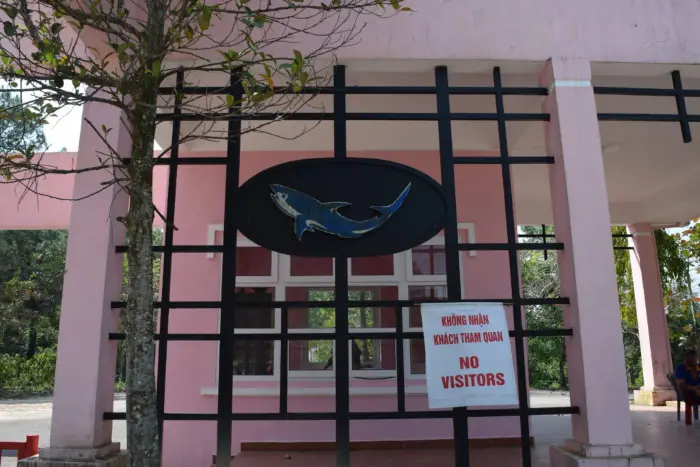 Trying to bribe the guards at the abandoned water park
After speaking with the staff at our hostel, they informed us that a small bribe of 20,000 vnd would be enough for the guards to open the gates, and allow us to explore. However, this was no longer the case. The security guards at the water park manned the main entrance strictly, and were not accepting any form of bribes – No matter the offer! We lingered around for a little while and tried to sweet-talk him with our basic use of Vietnamese, which we have acquired from teaching English in Vietnam over the years. We hoped this would work and he would allow us inside, Simply put, NO CHANCE! But there was no way we were gonna miss out on a "Hue must-see".
Finding a second entrance to Hue's abandoned water park
After driving around the water park, we found another entrance. Here we met other travellers trying to fill their inner curiosity about abandoned places. The others had already been inside the water park but only managed to get as far as the abandoned show arena. A guard had caught them and had sent them on their way before they had the chance to fully explore the creepy theme park. Despite our fellow travellers' stories, we decided to give it a go ourselves, and true to their word, we were kicked out after getting no further than the show arena. At this point in the day, we were starting to lose the enthusiasm to bother. A fun day was slowly looking rather bleak and a wasted journey.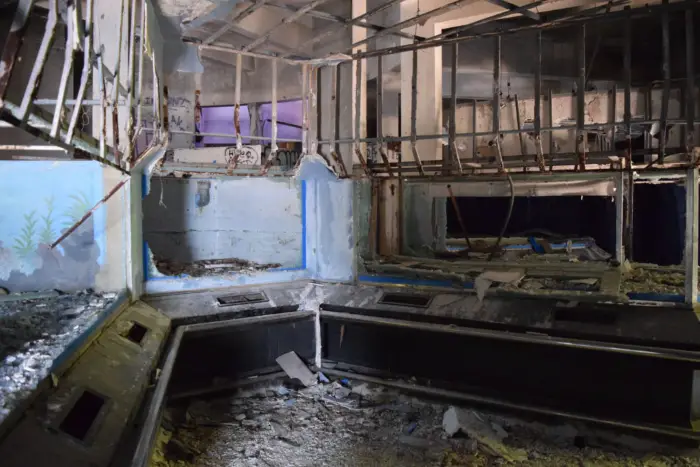 Following an Easy Rider tour group
However, once all the other travellers had zoomed off on their bikes, presumably looking for another entrance, we saw two tourists on the back of a local driver's bike. We decided to catch up with them and follow them into the park. BINGO – simply by following a local, we were able to enter the abandoned water park with a bribe of 20,000 vnd. Just one rule – NO CLIMBING! After chatting with the tourists on the local's bikes, we found out that they had booked a motorbike tour of Hue and had chosen to visit the abandoned water park.
Wandering around the abandoned theme park
Once we had bribed our way past the guard, with support from a local, we were greeted with a small parking area and a woman selling water, soft drinks and beer. We parked our bike and proceeded on foot to explore the water park. The first thing we came across, and the most recognizable structure, is the giant dragon that rises from the lake. No wonder this water park has been famed as the dragon water park of Hue. Many young locals were hanging out around the lake, drinking beer and daring to take a swim in the crocodile-ridden waters! Not something I was willing to even entertain, even in the blistering heat.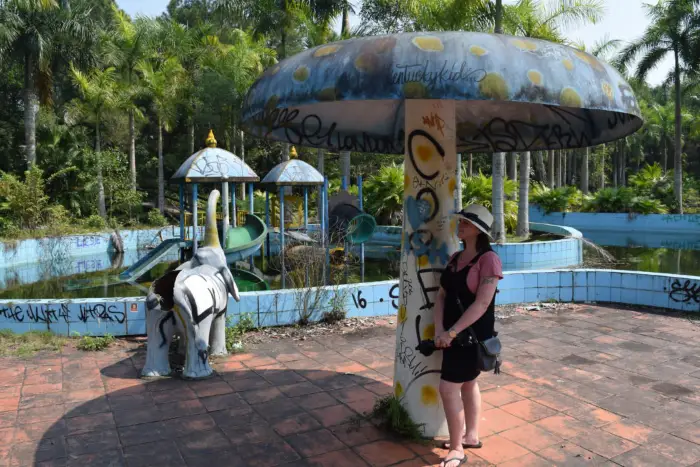 Decay inside of the abandoned water park's dragon
Inside of the 3-story dragon, old items and debris scatter the ground. You can even see the smashed-up aquarium tanks that were once filled with happy sea life. There are multiple rooms and different levels to explore. The set of stairs leading to the mouth of the dragon is still in good condition, so walking to the top is fine. Once you reach the top, you will be met with views of the lake below and the acres of green trees in the distance.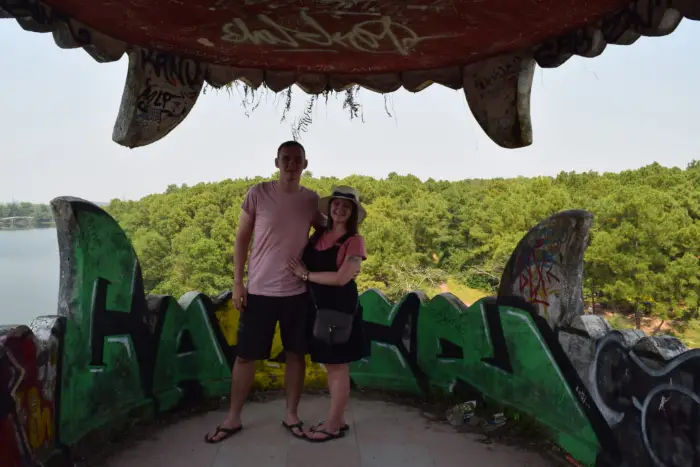 Mouldy slide and murky water
The slide area was once filled with colour and laughter, but now the slides look rather dull and lifeless. The pool at the bottom is filled with moss and brown murky-coloured water. You can still climb the stairs to the top of the three slides but approach with caution, as the stairway is starting to rust and looks a little unstable. We did see one person going down the slide, but we wouldn't recommend it. Is it worth the risk of landing in the water, and catching some sort of nasty infection? Save sliding down the slides for a trip to Dam Sen Water Park in Ho Chi Minh City.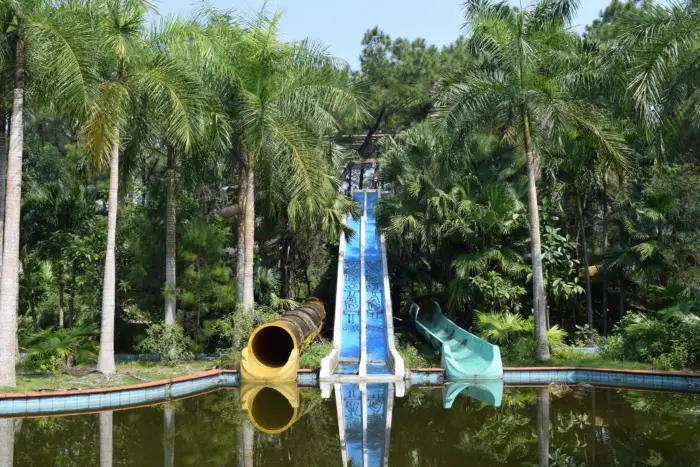 Where to stay in Hue
Feeling luxurious: Hill Bungalow Hue – Great value for money! Modern clean rooms with a terrace and swimming pool, for relaxing after a long day of exploring Hue. Great location too!
Budget private room: Bon Ami Hostel – The location is excellent! Down a quiet alley for a good night's sleep, but within a 1-minute walking distance to plenty of bars and eateries. The beds are comfy, and the rooms are very clean, making it great value for money. The staff members are also very attentive.
Dorm life: Baloo Hostel – Cheap, clean and in an excellent location! The property has an outstanding rating of 9.7 on booking.com and is perfect for single travellers.
For more places to stay in Hue, check the latest prices here.
Essential resources for travelling in Vietnam
Travel Insurance – It's a good idea to have insurance, particularly if you're going to be riding a motorbike. Our personal choice is Safteywing. You can opt for automatic monthly payments, just like a subscription. It can be purchased whilst already travelling and there is no cap on the duration of travel.
Visa – You are highly likely to need a visa for Vietnam. iVisa is a fantastic website that is super easy and quick to use. You can quickly make a visa application online.
Accommodation – Booking.com is our go-to when looking to pre-book accommodation online. Booking.com tend to almost always have the best rates and a FREE cancellation policy for most properties.
Overland transport – Our go-to website for overland transport is Bookaway. They have routes all over Vietnam and host a range of transport modes and companies. It is easy to book online and have your ticket sent to your phone.
Tours & Activities – If you want to book tours and activities for Vietnam online, make sure to check out Get Your Guide. Get Your Guide takes the stress out of booking activities abroad. You will also find a range of benefits, such as skip-the-line passes, lunch included in your tours, and so much more.
Like this abandoned water park, Hue post? Pin it for later!