Basket boat Hoi An! Once you've ticked off all the cool things to do in Hoi An's Old Town, you may want to float away along the magical mangroves in the region. In which case, stick your conical hat on and hop on board a basket boat for a dreamy row along with incredible nature spots.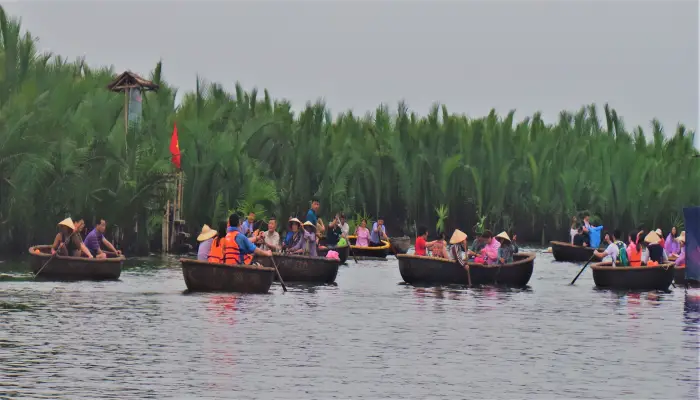 Disclosure: Wander Vietnam contains affiliate links. If you click on these links and make a purchase, we will earn a small commission at no extra cost to you. You can find our full disclosure policy and privacy policy here.
What is a Basket boat?
Known in Vietnamese as 'thung chai', the basket boat is a semicircular, bamboo twined boat. The basket boat is an iconic feature of Vietnam's coastal areas, which you are certain to travel through on a 3-week backpacking Vietnam trip. The story has it that the basket boat was created around the French colonial area. The French imposed taxes on the ownership of boats. Unfortunately, local fishermen couldn't afford the taxes, so took a creative initiative and designed the now-popular basket boats. The locals argued that they are not boats, but a basket. In turn, this led to them becoming a tax-free staple of Vietnam. The basket boats are still widely used today. As you sit by the beach in Hoi An and Danang, you will see plenty of them bobbing up and down in the sea whilst local fishermen go about their business.
Where to book a basket boat Hoi An tour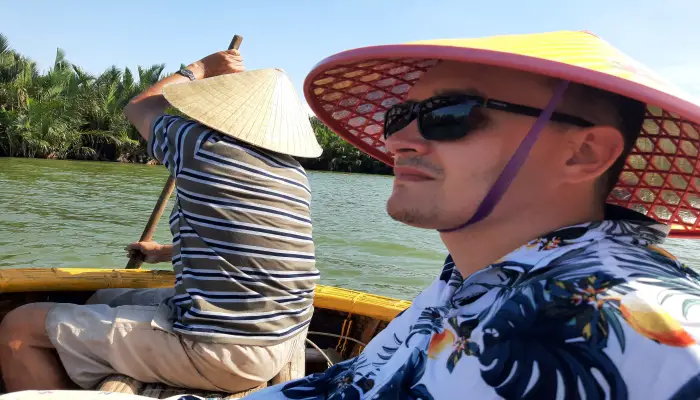 There is no shortage of places to book a basket boat tour in Hoi An. You can easily book a tour through your accommodation, or from one of the many tour agencies dotted around the Old Town. To save time and searching, you can even book directly online and combine your basket boat trip with a cooking tour or a bicycle tour. The choice is completely yours!
Alternatively, you can head down to Bay Mau Coconut Forest along the Thu Bon River yourself and hop on a boat from there. For our boat tour, we opted to go with Basket Boat Cafe. Basket Boat Cafe is ideally located in a tranquil spot typical of a fishing village. Not only that, they serve the most delicious breakfasts (which are served all day). Our personal fave is the sausage bagel, which we frequently ordered during our 5 weeks in Hoi An. To book a basket boat tour with Basket Boat Cafe, we recommend you send them an email or message them on Facebook Messenger beforehand to reserve your place.
Cost of a basket boat tour
If you go to the basket boat docks yourself, the cost of a 45 – 50 minute basket boat trip is 100,000 vnd per person. However, on the Basket Boat Cafe's website, the cost stated is 250,000 vnd. Although, this includes pick-up and drop-off at your hotel. If you would like to make your own way there, we recommend you rent a bicycle for the day and cycle there yourself. Bicycle rental is often free with your accommodation or costs just 20,000 – 30,000 vnd per day. Tips for the rower are optional but highly appreciated. A recommended tip is around 10 per cent of the total price.
What to see on a basket boat trip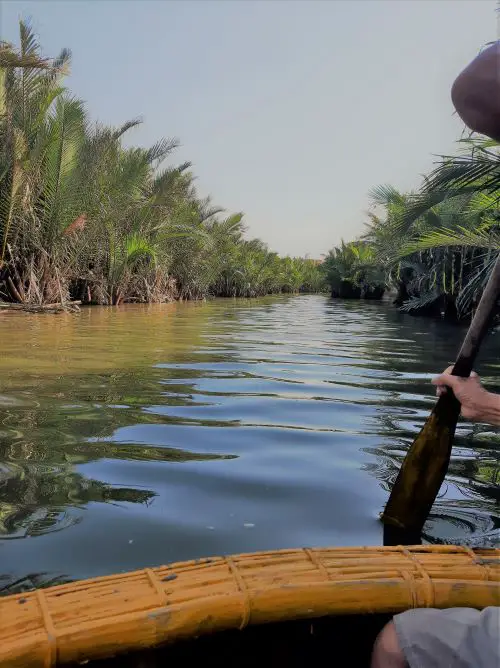 As you board your boat, the rower will hand you a conical hat. Not only is this great for pictures, but it will help keep the sun off your shoulders and provide shade on a hot sunny day. Floating down the coconut forest is a somewhat romantic and peaceful experience. On your trip keep a lookout for birds in the shrubs and thousands of little crabs scurrying along the sandy banks. You can even take the opportunity to row the boat yourself and cast a net for the chance to catch your own fish.
Where to stay in Hoi An
Feeling luxurious: Cozy Savvy Boutique Hotel – A wonderful hotel in the heart of Hoi An. The hotel is fully equipped with a swimming pool, fitness centre, and garden. Furthermore, the hotel even offers a free bicycle rental service, which is perfect for cycling in the quaint old town.
Budget private room: Aroma Homestay & Spa – The best area to stay in Hoi An for those on a budget is on Tran Cao Van Street. That is why we recommend Aroma Homestay & Spa. The homestay is in a great location. It's surrounded by shops and eateries, and only 1 km from Hoi An old town. The homestay offers modern and clean private rooms. The beds are comfortable, and the staff members are welcoming and helpful. Great value for money!
Dorm life: Backhome Hostel & Bar – A modern hostel that is right in the heart of the ancient town. Perfect for social butterflies on a budget.
For more accommodation in Hoi An, CLICK HERE!
Essential resources for travelling in Vietnam
Travel Insurance – It's a good idea to have insurance, particularly if you're going to be riding a motorbike. Our personal choice is Safteywing. You can opt for automatic monthly payments, just like a subscription. It can be purchased whilst already travelling and there is no cap on travel duration.
Visa – You are highly likely to need a visa for Vietnam. iVisa is a fantastic website that is super easy and quick to use. You can quickly make a visa application online.
Accommodation – Booking.com is our go-to when looking to pre-book accommodation online. Booking.com tend almost always to have the best rates and a FREE cancellation policy for most properties.
Overland transport – Our go-to website for overland transport is Bookaway. They have routes all over Vietnam and host a range of transport modes and companies. It is easy to book online and have your ticket sent to your phone.
Tours & Activities – If you want to book tours and activities for Vietnam online, make sure to check out Get Your Guide. Get Your Guide takes the stress out of booking activities abroad. You will also find a range of benefits, such as skip-the-line passes, lunch included in your tours, and so much more.
Like this basket boat Hoi An post? Pin it for later!