With plenty of options for transportation in Vietnam, getting around Vietnam is much easier and more convenient than ever before. Whether you're travelling to Vietnam on a budget, or plan to jet your way across the country, you can easily travel from Hanoi to Ho Chi Minh City and stop at all the hotspots along the way. Find info about motorbikes, buses, trains, taxis, boats & more.
Disclosure: Wander Vietnam contains affiliate links. If you click on these links and make a purchase, we will earn a small commission at no extra cost to you. You can find our full disclosure policy and privacy policy here.
Motorbike in Vietnam
Since the Top Gear episode of Jeremy Clarkson travelling through Vietnam by motorbike aired, travellers have had a motorbike trip in Vietnam high on their bucket list. Motorbike travel is by far the most popular transportation option in Vietnam, for locals and travellers alike. Motorbikes make it easy for you to discover every nook and cranny of the narrow winding streets in the cities or mountainous regions in places such as Dalat.
Travelling by motorbike in Vietnam has become so popular that businesses have been set up along the coast where you can rent a motorbike in one city and leave it in another city further up the coast. Whilst it is popular to travel all the way up the coast from Ho Chi Minh City to Hanoi, or vice versa, you can also take shorter motorbike trips on popular routes such as the Hai Van Pass. Alternatively, motorbike hire is also convenient to simply get around the town or city you are in.
For longer regional trips, a Honda Win is a popular choice and backpackers can buy them for around $300 and try to sell them once their trip has come to an end. For inner-city riding, an automatic Yamaha Nouvo is a popular choice. Motorbikes from rental shops cost between 120,000 – 200,000 vnd per day.
Of course, riding a motorbike in a foreign country comes with risks, but as long as you're sensible, wear your helmet, and avoid the booze whilst riding, you should be fine. As with all activities like these, make sure your insurance covers you and read your government's travel advice page to make sure you are able to legally drive in Vietnam.
Buses in Vietnam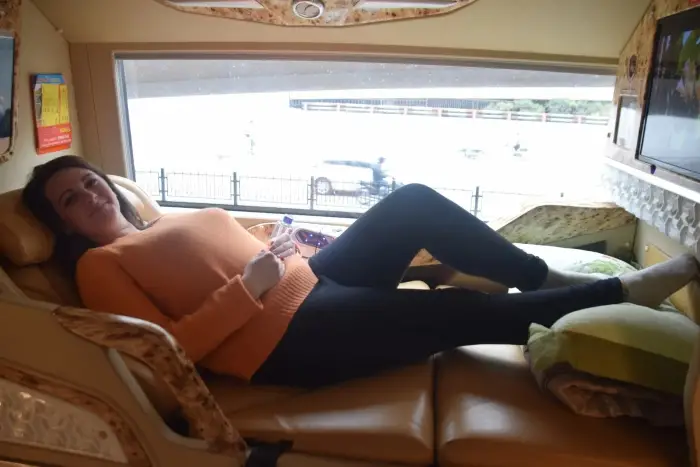 Second to motorbikes, buses are the next most popular option for transportation in Vietnam. There are two types of buses; tourist buses and local buses. We will go into more detail in the sections below.
Tourist buses in Vietnam
Tourist buses are just that! They are catered for tourists and hit all the major holiday destinations. They usually pick up in the centre of tourist hubs and some even pick up directly from your hotel. With that luxury, they are slightly more costly than public transport. You can book a tourist bus from most hotels or hostels or from the many tour operator shops you will find dotted around town. Alternatively, if you're like us, and prefer to book online and have the ticket sent directly to your phone, we recommend using Bookaway. This way, you can compare the prices of all bus operators and pick the best deal.
Prices vary depending on the length of the journey and the bus company. However, you can purchase a ticket that will take you from one end of the country to the other with multiple stops along the way. This costs around 1,000,000 vnd.
Most tourist buses are sleeper buses. Even on short journeys that are not operating through the night. The most basic ones recline almost fully and provide reasonable comfort. You can also pay a bit extra for a luxury sleeper bus which usually comes with a curtain for privacy, charging USB ports, and the best bit…a massage seat!
Public transportation in Vietnam
Public buses are cheaper than tourist buses, but you usually have to make your way to a bus station on the outskirts of town. For this reason, they are an unpopular option for tourists. Furthermore, once you have paid for a taxi to the bus station, the cost almost offsets itself. However, if you fancy the challenge we recommend you look up the bus station and head there by Grab taxi. Once you arrive, pay the fare exactly if you can, or with small denominations to avoid getting ripped off. If you want to know more about taking the public bus in Vietnam, we suggest you read our article on how to get to Ninh Binh from Hanoi. We have detailed the public bus experience there.
Vietnam sleeper train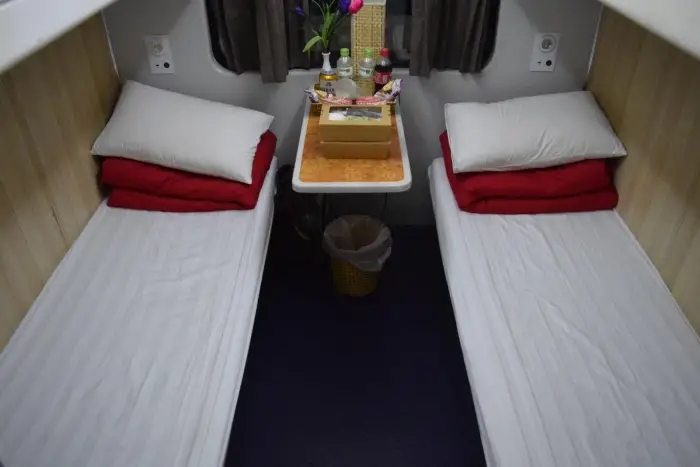 Another exciting way to get around Vietnam is via train. The train offers ultimate comfort! A first-class sleeper train will provide you with a bed in a 2 or 4-bed room, freshly washed white linen, snacks, and toilets. However, rail travel in Vietnam is slow compared to road and is a more expensive option. Nevertheless, you will witness incredible scenery and be travelling in ultimate comfort. To book rail travel in Vietnam, it is best to book tickets in advance and not rely on getting tickets from the station on the day. Again, we recommend checking Bookaway for tickets. Alternatively, Vietnam Railways is another great reliable option to book train travel.
Taxis in Vietnam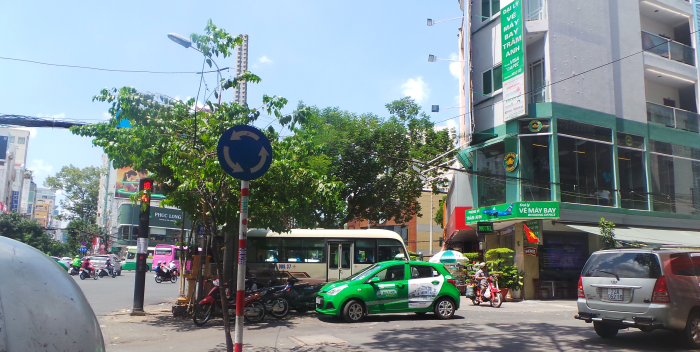 Flagging down a taxi
Taxis in Vietnam are easy to come by. You can flag one down in the street or pre-book a taxi for longer cross-country trips. If you would like to take a taxi out of town to your next destination, we recommend you use Bookaway. If you need a taxi to get around the town or city, we recommend sticking with well-known companies. For example, the green Mai Linh taxis are a reliable option in Hanoi, whilst Vinasun taxis are a reliable option in Ho Chi Minh City. You will see plenty of these taxis, and you can simply wave your hand out and tell the driver where you are heading. As with anywhere in the world though, our top tip is to keep an eye on the meter and have your arrival destination preplanned on maps.me. By keeping an eye on where you are going you can avoid being taken for a ride around the block a few times.
Grab
If you have data on your phone, we highly recommend you ditch flagging down a taxi in the street. Grab is a fantastic app that works just like Uber. Input your pick-up point and your drop-off point, and select your transport type; 7-seater car, 5-seater car, or motorbike, hit book, and your ride will be on its way. Wait times are usually no more than 10 minutes as there are plenty of drivers waiting to take your fare. The best thing about Grab is that you can see the price of the fare beforehand and you only pay that price. Furthermore, it is a much safer option as the company is tracking where the drivers are going.
Xe ôm
Xe ôm literally translates to motorbike hug. You may notice men hanging around on corners lying across their motorbikes, randomly shouting over to ask if you need a motorbike ride. Whilst on paper this sounds a bit dodgy, they are just simply motorbike taxis. Before Grab was a thing, instead of taking a car taxi, locals would seek motorbike taxis, which are often a much cheaper and quicker option. Whilst generally safe, they tend to be a bit more expensive than a Grab bike. If you are going to take xe ôm, make sure to agree on the price with the driver beforehand.
Flights in Vietnam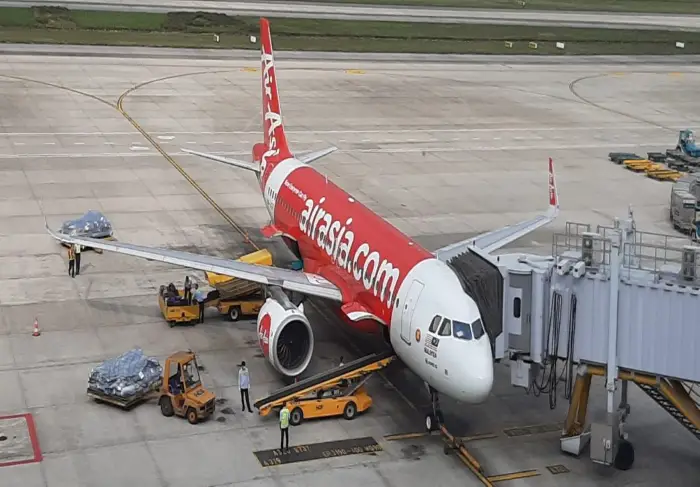 If you're short on time, you can easily fly around Vietnam. Vietnam has a total of 33 airports, making domestic travel easy and convenient. With low-cost air carriers such as VietJet Air and AirAsia, you can easily find flights for around $20. As always, we recommend you check Skyscanner for the best deals on flights within Vietnam. Whilst air travel can save you travel time, it also comes with the disadvantages of not seeing the beautiful scenery and you may miss out on top attractions such as the Hai Van Pass.
Boat trips in Vietnam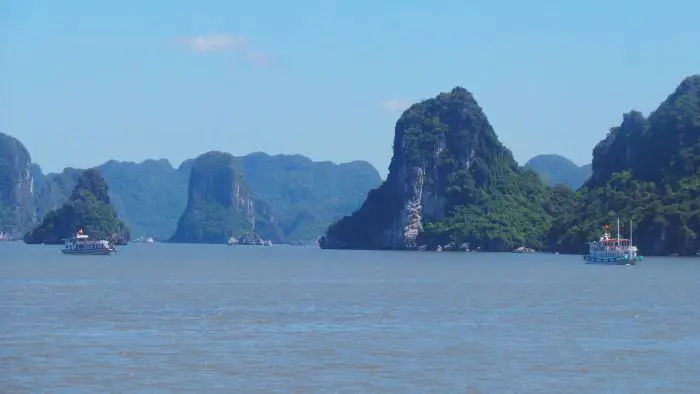 Boat travel as a means to get from place to place is not really common in Vietnam. However, there are a few boat trips that you may want to consider. We have listed the trips below:
Ferry from Hai Phong to Cat Ba Island
Ferry from Ha Tien or Rach Gia to Phu Quoc Island
Bicycle in Vietnam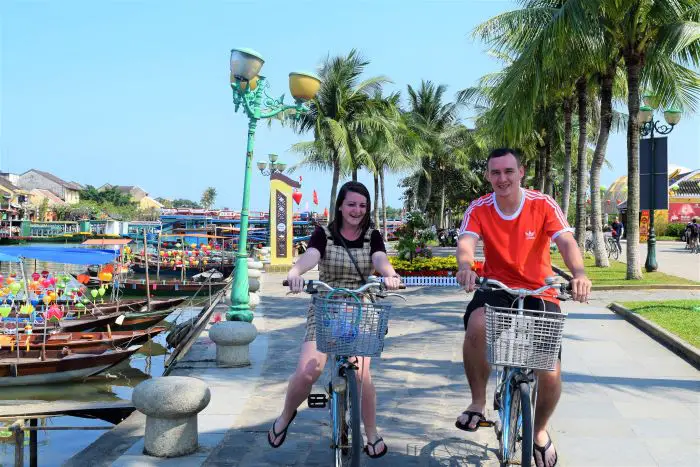 Another relaxing way to get around the towns and cities is by bicycle. You will especially want to rent a bicycle in places like Hoi An, where you can cycle around the old town, or in places like Mai Chau, where you can cycle among the rice paddies. You find bicycle rental for as little as 20,000 vnd per day. Or, you may even find that your accommodation rents them out free of charge. Make sure to look out for these perks when booking your accommodation.
Essential resources for travelling in Vietnam
Travel Insurance – It's a good idea to have insurance, particularly if you're going to be riding a motorbike. Our personal choice is Safteywing. You can opt for automatic monthly payments, just like a subscription. It can be purchased whilst already travelling and there is no cap on the duration of travel.
Visa – You are highly likely to need a visa for Vietnam. iVisa is a fantastic website that is super easy and quick to use. You can quickly make a visa application online.
Accommodation – Booking.com is our go-to when looking to pre-book accommodation online. Booking.com tend to almost always have the best rates and a FREE cancellation policy for most properties.
Overland transport – Our go-to website for overland transport is Bookaway. They have routes all over Vietnam and host a range of transport modes and companies. It is easy to book online and have your ticket sent to your phone.
Tours & Activities – If you want to book tours and activities for Vietnam online, make sure to check out Get Your Guide. Get Your Guide takes the stress out of booking activities abroad. You will also find a range of benefits, such as skip-the-line passes, lunch included in your tours, and so much more.
Like this transportation in Vietnam post? Pin it for later!