You have a couple of transport options to get to Ban Gioc Waterfall from Hanoi. In this post, we will tell you how you can make the journey to Ban Gioc Waterfalls from Hanoi using luxury transport, local buses, on a motorbike, or by organised tour. Ban Gioc Waterfall is located about 360 km North of Hanoi, heading towards the Chinese border.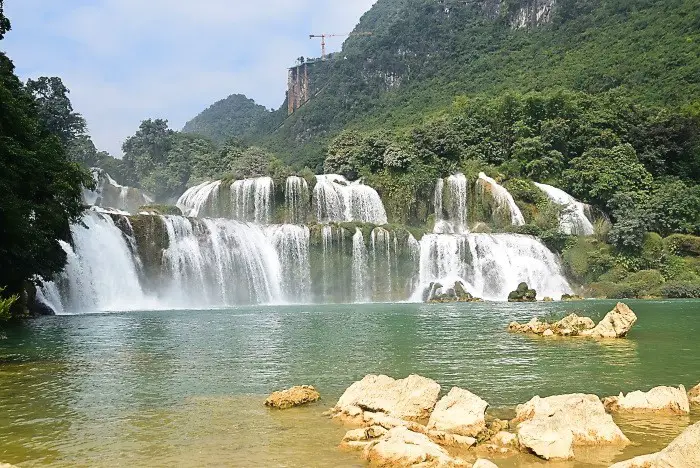 Disclosure: Wander Vietnam contains affiliate links. If you click on these links and make a purchase, we will earn a small commission at no extra cost to you. You can find our full disclosure policy and privacy policy here.
Step 1: Take a bus to Cao Bang City
The bus ride from Hanoi to Cao Bang usually takes around 6 – 8 hours, depending on traffic conditions and the bus company. The journey from Hanoi to Cao Bang is scenic as you travel through the Vietnamese countryside. Like Ninh Binh, Cao Bang is known for its beautiful landscapes and natural attractions.
Take a luxury limousine from Hanoi to Cao Bang City
If you want a luxurious option, you can book a luxury minivan to Cao Bang City. The luxury minivans have more space and more amenities. Once you get on board, you can enjoy Wifi, A/C, food & drinks, reclining seats and charging stations. The luxury limousine leaves daily from 96 Vo Chi Cong at 7:00 am and 15:30 am. It arrives at Hotel 89 in Cao Bang at 14:00 pm and 22:30 pm. For this type of transport, you will need to book in advance as seats are limited. The price for a luxury limousine is 450,000 vnd.
>>>Book the luxury limousine HERE! <<<
Take a local bus
First, you will need to go to the nearest bus station in Hanoi. The most popular one is My Dinh Bus Station, located in the western part of the city. Look for the ticket counters or information desk at the bus station. Inquire about buses heading to Cao Bang. Usually, there is no need to purchase a ticket in advance, but during national holidays you should.
The price of a bus ticket from Hanoi to Cao Bang can vary depending on the bus company and the type of bus you choose. Generally, the price ranges from 200,000 vnd to 300,000 vnd.
Most buses leaving My Dinh bus station leave between 7 pm – 9 pm and are often sleeper buses, so you can sleep during the journey. If you wish to take a bus during the day, we recommend you head to the bus station for the early bus that leaves at 6:10 am.
>>> Find local bus times HERE! <<<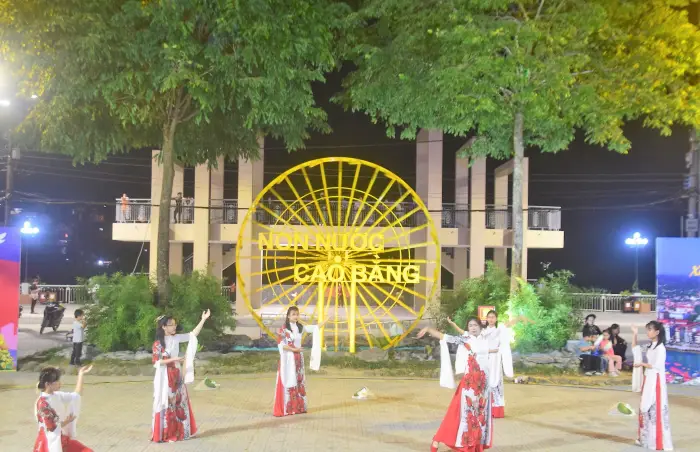 Step 2: Take transport from Cao Bang City to Ban Gioc Waterfall
Once in Cao Bang, you can take another local bus, hire a taxi, or rent a motorbike to Ban Gioc Waterfall. It's about a 2-hour drive from Cao Bang City.
Cao Bang to Ban Gioc Waterfall bus
There are several small local buses that make the journey to Ban Gioc Waterfall from Cao Bang Central bus station. Buses run every 30 minutes and cost around 70,000 vnd. The downfall to taking a local bus is that they are often crowded, and don't allow much space for your luggage.
Taxi from Cao Bang City
Taking a taxi from Cao Bang City to Ban Gioc waterfall is a comfortable way to travel. By taking in a taxi you will cut out the wait time for the bus, and have the luxury of AC and more space for your luggage. However, the price will set you back around 700,000 vnd one-way.
Motorbike from Cao Bang City
A popular option is to rent a motorbike and drive yourself to Ban Gioc Waterfalls. Motorbike rental costs around 200,000 vnd per day. You can usually rent a motorbike from your accommodation in Cao Bang. If not, they should be able to hook you up with a local contact. Remember, never give your passport as collateral. Only allow the person renting the bike to take a photo of it.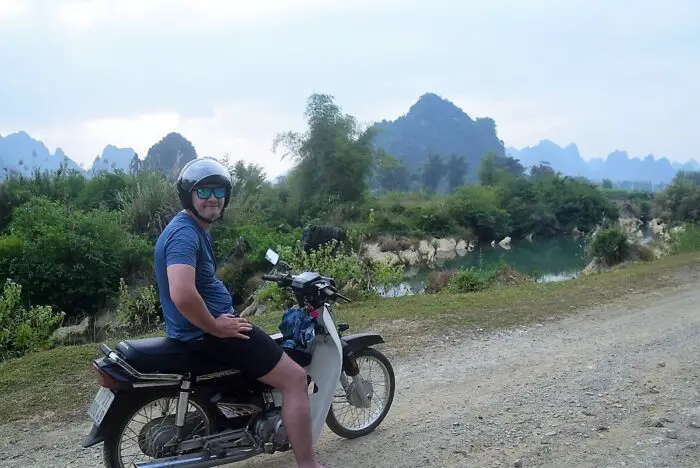 Other transport options to get to Ban Gioc Waterfall from Hanoi
Take an organised Ban Gioc Waterfall group tour
If making your own way to Ban Gioc Waterfall from Hanoi doesn't appeal to you, another option is to take an organised tour. Tours can be booked from a local tour shop in Hanoi, or online in advance. Tours include your accommodation, meals, and transport. As well as visiting Cao Bang and Ban Gioc Waterfall, many tourists opt to combine a tour of the waterfall with a stopover at Ba Be Lake. Had we not been on a work time constraint, we would've opted to include Ba Be Lake as part of our trip. Another option is a wider Ha Giang Loop trip that includes the Cao Bang region on your motorbike trip.
>>> Book your Ban Gioc Waterfall tour HERE! <<<
Rent a motorbike to get to Ban Gioc Waterfall from Hanoi
Another option, which probably isn't for inexperienced riders, is to rent a motorbike in Hanoi and drive yourself. The roads, whilst scenic and beautiful, are windy and riders need to take extra caution. If you opt to drive yourself to Ban Gioc Waterfall from Hanoi, we recommend you leave early in the morning, so you have plenty of time to get there whilst it is light outside. The price to rent a motorbike is around 200,000 vnd per day.
About Ban Gioc Waterfall
Ban Gioc Waterfall, also known as Detian Waterfall, is a magnificent natural attraction located on the border between Vietnam and China. Ban Gioc Waterfall is the largest waterfall in Vietnam and one of the most beautiful waterfalls in the region. It is formed by the Quay Son River, which flows from China into Vietnam.
The waterfall is approximately 30 meters high and 200 meters wide, offering a breathtaking sight of cascading water surrounded by lush greenery and limestone cliffs. The waterfall is divided into three main falls, with the largest and most impressive one located on the Vietnam side. The water plunges down in a spectacular display, creating a misty atmosphere and a roaring sound. In the dry season, the water flow decreases, revealing rocky cliffs where visitors can walk and explore.
There are various viewpoints and platforms that offer stunning panoramic views of the waterfall. Visitors can also take a boat ride on the river to get closer to the falls and experience its grandeur firsthand. Surrounding the waterfall are rice fields, traditional villages, and limestone karsts, adding to the natural charm of the area.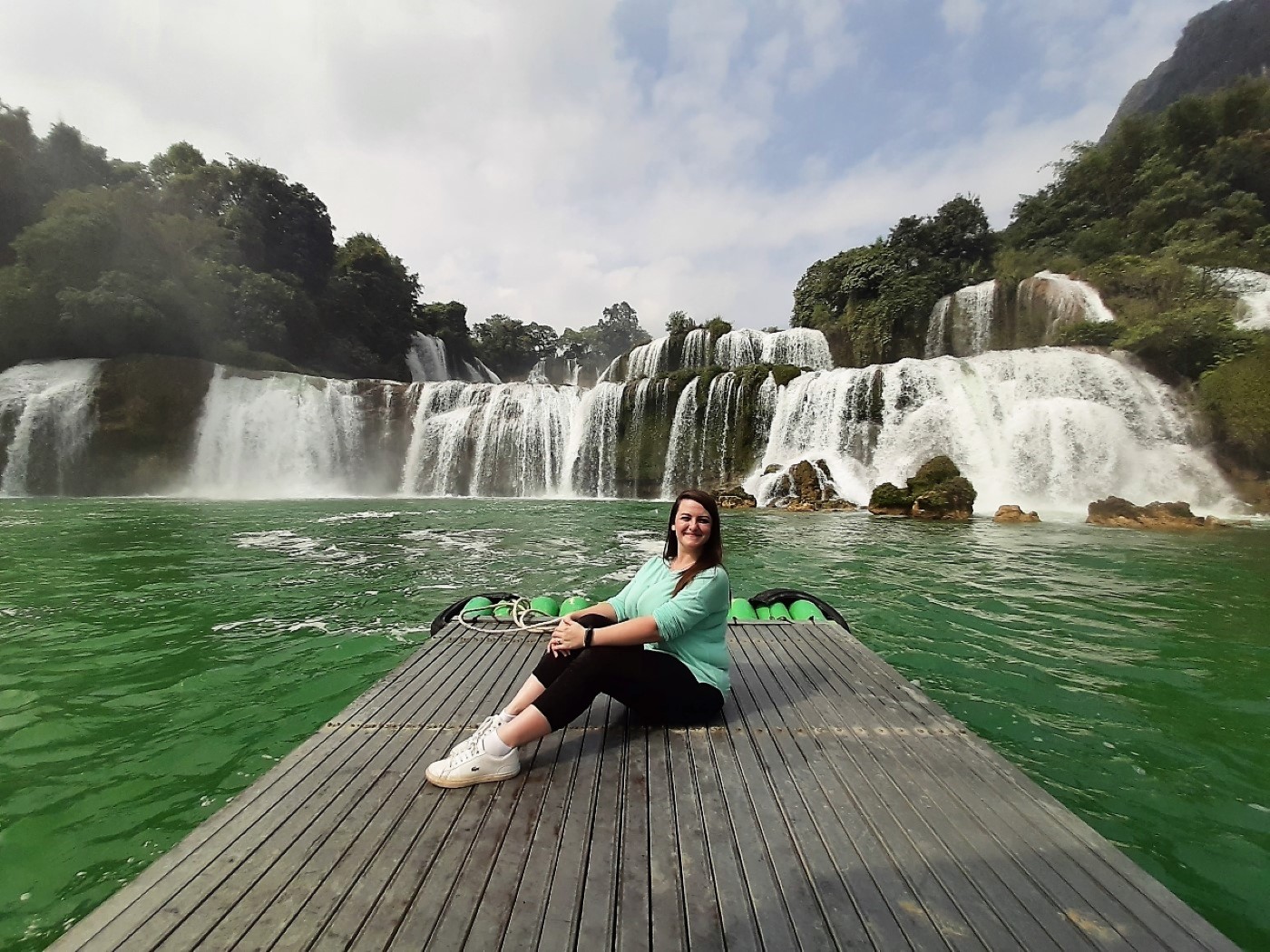 Cost of visiting Ban Gioc Waterfall
The cost of a ticket to enter Ban Gioc Waterfall is just 45,000 vnd per person. If you wish to ride the bamboo rafts, there is an additional cost of 50,000 vnd per person. Whilst the bamboo raft is an additional cost, it is totally worth it, even for those on a strict backpacker budget.
Best time to visit Ban Gioc Waterfall
The best time to visit Ban Gioc Waterfall is during the dry season, from September to April. During this time, the weather is usually sunny and the water level is lower, making it easier to explore and enjoy the waterfall. We visited in November and we were informed by our accommodation to visit at 11 am, as this is the time the manmade water pumps are turned on. However, if you prefer to see Ban Gioc Waterfall at its fullest and most impressive, then the rainy season from May to October is also a great time to visit as the waterfall is fed by rainwater and the surrounding scenery is lush and green.
Other things to do near Ban Gioc Waterfall – Nguom Ngao Cave
Nguom Cave is another popular tourist attraction in the area known for its stunning stalactite and stalagmite formations. The cave is estimated to be around 2.8 million years old and was discovered in 1921 by a local man. It stretches over 2.1 kilometres in length and consists of three main chambers. The first chamber, known as the "Great Hall," is the largest and most impressive, with a height of up to 80 meters. Inside the cave, visitors can see various formations, including curtains, flowers, and pillars, which have formed over millions of years due to the accumulation of calcium carbonate. The cave also features underground rivers and waterfalls, creating a unique and breathtaking underground landscape. The cost to enter is 45,000 vnd per person.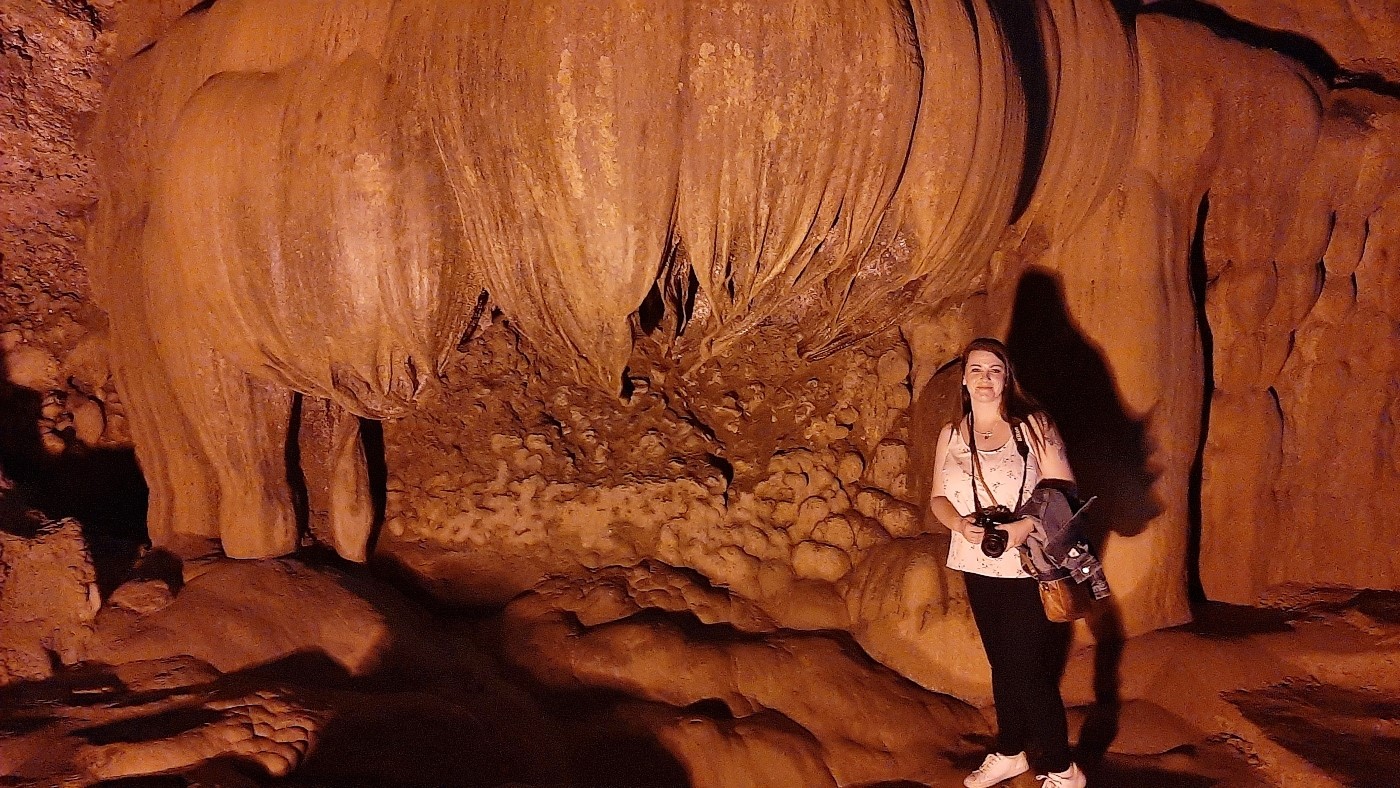 Where to stay – Hotels near Ban Gioc Waterfall and in Cao Bang
Cao Bang
Primrose Homestay – A clean modern homestay in the heart of Cao Bang City. Perfect for solo budget travellers or couples. Has both private rooms and dorm rooms.
Near Ban Gioc Waterfall
Yen Nhi Homestay Ban Gioc – A lovely homestay very close to the waterfall. The rooms are clean and comfortable. You can order delicious food and drink. Perfect for exploring the nearby surroundings.
Essential resources for travelling in Vietnam
Travel Insurance – It's a good idea to have insurance, particularly if you're going to be riding a motorbike. Our personal choice is Safteywing. You can opt for automatic monthly payments, just like a subscription. It can be purchased whilst already travelling and there is no cap on the duration of travel.
Visa – You are highly likely to need a visa for Vietnam. iVisa is a fantastic website that is super easy and quick to use. You can quickly make a visa application online.
Accommodation – Booking.com is our go-to when looking to pre-book accommodation online. Booking.com tend to almost always have the best rates and a FREE cancellation policy for most properties.
Overland transport – Our go-to website for overland transport is Bookaway. They have routes all over Vietnam and host a range of transport modes and companies. It is easy to book online and have your ticket sent to your phone.
Tours & Activities – If you want to book tours and activities for Vietnam online, make sure to check out Get Your Guide. Get Your Guide takes the stress out of booking activities abroad. You will also find a range of benefits, such as skip-the-line passes, lunch included in your tours, and so much more.