Here is the ultimate list of the most beautiful places in Vietnam that you must visit. We are currently on a mission to visit all 58 provinces and tick off all the incredible sites each province has to offer. You can find all the best places to visit in Vietnam by region; north, central, and south. You will find popular backpacker hotspots and hidden gems mainly visited by locals. You will find everything from mountainous regions, and beach destinations, to cultural escapes.
---
The most beautiful places in Vietnam in the north
Northern Vietnam is blessed with stunning mountains, incredible nature, and unique culture. You will find plenty to keep you occupied for your journey in this region. Northern Vietnam has a total of 23 provinces. In this section, you will find the best provinces to visit, significant landmarks, and activities.
Hanoi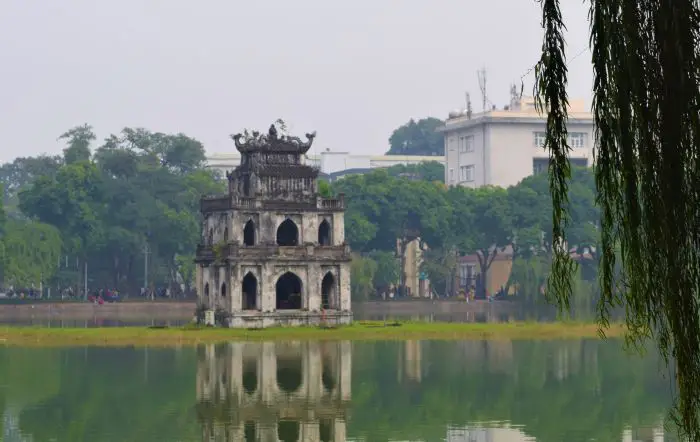 Disclosure: Wander Vietnam contains affiliate links. If you click on these links and make a purchase, we will earn a small commission at no extra cost to you. You can find our full disclosure policy and privacy policy here.
Hanoi, the capital city of Vietnam, is an enchanting destination with a rich history and vibrant culture. Hanoi is steeped in history, with landmarks and monuments that reflect its past. Make sure to visit The Temple of Literature, Ho Chi Minh Mausoleum, and Hoa Lo Prison. For charming lakes and green spaces, take a stroll around Hoan Kiem Lake, located in the heart of the city. Hanoi is also famous for its street food culture. Don't miss the opportunity to try local dishes like pho (Vietnamese noodle soup), banh mi (Vietnamese sandwich), bun cha (grilled pork with noodles), and egg coffee. Make sure to explore the bustling street food markets like Dong Xuan Market or the Night Market, which are delightful experiences in themselves.
Recommended duration: 2 – 3 nights
Places to visit / landmarks: Temple of Literature, Ho Chi Minh Mausoleum, Hoa Lo Prison, Hoan Kiem Lake, Train Street.
Activities: Take a food tour, party in the Old Quarter
Accommodation: Acoustic Hotel & Spa or Nexy Hostel
Ninh Binh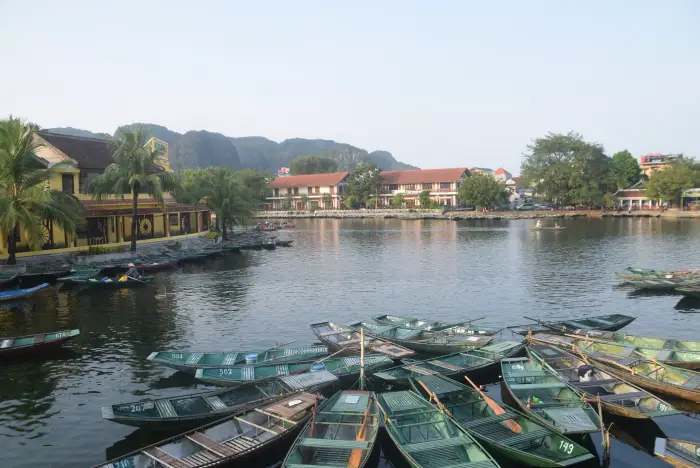 Ninh Binh is a beautiful province known for its stunning natural landscapes and rich cultural heritage. Ninh Binh is home to Trang An Landscape Complex, a UNESCO World Heritage Site. This area boasts a magnificent karst landscape with limestone cliffs, caves, and rivers, making it perfect for boat tours and exploring the stunning surroundings. As well as Trang An, visitors also opt to stay in the Tam Coc scenic area. Tam Coc is known as the "Halong Bay on land". Tam Coc offers a breathtaking experience with its limestone caves, rice paddies, and serene river cruises. You can take a boat ride along the Ngo Dong River, passing through caves and admiring the surrounding scenery. For history enthusiasts, a visit to the ancient capital of Hoa Lu is a must. Experience the rich cultural heritage by exploring the ancient temples and learning about the fascinating history of Vietnam.
Recommended duration: 2 nights
Places to visit / landmarks: Trang An Landscape Complex, Tam Coc scenic area, Bich Dong Pagoda, Hoa Lu Ancient Capital, Bai Dinh Pagoda, Hang Mua Cave
Activites: Boat rides, cycle through the rice paddies, try the local speciality; goat meat
Accommodation: Hotel Tam Coc Golden Rice or The Banana Tree Hostel
Quang Ninh (Ha Long Bay)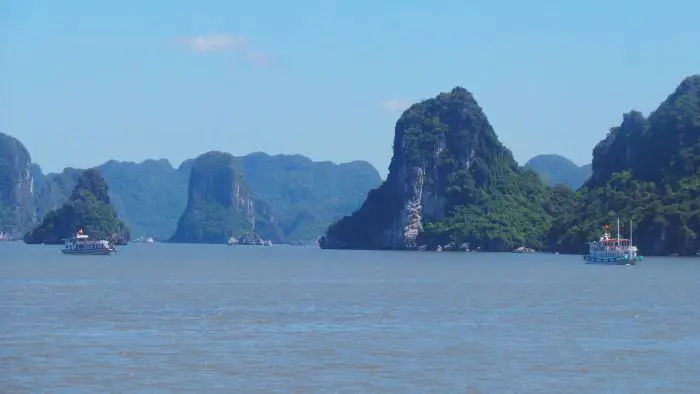 Quang Ninh Province is home to one of Vietnam's most famous attractions; Ha Long Bay. Ha Long Bay, a UNESCO World Heritage site, is a place where nature's artistry is on full display. It is a natural beauty of Vietnam. Picture yourself surrounded by thousands of limestone karsts and isles rising dramatically from the emerald waters, creating a captivating and ethereal landscape that feels like something out of a dream. For those seeking adventure, Ha Long Bay offers a plethora of exciting activities. Such as kayaking through hidden lagoons and discovering secluded beaches and secret caves.
Recommended duration: 2 days, 1 night on a Ha Long Bay cruise
Activites: Kayaking, relaxing, enjoying seafood treats
Ha Giang
The most famous, and undoubtedly one of the most upcoming tourist spots in Vietnam is the Ha Giang Loop. The route is often completed on a motorbike; by yourself, as part of a tour group, or with an experienced local rider. The Ha Giang Loop is a breathtakingly beautiful and off-the-beaten-path destination in northern Vietnam. The Ha Giang Loop is renowned for its stunning landscapes, with towering limestone mountains, deep valleys, and winding roads that offer panoramic views at every turn. The landscape is dotted with terraced rice fields, colourful hill tribes villages, and dramatic rock formations, creating a truly awe-inspiring sight. The region is home to various ethnic minority groups, such as the Hmong, Dao, and Tay. Interacting with these communities and learning about their traditions and way of life is an enriching experience. You can visit local markets, try traditional foods, and even stay in homestays to immerse yourself in their culture.
Recommended duration: 3 – 5 nights depending on how many stops you want to make
Places to visit / landmarks:
Activities: Motorbiking, boat ride on Nho Que River
Accommodation: A range of guesthouses
Lao Cai (Sapa)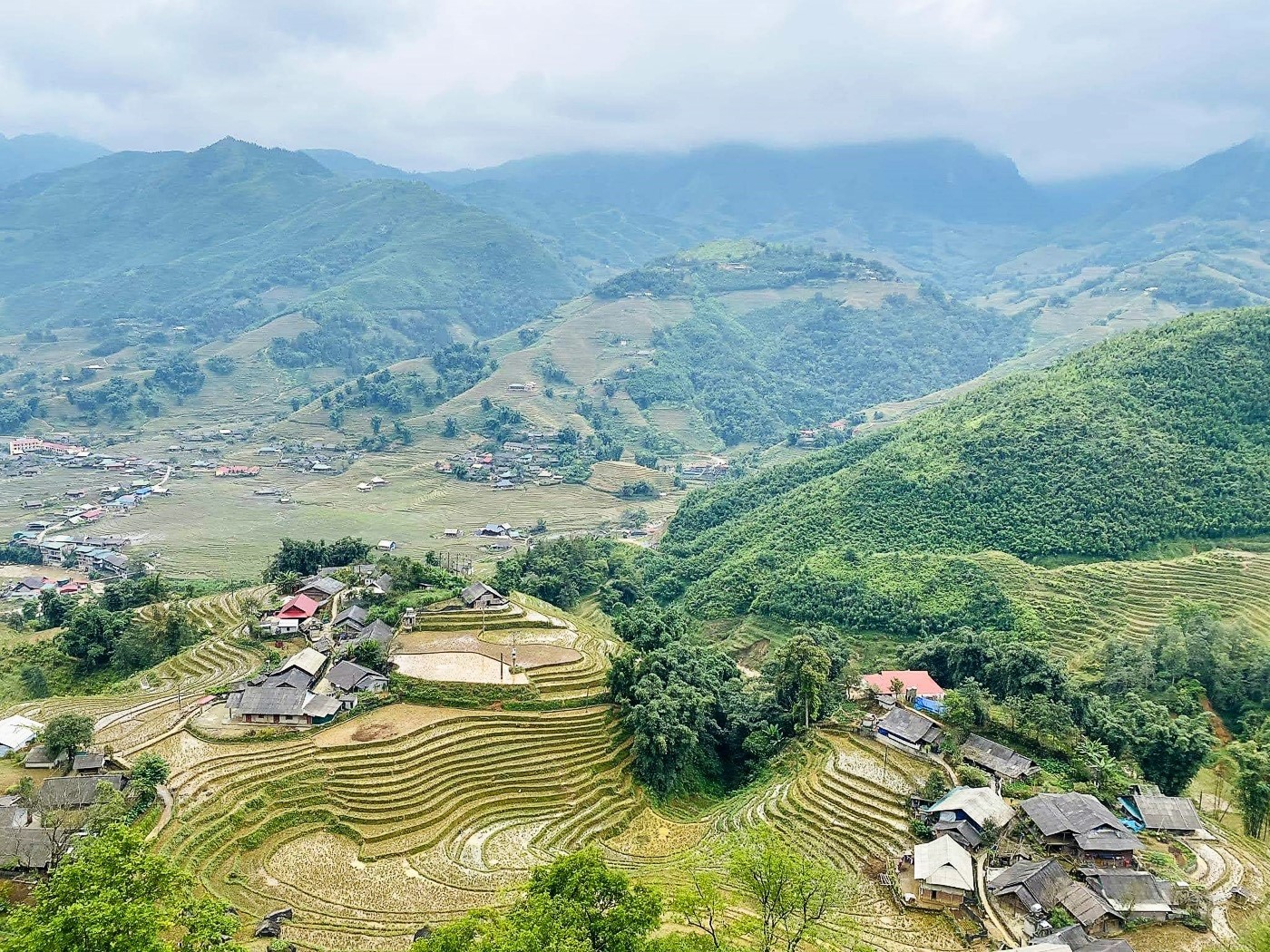 Sapa is known for its breathtaking scenery, with terraced rice fields, lush mountains, and picturesque valleys. The views are especially stunning during the rice harvesting season (September to October) when the fields turn golden yellow. Trekking is a popular activity in Sapa. You can explore surrounding villages and visit ethnic minority communities. Popular trekking routes include Fansipan Mountain, Muong Hoa Valley, and Cat Cat Village. On these trekking routes, you can learn about the ethnic minority groups, including the Hmong, Dao, and Tay people. Sapa is also home to Fansipan Mountain, the highest peak in Vietnam. It is known as the "Roof of Indochina". For adventure thrill-seekers, you have the option to climb the 3,147-meter mountain. Alternatively, you can take a cable car ride to enjoy the scenery without physical exertion.
Recommended duration: 2 nights
Places to visit / landmarks: Visit ethnic minorities as part of a tour, Fansipan Mountain, Sapa town centre
Activities: trekking tours and enjoying local delicacies
Accommodation: Pistachio Hotel or May Ho Hotel
Hai Phong (Cat Ba)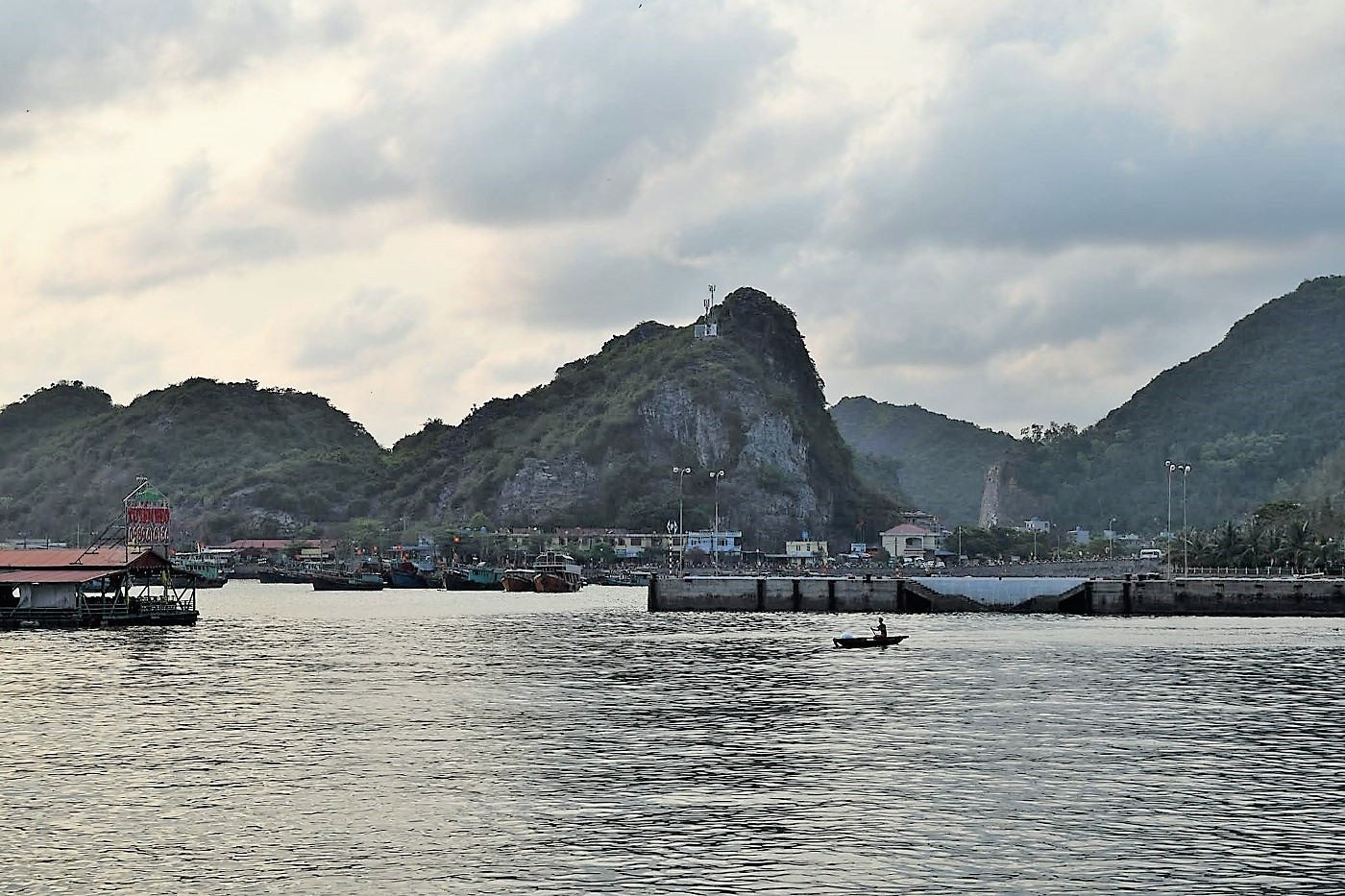 Cat Ba is the largest of a complex of islands belonging to Hai Phong City. The island is a perfect base for exploring the breathtaking Halong Bay. Take a boat tour or cruise, kayak through the limestone karsts, and visit the hidden caves and floating fishing villages. The island is also home to Cat Ba National Park. This national park is a UNESCO Biosphere Reserve and home to a diverse ecosystem. Hike through the lush forest trails, spot rare wildlife like the Cat Ba langur (one of the world's most endangered primates), and enjoy panoramic views from the mountain summit. Other popular activities visitors enjoy on Cat Ba Island are relaxing on the beaches, rock climbing opportunities, cycling or motorbiking along scenic coastal roads and enjoying the tranquillity of the countryside.
Recommended duration: 2 nights
Places to visit / landmarks: Ha Long Bay, Cat Ba National Park
Activities: Take a boat trip, hiking, rock climbing, relaxing
Accommodation: Cat Ba Friendly Family Hotel or Cat Ba Backpacker Hostel
Cao Bang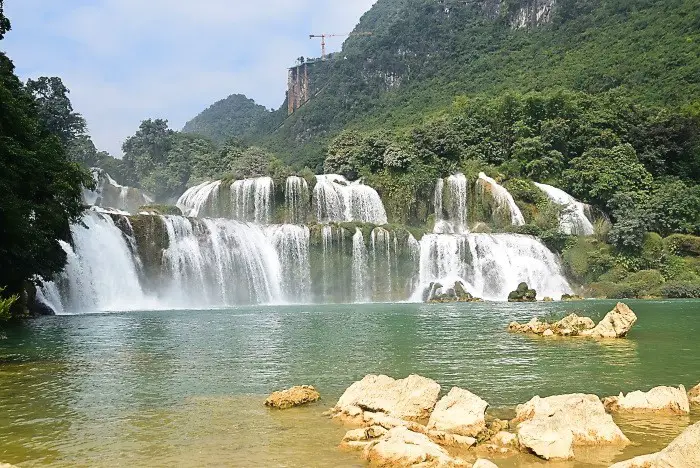 Cao Bang is renowned for its breathtaking landscapes, including the Ban Gioc Waterfall, one of the most beautiful waterfalls in Vietnam. The region is also home to serene lakes, lush forests, and picturesque mountains, making it a paradise for nature lovers. If you are an adventure seeker, Cao Bang offers various outdoor activities. You can trek through the rugged mountains, explore caves, go kayaking or rafting in the rivers, or even try rock climbing. The region's diverse terrain provides ample opportunities for adrenaline-pumping adventures.
Recommended duration: 2 nights
Places to visit / landmarks: Ban Gioc Waterfall, Nguon Ngao Cave, Angel Eye Mountain
Activities: Trekking, motorbiking, kayaking
Accommodation: Primrose Homestay or Yen Nhi Homestay Ban Gioc
Hoa Binh (Mai Chau)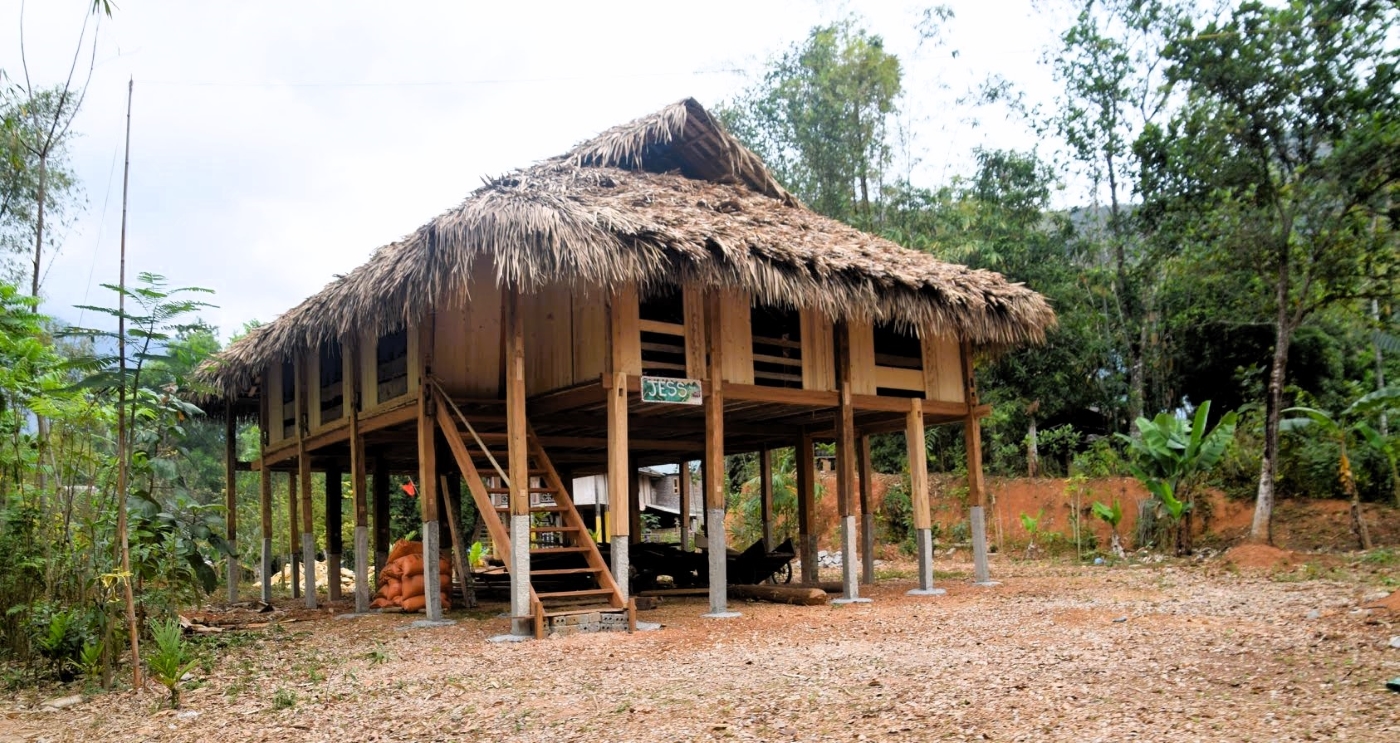 Mai Chau is a beautiful rural district located in the Hoa Binh province of Vietnam. It is known for its stunning landscapes, surrounded by lush green rice paddies, towering limestone mountains, and peaceful valleys. The region is home to the White Thai ethnic minority group, who have preserved their traditional way of life for centuries. You can immerse yourself in their unique culture, witness their traditional dances, music, and handicrafts, and even stay in a traditional stilt house overnight. It is the perfect location to experience a homestay with a local family. It allows you to get a deeper understanding of the local culture, customs, and daily life.
Recommended duration: 2 nights
Places to visit / landmarks: Hang Chieu Cave, Hoa Binh Lake
Activities: Cycle Mai Chau Valley, sleep in a stilt house
Accommodation: Mai Chau Mountain View Resort or Mai Chau Hideaway Lake Resort
Son La (Moc Chau)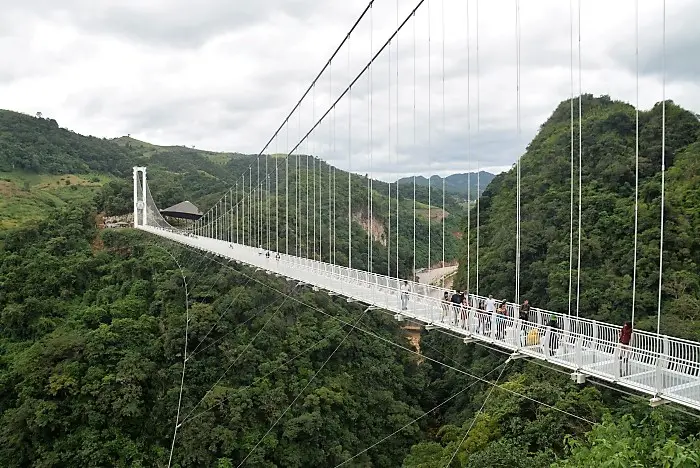 Moc Chau is a beautiful highland district located in Son La Province. It is famous for its stunning natural landscapes, including rolling hills, green tea fields, flower gardens, and ethnic minority villages. Moc Chau is renowned for its tea plantations, producing some of the best quality green tea in Vietnam. Visitors can explore the tea gardens, learn about tea production, and even participate in tea harvesting and processing activities. In addition, there are many ethnic minority villages in Moc Chau, such as the White Thai, H'Mong, and Dao communities. Popular attractions in Moc Chau include Moc Chau Island, home to the Guinness World Record glass bridge, the Moc Chau Plateau, Dai Yem Waterfall, Pha Luong Peak, and the heart-shaped tea hill.
Recommended duration: 2 nights
Places to visit / landmarks: Moc Chau Island, Dai Yem Waterfall, Bat Cave, Chi Lon Village
Activities: Walk the glass bridge, take photos, indulge in BBQ & Hotpot, photoshoot at tea plantations
Accommodation: MAMA's House
Thanh Hoa (Pu Luong)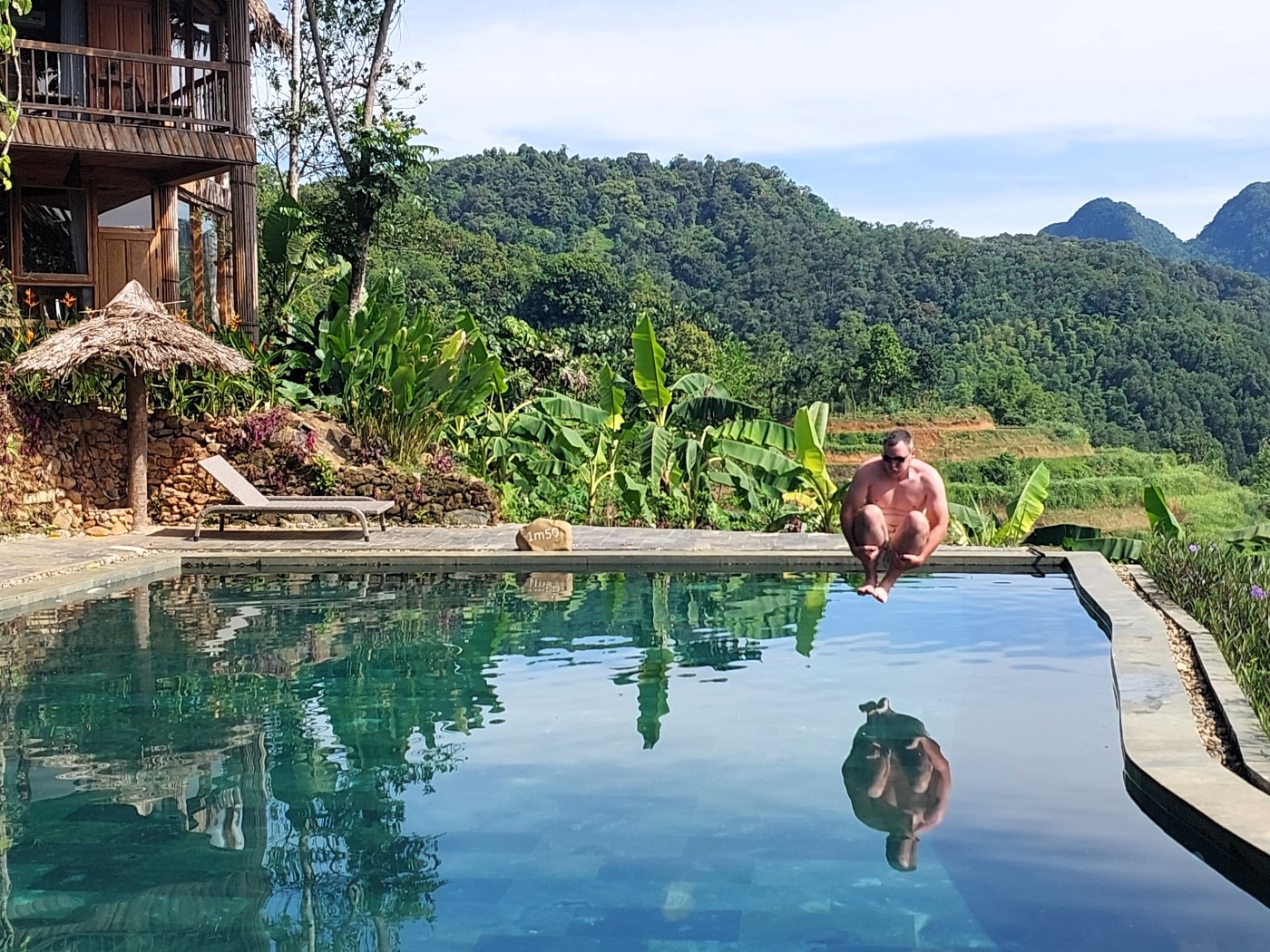 Pu Luong is a nature reserve located in the Thanh Hoa province. It is known for its breathtaking landscapes, lush rice terraces, and traditional ethnic minority villages. The area is popular among nature lovers and adventurers seeking an authentic and off-the-beaten-path experience in Vietnam. Pu Luong offers a variety of outdoor activities such as hiking, trekking, cycling, and exploring the local villages. The reserve is home to several ethnic minority groups, including the Thai and Muong people, who have preserved their unique traditions and way of life. There are also several scenic waterfalls in Pu Luong, such as the Hieu Waterfall and the Kho Muong Waterfall, where visitors can swim and relax in the natural pools.
Recommended duration: 2 nights
Places to visit / landmarks: Pho Doan Market, Thac Hieu Waterfall
Activities: Bamboo rafting, eating local cuisine, relaxing in a resort
Accommodation: Pu Luong Natura
Phu Tho (Viet Tri City)
Phu Tho is certainly an off-the-beaten-path destination in Vietnam. The main city in Phu Tho province is Viet Tri City, which is ideal to base yourself when exploring this province. One of the main attractions is Hung Kings Temple. This is one of the most important historical and cultural sites in Vietnam, dedicated to the legendary Hung Kings who are considered the founders of the nation. The temple complex is surrounded by beautiful landscapes and offers a chance to learn about Vietnamese history. The best time to visit is during the annual festival, held around April 7th each year. The festival includes traditional ceremonies, processions, and folk performances, and attracts visitors from all over the country. Other attractions include Xuan Son National Park and Long Coc tea fields. Both are great places for outdoor enthusiasts. You can hike through lush forests, explore caves, go bird-watching, or enjoy a picnic amidst scenic waterfalls.
Recommended duration: 2 nights
Places to visit / landmarks: Hung Kings Temple, Xuan Son National Park, Long Coc tea fields
Accommodation: Saigon Phu Tho Hotel
Vinh Phuc (Tam Dao)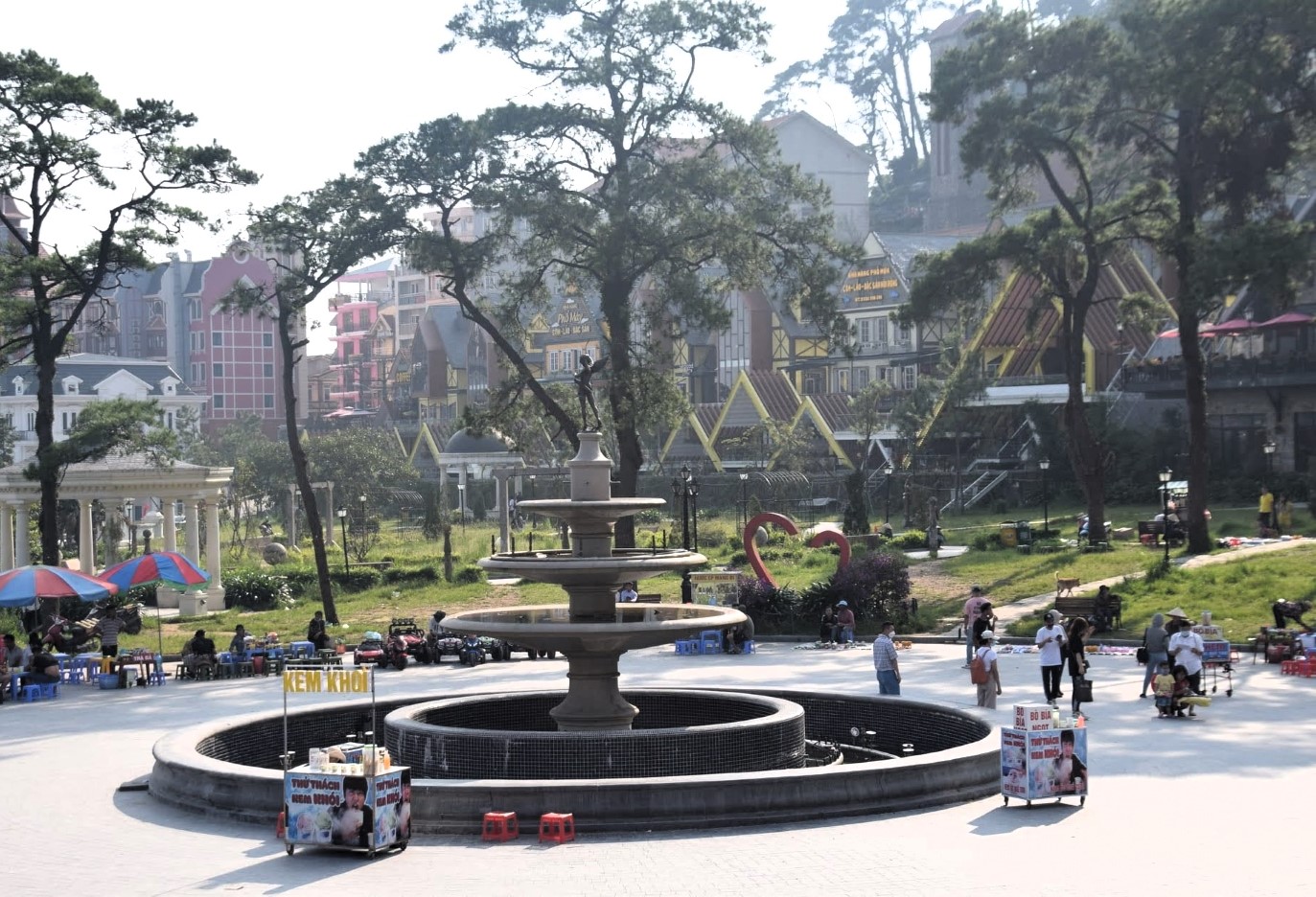 If you're looking for unique places to visit in Vietnam, Tam Dao should certainly be on the list. Tam DaoTam Dao is a mountainous area located about 50 kilometres away from Hanoi. It is well-known for its cool climate, beautiful scenery, and lush green forests. Tam Dao National Park national park is an excellent place for nature lovers and adventure enthusiasts. You can hike through the forest, enjoy the fresh mountain air, and spot various species of plants and animals. The town itself is inspired by the French colonial era. When you arrive, it is like you have been transported to Europe. One of the main attractions is Tam Dao Stone Church, which offers a unique blend of European and Vietnamese architectural styles.
Recommended duration: 2 nights
Places to visit / landmarks: Stone church, Sky Gate viewpoint, Tam Dao Castle, Silver Waterfall, Rock Cafe
Activities: Sample the cuisine, visit the night market, hiking
Accommodation: Camellia Luxury Hotel or Hung Trang Hotel
The most beautiful places in Central Vietnam
If you're travelling in Central Vietnam, you're in for a treat of beach bars, lanterns, old towns, snorkelling, and much more. Central Vietnam has a total of 19 provinces.
Thua Thien-Hue Province (Hue)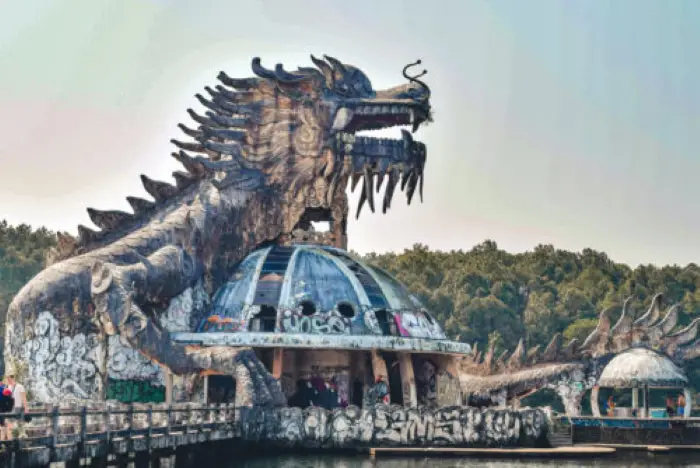 Hue is a beautiful city located in central Vietnam, known for its historical significance, cultural heritage, and stunning landscapes. The number one attraction in Hue is the Imperial City, which was once the residence of the Nguyen Dynasty emperors. Along the Perfume River, you can discover the elaborate royal tombs of the Nguyen Dynasty. Popular ones include the Tomb of Khai Dinh and the Tomb of Tu Duc. Other activities include taking a boat ride on the Perfume River with a stop off at the popular Thien Mu Pagoda, an iconic symbol of Hue located on the riverbank. In recent years, another popular attraction is Hue's abandoned water park.
Recommended duration: 2 nights
Places to visit / landmarks: Hue Imperial City, Royal Tombs, Thien Mu Pagoda
Activities: Boat ride on the Perfume River
Accommodation: Vinpearl Hotel or Bon Ami Hostel
Quang Nam (Hoi An)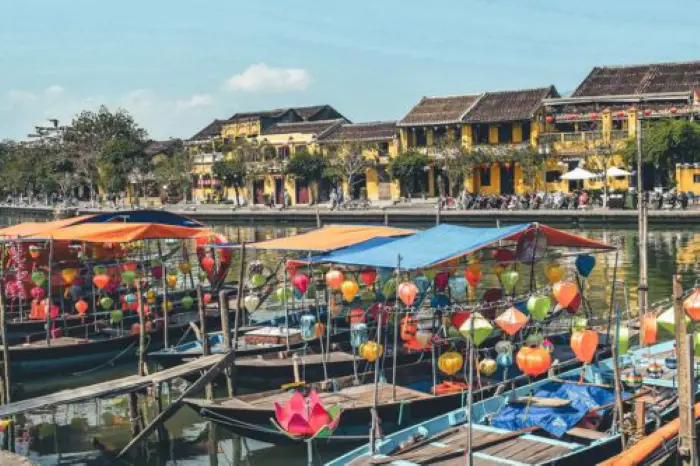 Hoi An is a charming and picturesque city, known for its well-preserved Ancient Town. With plenty of things to do in Hoi An, you could spend weeks here. It is also one of the best tourist places in Vietnam. Hoi An's Ancient Town is a UNESCO World Heritage Site for good reason. It offers a glimpse into the city's rich history with its well-preserved architecture, narrow streets, and historic buildings dating back to the 15th century. The town's unique blend of Vietnamese, Chinese, Japanese, and European influences makes it a truly fascinating place to explore. Hoi An is a melting pot of cultures, and this is evident in its diverse traditions, customs, and festivals. You can witness traditional ceremonies, visit old temples, and even participate in lantern-making or traditional Vietnamese cooking classes.
Recommended duration: 4 nights
Places to visit / landmarks: Ancient Town, Japanese Bridge, An Bang beach
Activities: Basket boat ride, cooking class, lantern making, get clothes tailor-made
Accommodation: Cozy Savvy Boutique Hotel or Backhome Hostel & Bar
Danang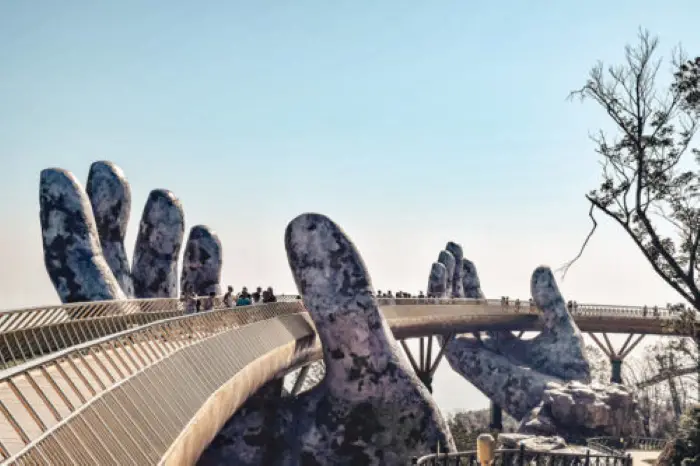 Da Nang is a vibrant city known for its beautiful beaches, stunning landscapes, and rich cultural heritage. One of the most popular and stunning beaches in Danang is My Khe Beach, where you can spend the day relaxing. Enjoy swimming, sunbathing, or even trying out water sports like surfing or jet-skiing. A short drive away you will find Marble Mountains. The Marble Mountains are a cluster of five limestone and marble hills. Climb to the top for panoramic views, visit ancient pagodas, and explore stunning caves filled with Buddhist shrines. By night, enjoy Da Nang's iconic Dragon Bridge, Every weekend, the bridge comes to life with a spectacular fire and water show. If you're looking for a day trip just outside of Danang City, consider heading over to Sun World Ba Na Hills, a french inspired town and home to the Instagram-worthy hand bridge.
Recommended duration: 2 nights
Places to visit / landmarks: Marble Mountains, Sun World Ba Na Hills, Dragon Bridge
Activities: Relax on the beaches
Accommodation: Sofiana My Khe Hotel or The Secret Garden
The most beautiful places in Vietnam in the south
South Vietnam boats a range of scenery, from the concrete jungle of Ho Chi Minh City to the mountainous lover's paradise of Dalat. With plenty of attractions to explore, you're sure to have an incredible time. Southern Vietnam has a total of 17 provinces.
Ho Chi Minh City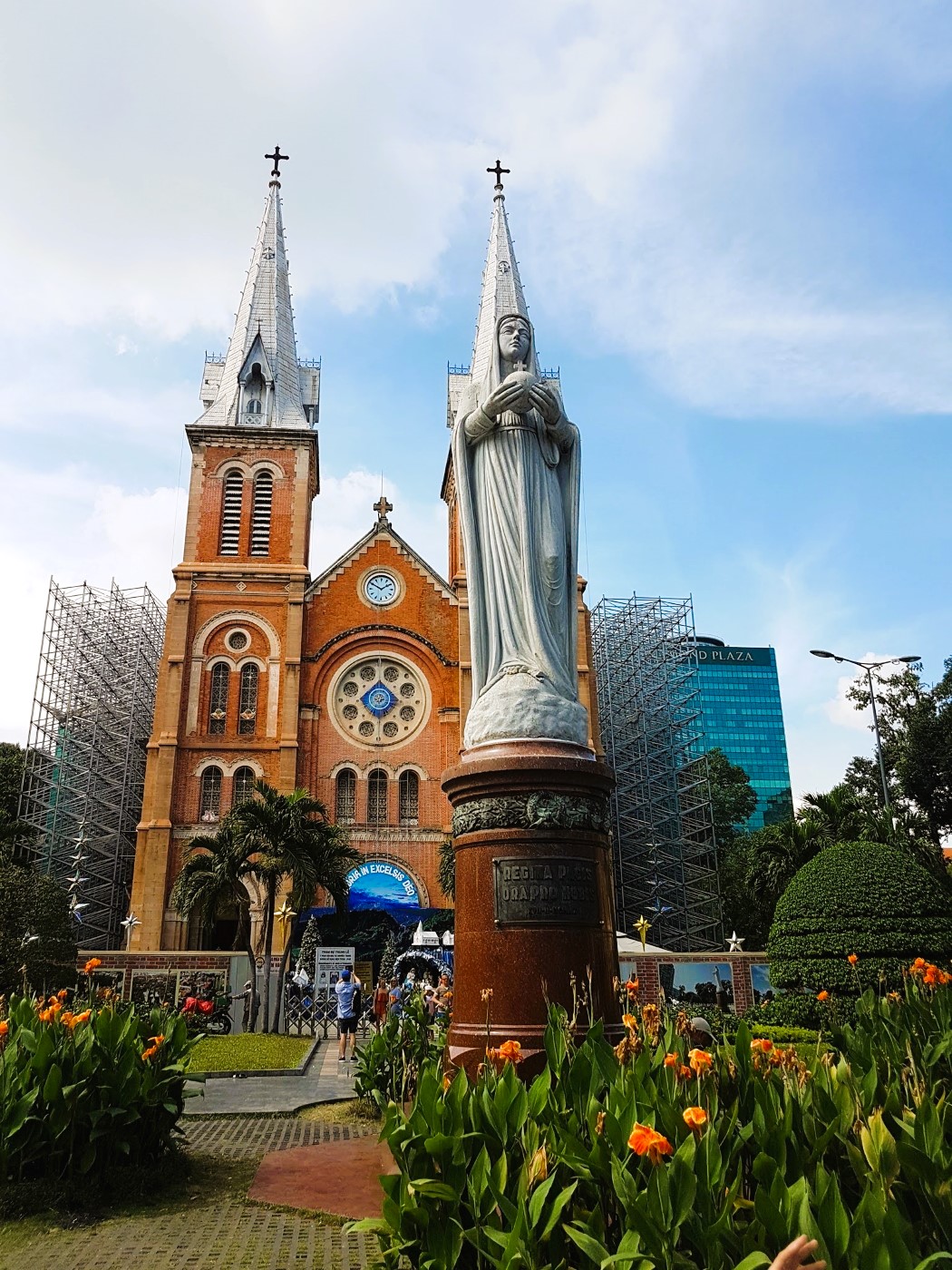 Ho Chi Minh City, formerly known as Saigon, is a vibrant and bustling city. It is the largest city in the country and offers a wide range of activities and attractions for visitors to enjoy. Firstly, you should take a visit to the War Remnant Museum. This museum provides a glimpse into the history of the Vietnam War through various photographs, artefacts, and exhibits. It offers an emotional and thought-provoking experience. Take the opportunity to explore the Cu Chi Tunnels. These underground tunnels played a significant role during the Vietnam War. Take a guided tour to learn about their construction, purpose, and how they were used by Viet Cong soldiers. As well as learning about history, make sure to take advantage of the shopping opportunities in famous markets such as Ben Thanh Market. Enjoy evening strolls around Nguyen Hue Walking Street, or party the night away on Bui Vien.
Recommended duration: 3 nights
Places to visit / landmarks: War Remnant Museum, Ben Thanh Market, Bui Vien, Nguyen Hue Walking Street, Cu Chi Tunnels, Bitexco Tower
Activities: Food & motorbike tour
Accommodation: Sedona Suites or Saigon Fantastic Hostel
Nha Trang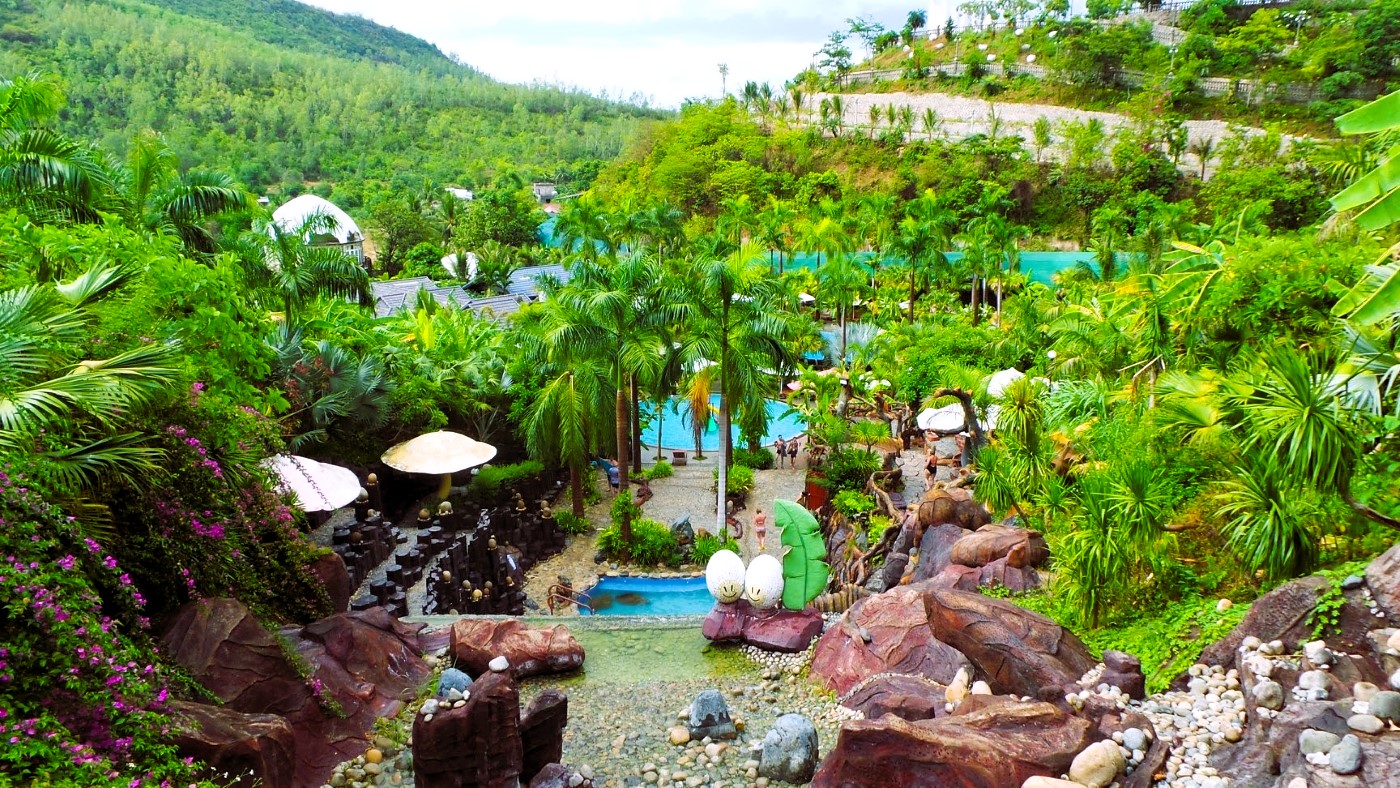 Are you yearning for a beach vacation in a tropical paradise? Look no further than Nha Trang, Vietnam's coastal gem that promises to inspire and captivate you with its stunning beauty. The pristine white sands and crystal-clear turquoise waters of Nha Trang's beaches are simply breathtaking. Relax under the warm sun or take a refreshing dip in the ocean while marvelling at the picturesque surroundings. Hop on a boat tour from Nha Trang and explore the nearby islands dotted amidst the sea. Hon Mun Island is renowned for its vibrant coral reefs, making it an ideal spot for snorkelling or scuba diving enthusiasts. Discover marine life like colourful fish, turtles, and even rare seahorses as you immerse yourself in this underwater wonderland. For a cultural aspect, discover the rich history and culture of Nha Trang by visiting iconic landmarks such as the Po Nagar Cham Towers. These ancient Hindu temples were built between the 7th and 12th centuries.
Recommended duration: 2 nights
Places to visit / landmarks: Egg Mud Baths, Po Nagar Cham
Activities: Snorkelling, boat trips, relaxing
Accommodation: Queen Ann Hotel or Mojzo Inn
Dalat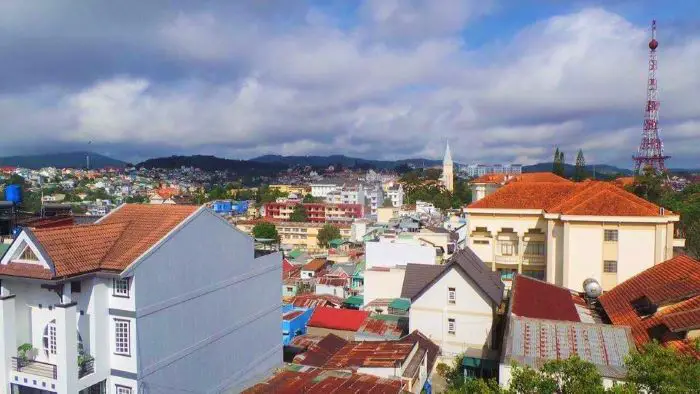 Dalat boasts breathtaking scenery that will leave you awe-inspired at every turn. From lush green valleys to cascading waterfalls, this region is blessed with abundant natural beauty, there's plenty to see and do. The mesmerizing landscapes include the serene Tuyen Lam Lake, the vibrant flower gardens of Valley of Love, and the majestic Elephant Waterfall – all waiting to captivate your senses. Stepping into Dalat feels like entering a time capsule due to its well-preserved French colonial architecture dating back to the early 20th century. Explore iconic landmarks such as Bao Dai Summer Palace or Domaine de Marie Church. If you're seeking adrenaline-pumping activities, Dalat offers an exhilarating canyoning expedition, the opportunity to conquer the challenging Langbiang Mountain or go mountain biking through scenic trails.
Recommended duration: 3 nights
Places to visit / landmarks: Clay Tunnel, Linh Phuoc Pagoda, Crazy House, Elephant Falls, Flower Garden
Activities: Trekking, canyoning, eat Dalat pizza, explore by scooter or bicyle, Boat ride on the lake
Accommodation: Original Kens Backpacker Hostel or Dalat Backpackers Hostel
Phu Quoc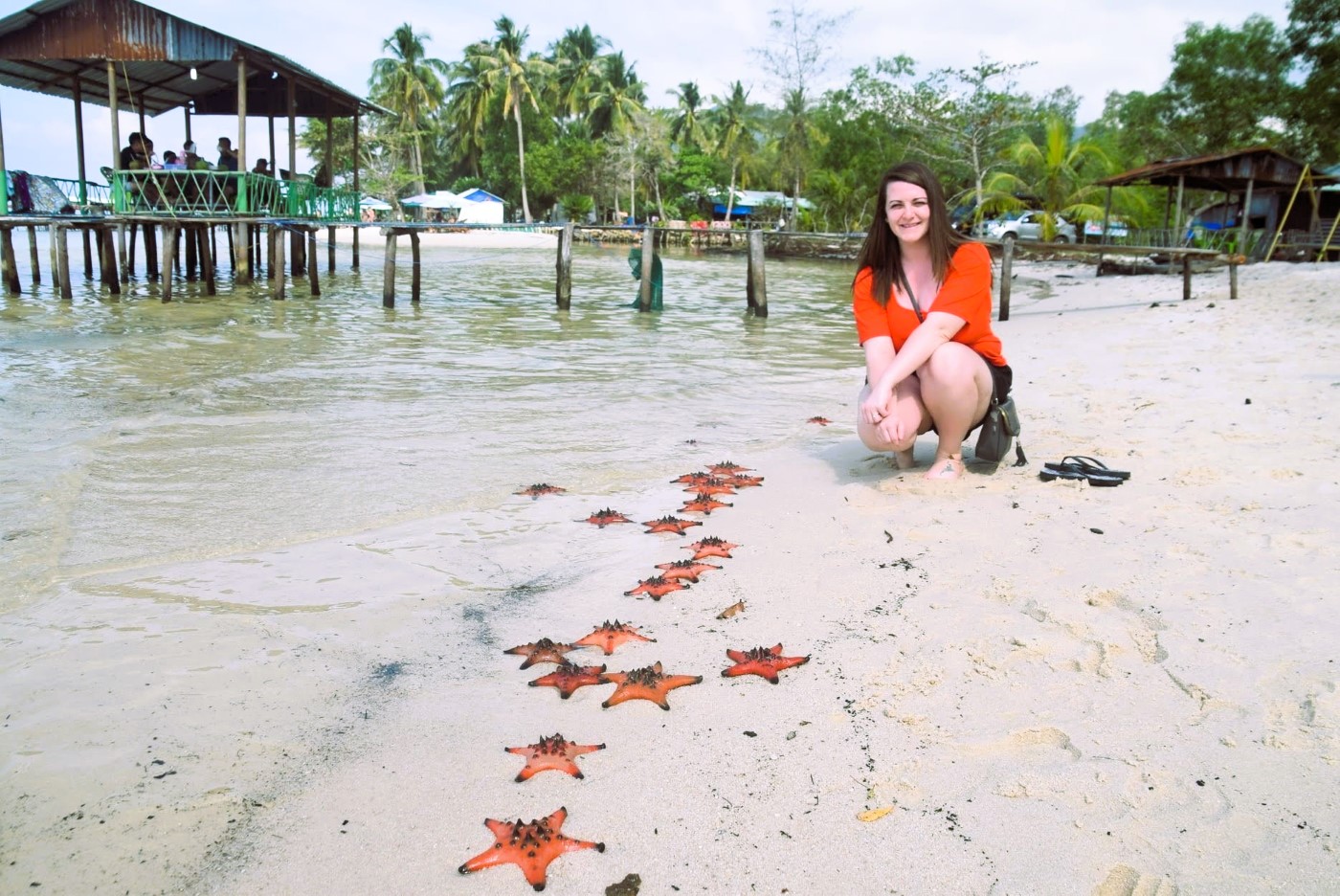 Phu Quoc boasts some of the most picturesque beaches in Southeast Asia. Long Beach (Bai Truong) stretches for over 20 kilometres, offering soft white sands and calm turquoise waters perfect for snorkelling excursions, swimming or simply sunbathing. Sao Beach (Bai Sao) is another popular spot known for its powdery sand and stunning palm-fringed coastline. Whether you're seeking relaxation or adventure, Phu Quoc's beaches have something to offer everyone. Aside from its beautiful beaches, Phu Quoc Island is home to lush forests and diverse wildlife that nature enthusiasts will find captivating. Explore the mesmerizing Phu Quoc National Park, where you can hike through dense jungles and discover rare plant species amidst cascading waterfalls. Don't miss a visit to Suoi Tranh Waterfall, which offers a refreshing dip in its natural pools after an invigorating hike.
Recommended duration: 4 nights
Places to visit / landmarks: Long Beach, Sao Beach, Phu Quoc National Park, Aqutopia Waterpark, Suoi Tranh Waterfall
Activities: Swimming, snorkelling
Accommodation: Sunset Beach Resort & Spa or Fortuna Hotel
Mui Ne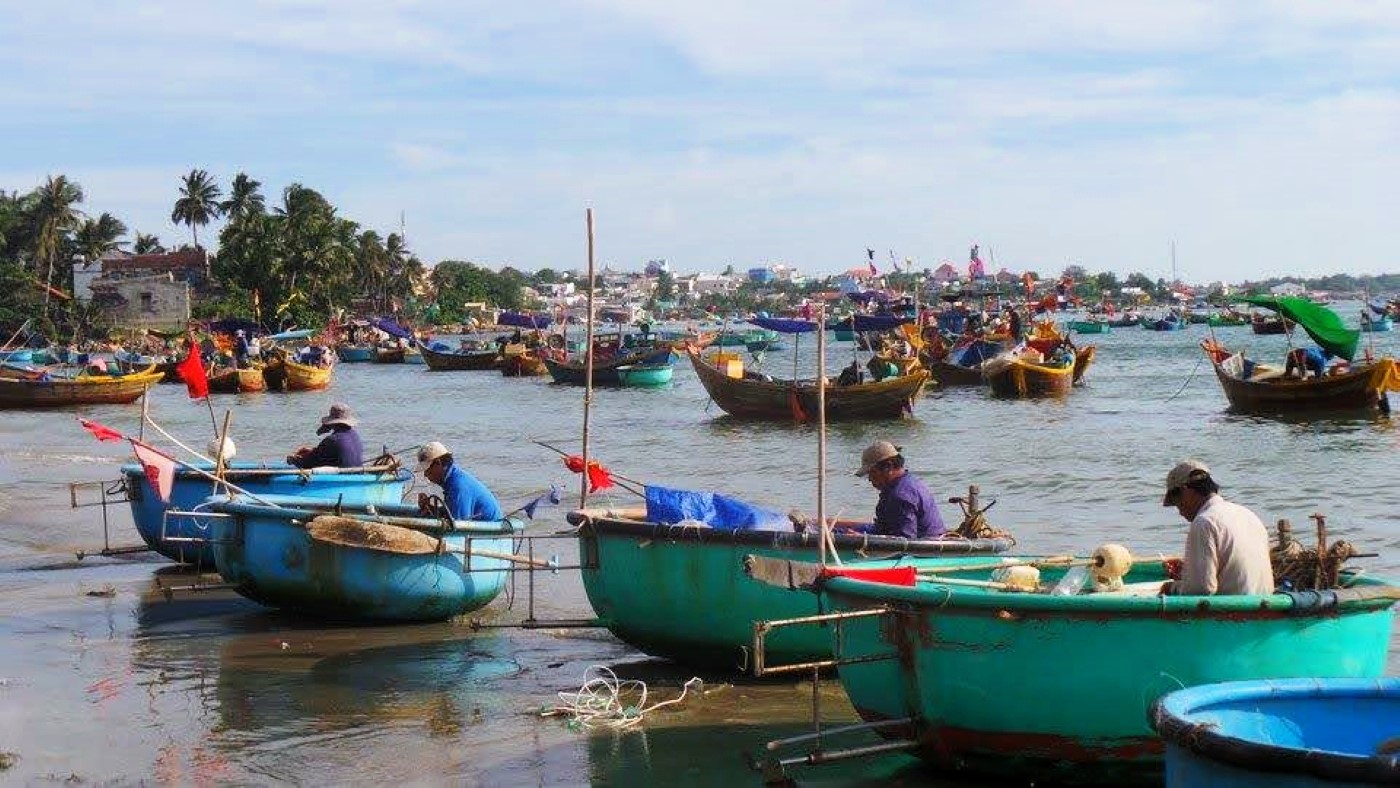 Mui Ne boasts some of Vietnam's most picturesque beaches with pristine white sand and crystal-clear turquoise waters. Whether you want to relax under palm trees while sipping on a refreshing coconut or engage in thrilling water sports like kiteboarding or windsurfing, these idyllic beaches offer something for everyone. Mui Ne's sand dunes are also something to marvel at. The red and white dunes contrast as they create an ethereal atmosphere during sunrise or sunset – perfect for photography enthusiasts! A stone's throw away you will find the Fairy Stream. Immerse yourself in nature's whimsy at Fairy Stream – a small, magical water stream surrounded by towering cliffs adorned with vibrant colours and patterns. There is even the option to explore Mui Ne and the attractions by jeep. You can book your jeep tour here.
Recommended duration: 2 nights
Places to visit / landmarks: Red and white sand dunes, Fairy Stream
Activities: Relaxing on the beaches, snorkelling, watersports, enjoy seafood delicacies
Accommodation: Victoria Phan Thiet Beach Resort & Spa or Mui Ne Ocean House
Mekong Delta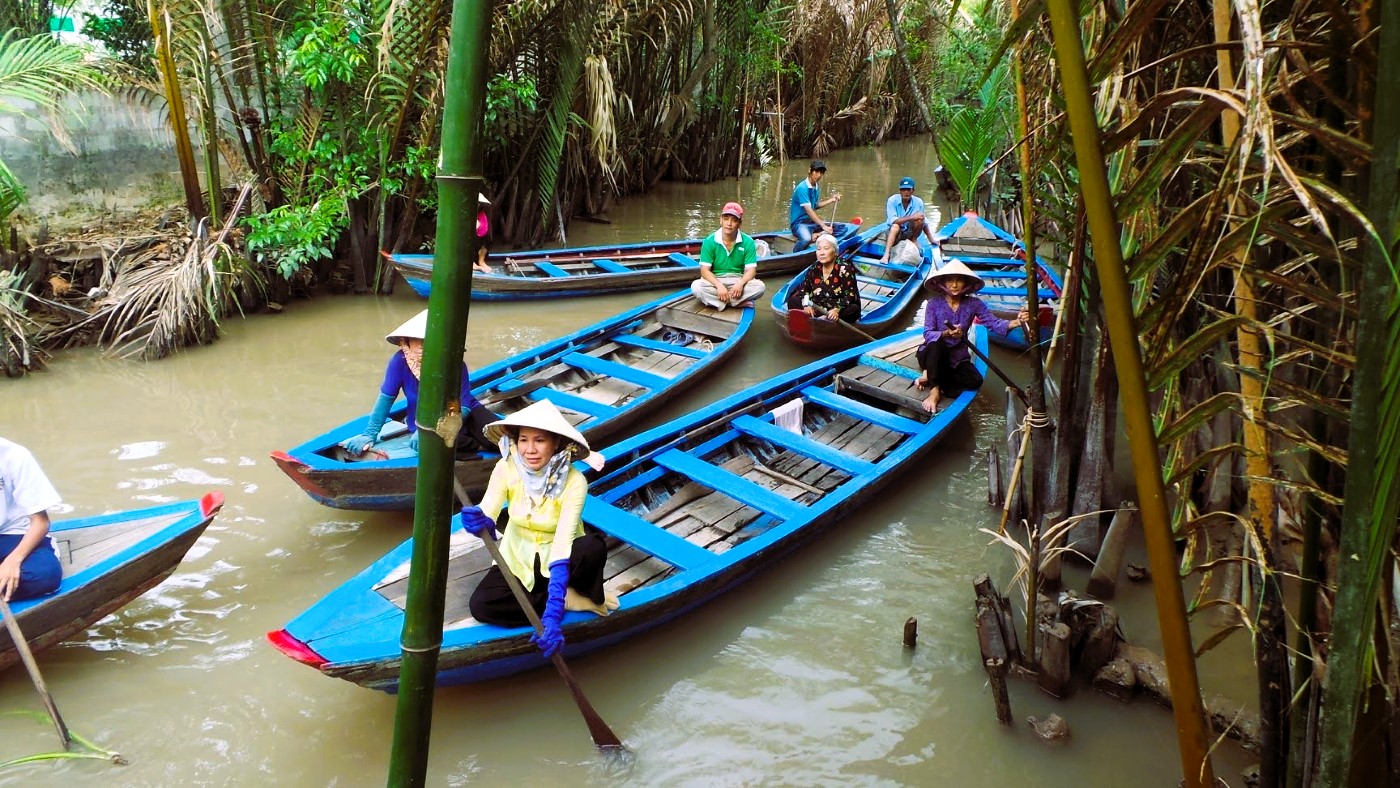 A trip to the Mekong Delta is not to be missed when in Vietnam. The Mekong Delta is home to a diverse mix of ethnic communities, each with its own distinct traditions and customs. Explore local villages along the riverbanks, witness traditional handicrafts being made by skilled artisans, and savour authentic Vietnamese cuisine prepared with fresh ingredients sourced from the delta's fertile lands. Prepare to be awestruck by nature's masterpiece as you cruise along the winding waterways of the Mekong River. Marvel at lush rice paddies stretching endlessly across the horizon, dotted with coconut groves and fruit orchards laden with tropical fruits like mangoes and dragon fruits. The mesmerizing blend of verdant landscapes against azure skies will leave you enchanted at every turn.
Recommended duration: 2 nights
Places to visit / landmarks: Floating Market, Ben Tre
Activities: Boat rides, witness handicrafts being made, learn about the ethnic minorities
Accommodation: The Mekong Delta can be explored by day trip from Ho Chi Minh City, or you can book overnight tours to the Mekong Delta with overnight accommodation included
Essential resources for travelling in Vietnam
Travel Insurance – It's a good idea to have insurance, particularly if you're going to be riding a motorbike. Our personal choice is Safteywing. You can opt for automatic monthly payments, just like a subscription. It can be purchased whilst already travelling and there is no cap on the duration of travel.
Visa – You are highly likely to need a visa for Vietnam. iVisa is a fantastic website that is super easy and quick to use. You can quickly make a visa application online.
Accommodation – Booking.com is our go-to when looking to pre-book accommodation online. Booking.com tend to almost always have the best rates and a FREE cancellation policy for most properties.
Overland transport – Our go-to website for overland transport is Bookaway. They have routes all over Vietnam and host a range of transport modes and companies. It is easy to book online and have your ticket sent to your phone.
Tours & Activities – If you want to book tours and activities for Vietnam online, make sure to check out Get Your Guide. Get Your Guide takes the stress out of booking activities abroad. You will also find a range of benefits, such as skip-the-line passes, lunch included in your tours, and so much more.