Looking for things to do in Dalat? Look no further! We have the ultimate Dalat itinerary to prepare you for your trip. After spending time among the craziness and sea of motorbikes in Ho Chi Minh City, Dalat is the perfect getaway; with its clear fresh air, emerald mountains, and dazzling lakes.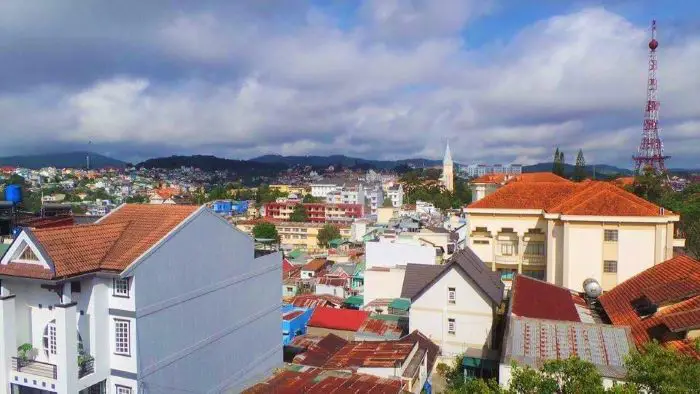 Disclosure: Wander Vietnam contains affiliate links. If you click on these links and make a purchase, we will earn a small commission at no extra cost to you. You can find our full disclosure policy and privacy policy here.
Dalat itinerary – Things to do
You may be wondering what to do in such a small place. Plenty! Here are our top picks of fun and relaxing activities to do in Dalat. Please note that some of these activities may need you to drive in the mountains. If you are competent at driving a motorbike you can hire one at one of the many rental shops. Alternatively, you can book a tour with Easy Riders, who will take the stress away from driving and navigating the mountainous roads.
Go canyoning in Dalat
Canyoning down waterfalls is one of the most popular things to do when travelling in Vietnam. You can book a canyoning tour from one of the many tour shops, or your accommodation. The tour is packed with high-adrenaline fun, and sometimes, emotionally draining activities (but don't let my personal experience put you off!).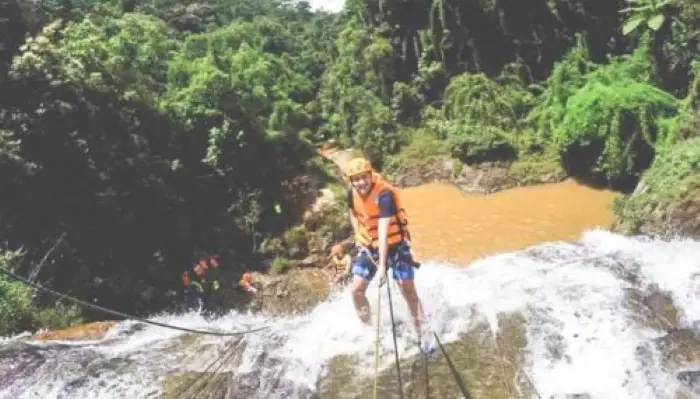 Discover waterfalls
There are many waterfalls scattered around the mountains of Dalat. The most impressive waterfall is the one known as Elephant Falls. When in full flow, the waterfall looks spectacular, but be ready for the trek down. The climb down is rocky and quite steep, so we recommend wearing good hiking shoes. Avoid wearing flip-flops, otherwise, you may find yourself as Katie did; shoe-less and squelching in the mud! Before entering the waterfall, tourists are required to pay an entrance fee of 20,000 VND ($0.86).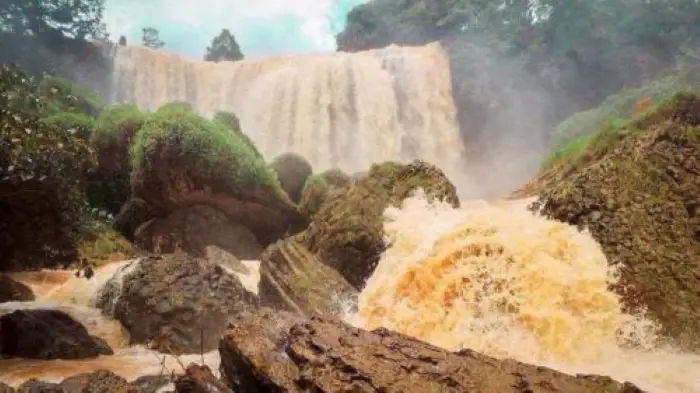 Visit the Crazy House
The Crazy House is a quirky attraction that also doubles up as a hotel for guests who would like to complete this Dalat itinerary by staying the night among the craziness. The crazy house is a fun and bizarre place to look around. You could spend an hour or so wandering around the fascinating structures of the building. The cost to enter is 40,000 VND ($1.73).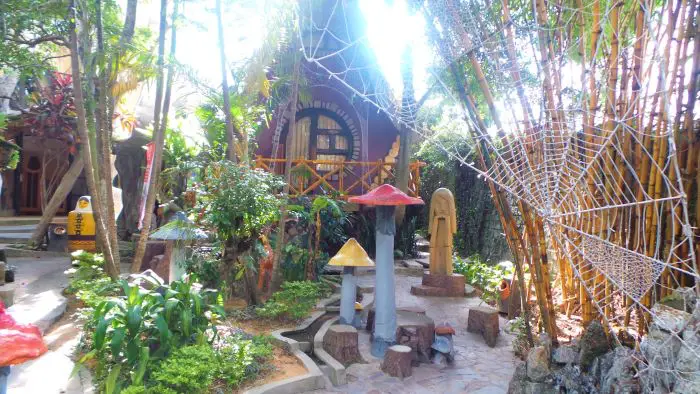 Sip coffee by the lake
Spread out across the lake are a handful of coffee shops and eateries. Take the opportunity to take a break from your Dalat itinerary and get away from the mid-day heat, by sipping an iced tea by the lake, whilst admiring the magnificent views.
Drive through the mountains on a scooter
Rent a motorbike or hire an Easy Rider for the day to drive around the mountains and forget all your troubles. There are plenty of stunning viewpoints along the way where you can stop by to get spectacular photos of the landscape.
Lover of mountains and nature escapes? Don't forget to head to Ninh Binh from Hanoi whilst on your Vietnam trip.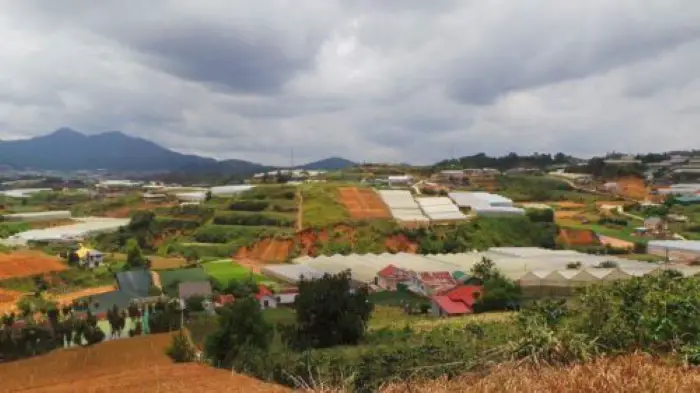 Visit Linh Phuoc Pagoda
This stunning temple is a 15-minute drive from the centre of Dalat. The temple has been built using broken glass which gives a mosaic design. The colourful glass is what makes this temple's beauty stand out among the rest. Take some time to explore the top of the temple along with the basement. Whilst the top is very exquisite, the bottom is a representation of hell.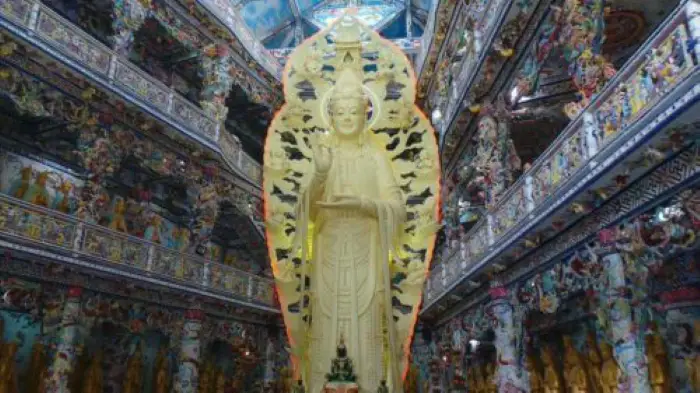 Go crazy at the Clay Tunnel
The Clay Tunnel is an artistic masterpiece in the mountains of Dalat. The walk-through trench is around 2 km in length and passes through many unique designs and sculptures that retrace the history of Dalat. You can easily spend a few hours here taking in the interesting artwork and snapping some quirky photos. The cost to enter is 40,000 VND ($1.73).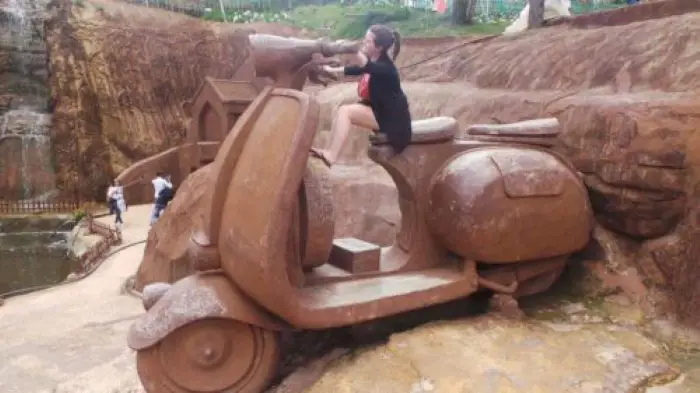 Eat Dalat pizza in Dalat
Last but not least on this Dalat itinerary, is eat PIZZA! Okay, so the title is a little misleading, as a Dalat pizza isn't a pizza like the one you're probably used to. It's more of a big rice cracker topped with meat and veg. The Dalat pizza is famous in the Southern provinces of Vietnam and originates from Dalat; makes sense to try one in Dalat right?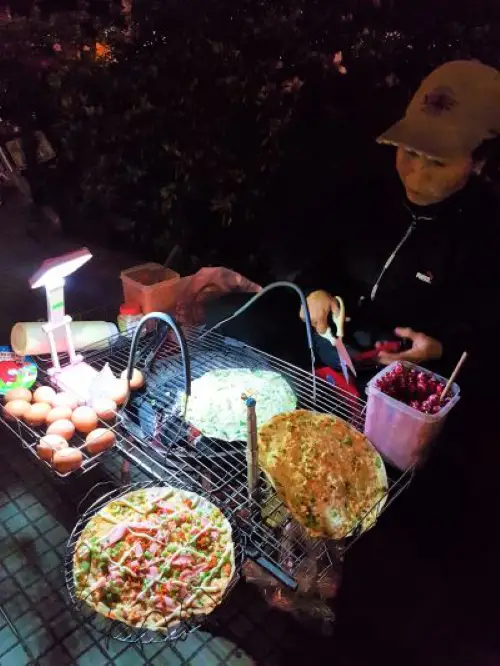 As well as all the adventure activities, chasing waterfalls and stunning nature, Dalat is also known as the honeymoon capital of Vietnam. It's the perfect place for couples to enjoy their time together and relax. Head over to this detailed guide for more information on honeymoon destinations in Vietnam.
How to get to Dalat from Ho Chi Minh City
To get to Dalat from Ho Chi Minh City, the most cost-effective way is by bus. Buses run every hour from HCMC and take 6-8 hours to reach Dalat; depending on traffic as well as the time of day. You can book buses from one of the many tour shops around Bui Vien. However, a lot of these shops will charge a service fee. We, therefore, recommend that you book your bus at the bus station or you could buy your ticket from the Futa Busline's office on De Tham Street (just off Bui Vien). The cost of the overnight sleeper bus is 220,000 VND ($9.49) one-way. Alternatively, you can book your bus on Bookaway and have the ticket sent directly to your email.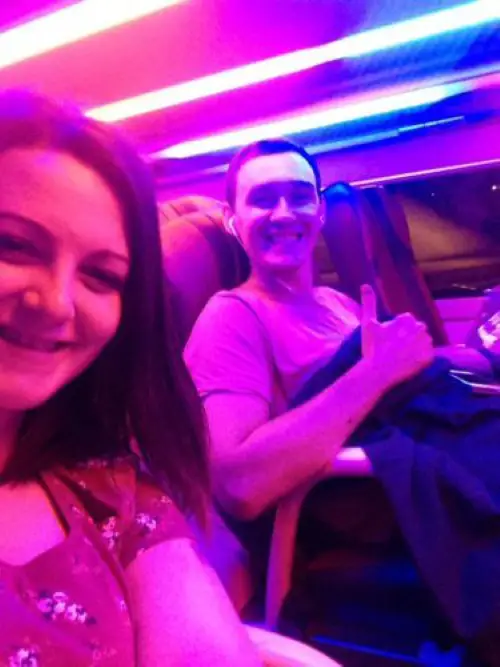 For a quicker, but more expensive way to reach Dalat, you can travel by plane. Both Viet Jet Air and Air Asia offer relatively cheap flights.
How to get around Dalat
Rent a motorbike – During our time in Dalat, we rented a motorbike to get around and explore the mountains. The cost of the motorbike rental was 150,000 VND ($6.47), due to it being a busy period. However, the average rental price, on non-holidays is 100,000 VND ($4.31).
Taxi – On our last day in Dalat, we opted to take a break from a motorbike. Instead, we stayed by our hotel, the lake and the central market. To get to the lake from our hotel, it cost us 10,000 VND ($0.43) in a green Mai Linh taxi compared to 20,000 VND ($0.86) it cost us in the other blue taxi. The distance from our hotel to the lake was just under 2 km.
Easy Riders – If you're not an experienced motorbike rider, that doesn't mean you can't fully experience Dalat. You can easily play backseat passengers by booking a local driver for the day. A motorbike driver will come to collect you from your accommodation and take you to all the places you want to see. All you need to do is just sit back, relax, and feel the wind in your hair.
Want to take the stress out of navigating this itinerary by yourself? Join this awesome South and Central Highland itinerary which includes stops in Nha Trang, Mui Ne, and Ho Chi Minh City as well as Dalat.
Where to stay for this Dalat itinerary
There are many hotels and guesthouses around Dalat. Whether you're looking for a private room or a dorm bed, you're certain to find it. The average cost of a dorm bed is $5 per night. The average cost of a private room with a bathroom is $10 per night. However, if you are heading to Dalat on a national holiday, expect prices to triple. You will also need to book a few weeks in advance as many Vietnamese nationals like to get away from the city for the holidays to a cooler destination.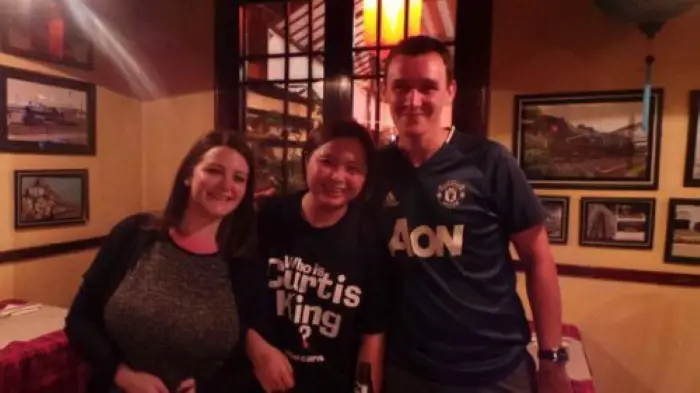 Original Ken's Backpacker Hostel – The rooms are very clean, and the staff are extremely friendly and helpful. The hostel offered welcome food and breakfast each morning. A member of staff even took us on a free tour of her beautiful city, and we made a life-long friend!
For more prices and deals on properties in Dalat, CLICK HERE.
Places to eat & drink on this Dalat itinerary
V Café – The venue is a lovely place to eat whilst listening to live music. They serve delicious food at cheap prices. Our personal favourite was the mash, nuggets and gravy that also came with a ranch sauce.
Ganesh – Located just by the night market is a tasty Indian restaurant. They have an extensive menu of delicious and affordable Indian cuisine. There is also the option to sit outside, overlooking the hustle and bustle of the night market.
Café 13 – A lovely little outdoor garden eatery that has very delicious and affordable grub. We highly recommend the chicken burger. You will not regret it!
100 Rooftops café – Dalat isn't much of a party place, but for those who would like to have a drink until late into the night, 100 Rooftops café is the place to go. The building is unique, and quirky and expands over 5 floors with creative seating areas.
Essential resources for travelling in Vietnam
Travel Insurance – It's a good idea to have insurance, particularly if you're going to be riding a motorbike. Our personal choice is Safteywing. You can opt for automatic monthly payments, just like a subscription. It can be purchased whilst already travelling and there is no cap on travel duration.
Visa – You are highly likely to need a visa for Vietnam. iVisa is a fantastic website that is super easy and quick to use. You can quickly make a visa application online.
Accommodation – Booking.com is our go-to when looking to pre-book accommodation online. Booking.com tend almost always to have the best rates and a FREE cancellation policy for most properties.
Overland transport – Our go-to website for overland transport is Bookaway. They have routes all over Vietnam and host a range of transport modes and companies. It is easy to book online and have your ticket sent to your phone.
Tours & Activities – If you want to book tours and activities for Vietnam online, make sure to check out Get Your Guide. Get Your Guide takes the stress out of booking activities abroad. You will also find a range of benefits, such as skip-the-line passes, lunch included in your tours, and so much more.
We hope you enjoyed this Dalat itinerary! There are so many things to see and do in Dalat. It's perfect for couples looking for a romantic getaway to nature, or thrill-seekers looking to get their adrenaline rush in the form of canyoning.
Like this Dalat itinerary? Pin it for later!