Hoi An is undoubtedly one of Vietnam's most loved towns, with cute lanterns that fill the streets, ancient yellow-washed walls, and endless rice paddies, it's a perfect romantic getaway. Here's what to do in Hoi An for 3 days, along with the best attractions.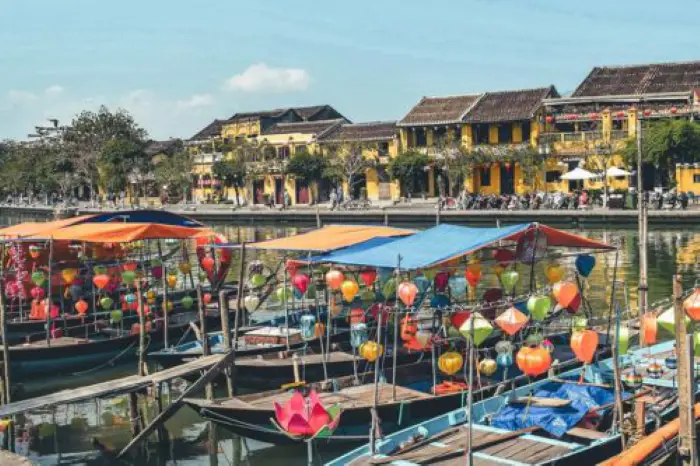 Disclosure: Wander Vietnam contains affiliate links. If you click on these links and make a purchase, we will earn a small commission at no extra cost to you. You can find our full disclosure policy and privacy policy here.
How to get to Hoi An, Vietnam
Danang to Hoi An
Reaching Hoi An from Danang is easy with its proximity and transport links. The closest airport to Hoi An is also in Danang. If you're heading to Hoi An from Danang, you can easily take a taxi which will cost between $15 – 20. For a cheaper option, you can take bus number 1 for around $1.50. However, if you want the full Vietnamese experience, you may want to consider a motorbike taxi which costs around $6. We recommend using the Grab app to book car or motorbike taxis.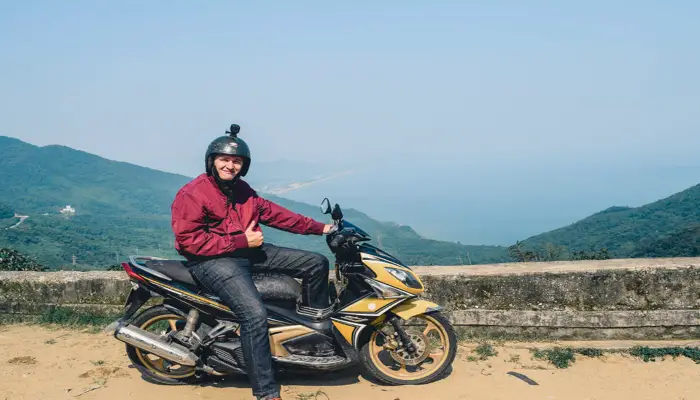 Hue to Hoi An
The route from Hue to Hoi An is famous for the scenic mountain coastal views of the Hai Van Pass. Many travellers choose to rent a motorbike to drive this section of the road or hire a driver for the day. For more information on this route, check out our Hai Van Pass post, which will give you all the details.
What to do in Hoi An for 3 days
Cycle around the old town
First on this list of what to do in Hoi An for 3 days is rent a bicycle. Getting around Hoi An is easy with a bicycle. Motorbikes and cars are forbidden from driving around the old town, which makes it a lovely place to cycle around the lantern-filled streets. Most guesthouses and hotels in Hoi An offer bicycle rental for a small fee. If your hotel doesn't offer this service, there are plenty of tourist shops that rent them too. Prices vary, but we paid 20,000 vnd ($1) for a 24-hour bicycle rental from our homestay.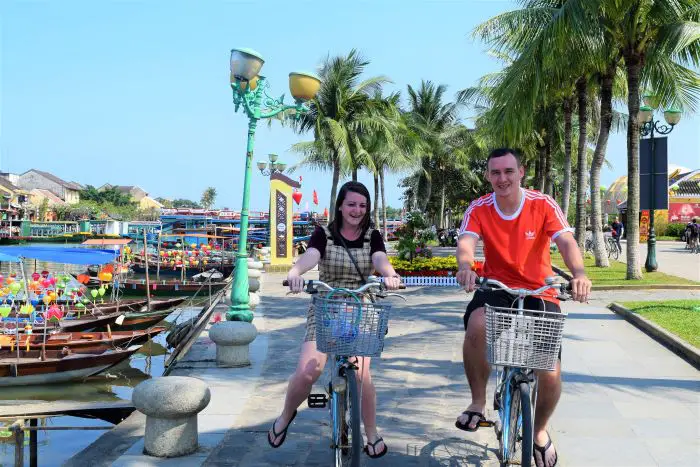 Take a cooking class
Cooking classes are one of the top Hoi An tours. The day starts with a trip to the local market to buy fresh produce. You will then head over to a small island by basket boat to learn how to cook some traditional Vietnamese dishes. A cooking class is a great way to introduce you to the flavours of Vietnam. You can easily book a cooking class online beforehand, or at one of the many tour companies dotted around Hoi An.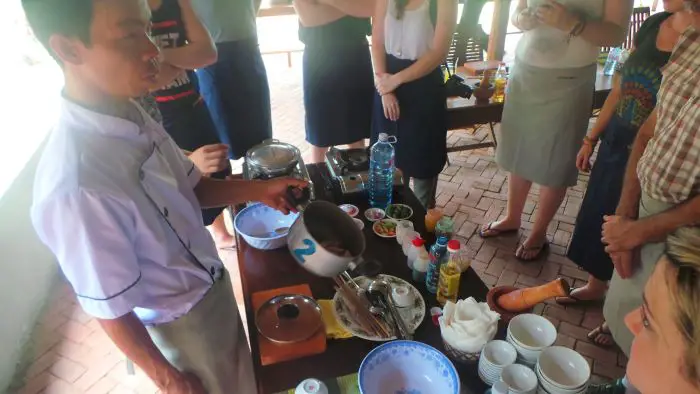 Go on a photo-shoot
For the best photo opportunities, visit Hoi An for the monthly lantern festival which takes place on the 14th day of each Lunar month. So, if you can, try to make your trip to Hoi An coincide with the lantern festival. However, even if you can't manage to be in Hoi An for the lantern festival, there are still plentiful photo opportunities; the twinkling river, mesmerising night lanterns, ancient yellow-washed walls, pagodas, and more!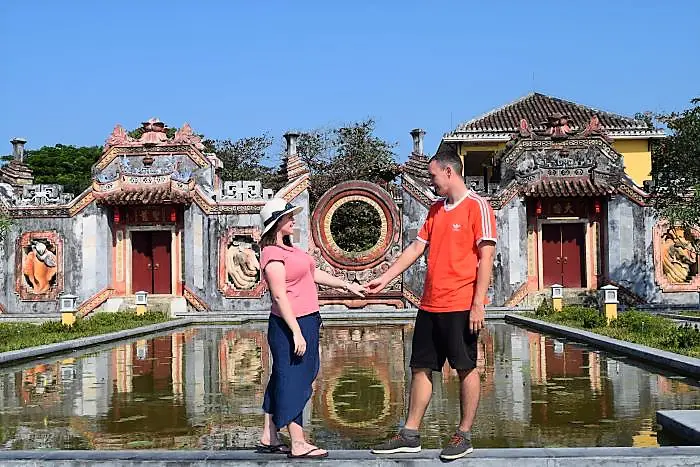 Take a boat ride
A common Hoi An activity is to take a boat ride on the river that runs through the centre of the town. The best time to take a boat ride would be just before sunset, so you can row magically into the orange-filled sky. Expect to pay around 100,000 vnd ($5) for an hour's ride.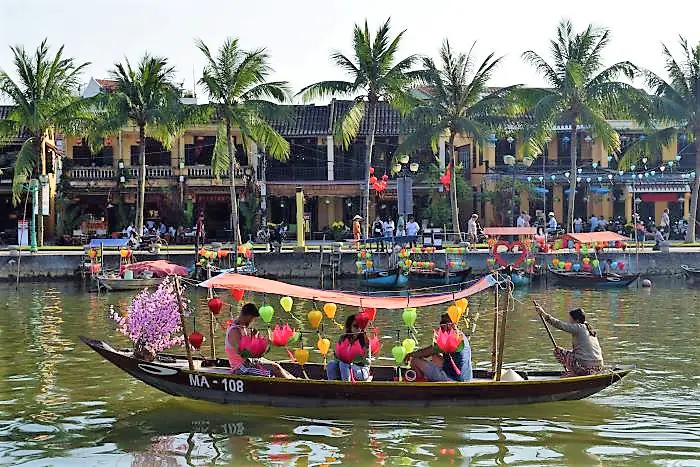 Sip coffee or wine in the many bars
Hoi An boasts tons of charming eateries and bars. You will be spoilt for choice! Make sure to take regular breaks in your Hoi An itinerary to replenish at one of the bars with a traditional Vietnamese coffee or wine.
Ride around the rice paddies
Hoi An is a beautiful place but it can get very busy. Take some time away from the crowds and cycle out to the surrounding rice paddies. Witness locals working on the farmlands as you ride through the deep green rice fields.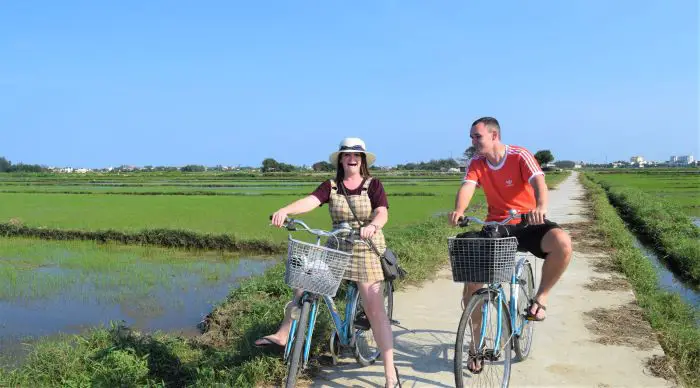 Drink fresh beer
Many Hoi An restaurants, not only offer food but cheap fresh beer. At the end of a long day of exploring Hoi An, pop by one of the bars for a glass (or ten) of 5,000 vnd (20 Cents) beers.
See colourful lanterns at night
One of the best things to do in Hoi An at night is to watch the pretty twinkling lanterns float away down the river. By night the river is filled with magic lights, and it's the perfect way to end the day. After watching lanterns float down the river, head for the night market to see the lantern stalls, and maybe even buy one or two to take home with you. Or, you could go one step further and take a lantern-making course!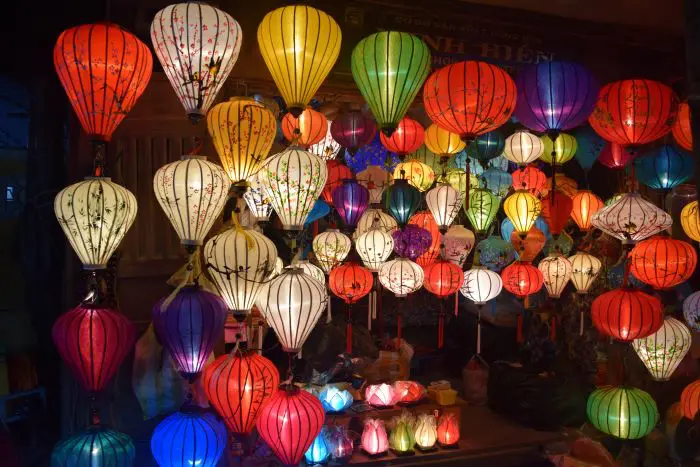 Relax at the beach
Not only does Hoi An offer a charming town and lush nature, but there is also a beach for the beach bums. So, if you're looking at what to do for 3 days in Hoi An, you can easily spend a full day hangin' out at the beach and catching a tan.
Eat Cao Lao noodles
It's time to delve into some Hoi An street food. Cao Lao noodles are a speciality in Hoi An, and you should certainly treat your taste buds to a dish. Cao Lao is a dish of fresh noodles served with pork, bean sprouts, and green vegetables. Unlike Pho, the dish is dry as there is no broth added. You can find Cao Lao in almost any restaurant in Hoi An, but the best places to eat in Hoi An are the small market-style places dotted along the river, where you can see the food being cooked. Cao Lao costs around 30,000 vnd ($1.50) from the outside eateries.
Visit a tailor
Finally, on this list of what to do in Hoi An for 3 days, is visit a tailor. If you have a slightly larger budget than the average backpacker, Hoi An is the perfect place to purchase some new clothes. Hoi An is famous for its tailor shops that are dotted all around Hoi An, so make some time to get that perfect dress or shirt made.
Want to take a tour of Central Vietnam and include Danang and Hue on your itinerary? This tour of Central Vietnam is perfect for you!
Where to stay in Hoi An
Feeling luxurious: Cozy Savvy Boutique Hotel – A wonderful hotel in the heart of Hoi An. The hotel is fully equipped with a swimming pool, fitness centre, and garden. Furthermore, the hotel even offers a free bicycle rental service, which is perfect for cycling in the quaint old town.
Budget private room: Aroma Homestay & Spa – The best area to stay in Hoi An for those on a budget is on Tran Cao Van Street, which is why we recommend Aroma Homestay & Spa. The homestay is in a great location surrounded by shops and eateries, and only 1 km from Hoi An old town. The homestay offers modern and clean private rooms. The beds are comfortable, and the staff members are welcoming and helpful. Great value for money!
Dorm life: Backhome Hostel & Bar – A modern hostel that is right in the heart of the ancient town. Perfect for social butterflies on a budget.
Find more prices and deals on accommodation in Hoi An!
Essential resources for travelling in Vietnam
Travel Insurance – It's a good idea to have insurance, particularly if you're going to be riding a motorbike. Our personal choice is Safteywing. You can opt for automatic monthly payments, just like a subscription. It can be purchased whilst already travelling and there is no cap on the duration of travel.
Visa – You are highly likely to need a visa for Vietnam. iVisa is a fantastic website that is super easy and quick to use. You can quickly make a visa application online.
Accommodation – Booking.com is our go-to when looking to pre-book accommodation online. Booking.com tend to almost always have the best rates and a FREE cancellation policy for most properties.
Overland transport – Our go-to website for overland transport is Bookaway. They have routes all over Vietnam and host a range of transport modes and companies. It is easy to book online and have your ticket sent to your phone.
Tours & Activities – If you want to book tours and activities for Vietnam online, make sure to check out Get Your Guide. Get Your Guide takes the stress out of booking activities abroad. You will also find a range of benefits, such as skip-the-line passes, lunch included in your tours, and so much more.
Like this what to do in Hoi An for 3 days post? Pin it for later!