The Hai Van Pass is a 22 km mountainous stretch of road on the route from Hoi An to Hue. It has been dubbed one of the most beautiful and scenic roads in the world! Here is everything you need to know about making a trip across the Hai Van Pass by motorbike.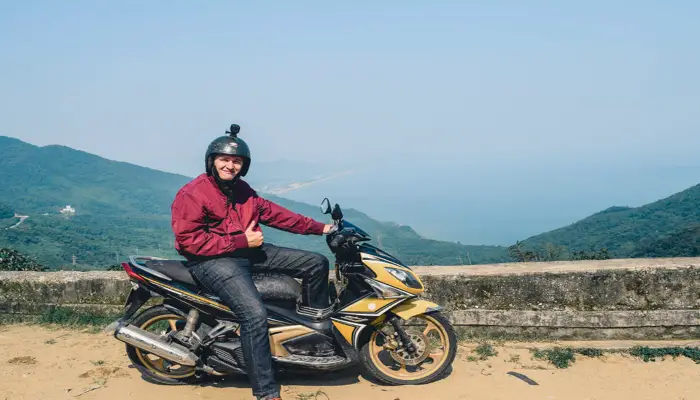 Disclosure: Wander Vietnam contains affiliate links. If you click on these links and make a purchase, we will earn a small commission at no extra cost to you. You can find our full disclosure policy and privacy policy here.
Different ways to drive from Hoi An to Hue via the Hai Van Pass
Hai Van Pass by motorbike
The easiest way to venture along the Hai Van Pass is simply by self-driving. Driving this route by motorbike has become a popular activity when backpacking Vietnam. Whilst Vietnam sees more and more tourists each year taking on its crazy roads by driving the entire length of the coastal line from Hanoi to Ho Chi Minh City, or vice versa, the Hai Van Pass is the most popular section of road. It boasts a pristine coastal line, smooth tarmac roads, and lush green nature. With its ever-growing popularity, it's super easy for tourists to find one-way motorbike rentals from Hoi An, or Da Nang; perfect for experienced riders who only want to ride this section of road and not the entire length of Vietnam. The cost of a one-way bike rental and luggage transfer with Hue Motorbike Tour is approximately $25 for a basic automatic scooter.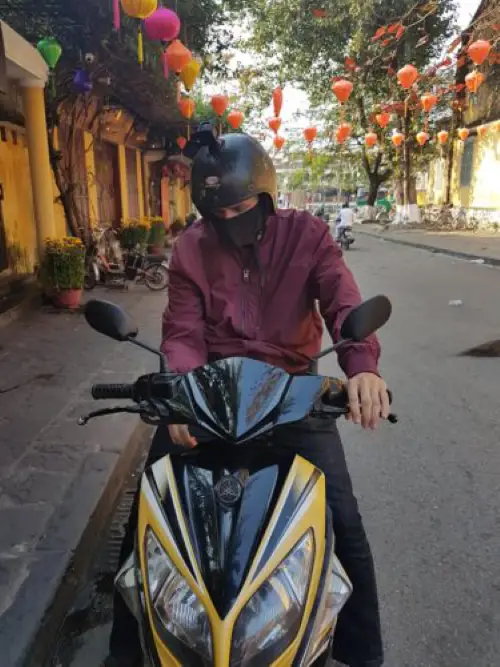 Take an Hai Van Pass motorbike tour
For inexperienced drivers, or for those who simply don't want the stress of navigating and driving, you can easily book a motorbike tour (also known locally as an easy-riders tour). An experienced local driver will pick you up and drive you all the way to Hue whilst you relax, taking in the view. You can stop at all the major attractions along the way. We didn't take this option with Hue Motorbike Tour, but we priced it up and it is reasonably priced at $45.
Take a private car from Hoi An to Hue
If a motorbike ride isn't your thing, then you may want to take a private car. Whilst this is probably the most comfortable option, you will, of course, be missing out on the experience of the wind in your hair as you cruise up and down the roller-coaster roads of the Hai Van Pass. Aside from missing out, the price of a private car is obviously much more expensive. Expect to pay between $60-$80 for the car and driver. Hue Motorbike Tour also offers car and jeep tours, as an alternative to renting a motorbike. So, make sure to check them out for this option too!
Take a public bus from Hoi An to Hue
Finally, the last option is to take a bus. Buses run directly from Hoi An to Hue and are super cheap at around $5 for the journey. However, we would not recommend taking a bus as your photo opportunities will be restricted, as you do not have control over how often you stop.
If you're limited on time in Vietnam, another easy way to get around is to take a 4-day Danang, Hue, Hoi An tour!
Where to book a tour or rent a motorbike for the Hai Van Pass trip
We chose Hue Motorbike Tour! Hue Motorbike Tour provides both motorbike rentals for self-drivers and tours with experienced local riders. We found the "Hue Motorbike Tour" company after searching online and chatting with Anh, the owner. Anh was super quick in responding to our all questions and queries despite the holiday season (Tet). As Jake is experienced in driving on Vietnam's roads, we opted to drive the Hoi An to Hue route ourselves.
Our experience with Hue Motorbike Tour
After exchanging emails with the owner, we arranged for the motorbike to be dropped off at our hotel in Hoi An at 7 am. A polite man met us with the bike on time and provided us with good quality ¾ helmets and a detailed paper map of how to get from Hoi An to Hue. He took the time to sit down with us and explain the best route to take.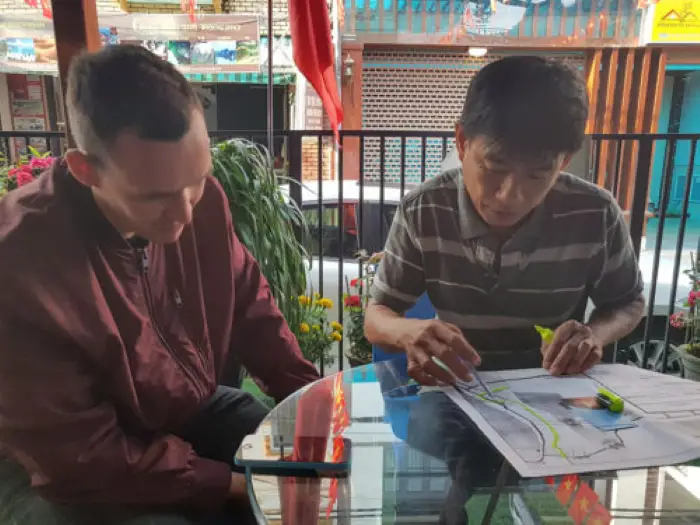 If you're riding yourself, Hue Motorbike Tour offers free baggage transport. They simply take your luggage for you in a van to the motorbike drop-off point in Hue (Ngoc Hung Backpackers Hotel). We arrived in Hue and found the hotel very easily, as it is in the main backpacker area of Hue. When we arrived at 4 pm our luggage was already there waiting for us to collect.
Overall, the motorbike rental process was simple and easy with Hue Motorbike Tour, and each member of staff we met was friendly and helpful!
How to contact Hue Motorbike Tour
Website: huemotorbiketour.com
Email: [email protected]
Contact number/ Whatsapp: +(84)939 191 456
Driving route from Hoi An to Hue
The driving route from Hoi An to Hue is pretty simple and straightforward. The route is approximately 120 km from Hoi An Centre to Hue Centre. Here are a few stops that you may want to consider making:
Marble Mountain – 20 km outside of Hoi An, you will find the famous Marble Mountain to make a quick stop at for views over Da Nang City.
Hai Van Pass – Make sure you go over the Hai Van Pass! It sounds silly but there are two routes; the mountainous Hai Van Pass route, and a highway that misses it completely.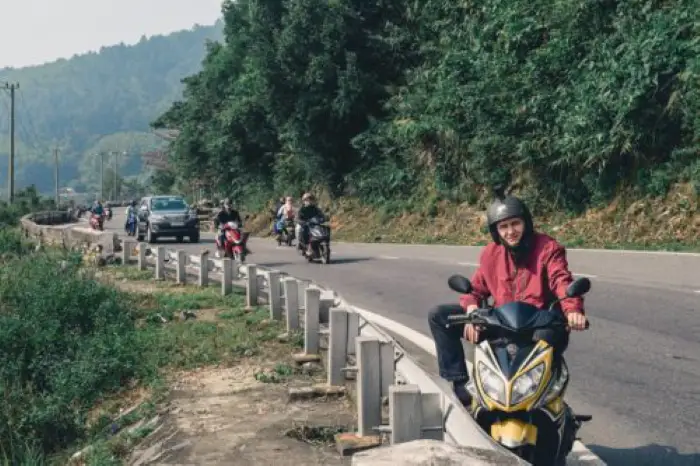 Lang Co Village – Once you have descended the Hai Van Pass, the first village you will arrive at is Lang Co. Stop for a drink and some lunch before continuing to Hue.
Elephant Springs – Want to take a break from the road? Stop off for a soak in cool water springs surrounded by green trees and singing birds.
Hue – Hue is the last stop! Take back your bike, pick up your luggage, and kick back and relax with fresh beer and local food from one of the many eateries.
Must-know tips for driving the Hai Van Pass on a motorbike
Drive carefully – No matter where you're driving to, whether that be Ba Na Hills in Danang or the Hai Van Pass, make sure to always drive carefully! The views are incredible but make sure to pay attention to the road ahead of you. If you want to take in the views more, just park up safely and admire them whilst stationary. The road conditions in Vietnam are not always the best, so you will need to have your wits about you.
Wear helmets – You must wear a helmet! It would be super silly not to. The roads are windy and could potentially be dangerous, especially in wet weather. A helmet could be the difference between life and death.
Put your go pro on your helmet – If you travel with a GoPro, now is the perfect time to get it out. Attach it to the top of your helmet to get great action videos of you cruising up and down the Hai Van Pass.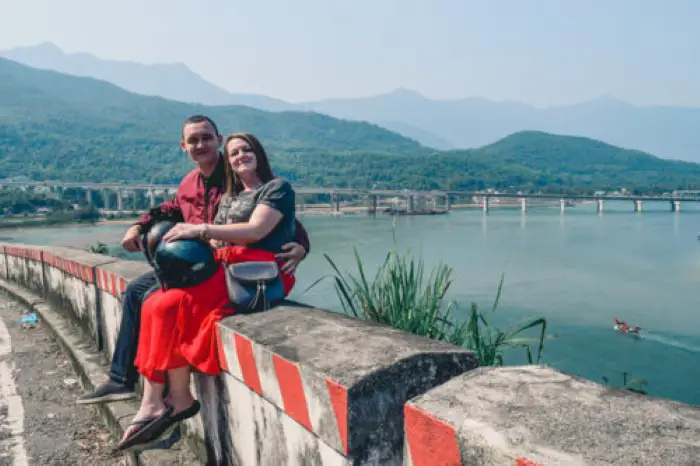 Leave Hoi An early – As much as you probably love spending time in Hoi An, we recommend leaving early at around 7- 8 am. The earlier you leave the less busy the roads will be. Plus, we don't recommend driving on unfamiliar roads when dark falls. It starts to go dark in central Vietnam between 6-7 pm, depending on the time of year.
Take regular breaks – If you're feeling tired it is better to stop and take a break. There are plenty of coffee shops and roadside cafes to stop at and replenish with a drink. Or even lay back for an hour or so in a hammock.
Use an offline mapping app to navigate – We recommend using a popular offline map app called 'maps.me'. Simply download the app and download the country. You can use it to find the best route, viewpoints, and hotels.
Petrol stops – Don't forget to stop for petrol! The last thing you want to happen is to be in the middle of the Hai Van Pass and run out of petrol. There are no petrol stations on this section of the road. We recommend filling up your tank in Hoi An, or Danang, before Marble Mountain, and then a second time after Elephant Springs. We filled our motorbike tank twice for 50,000 vnd each time ($2.15).
Be careful with the cost of petrol – A sneaky petrol station scam is to not reset the pump dial after the customer before you have left. By doing this the price will show your amount of petrol, plus the amount of the person before you. Make sure the petrol attendant restarts the pump to 000000! We nearly got caught out by this just outside of Hanoi on our way to an incense village. The woman tried to charge us 80,000 vnd ($3.45) for a half tank of petrol but the funny thing is, it was our own bike and we know that it takes no more than 50,000 vnd ($2.16) to fill it up from empty. For more general tips like this, make sure to check out these 31 Vietnam travel tips!
Make sure to wear sun cream – Make sure to cake on the sun cream to avoid getting burned. The cool wind you feel around your face and back when riding a motorbike can be deceiving, and this is often when sunburn hits without you realising it until a few hours later.
Bring sunglasses – Make sure to bring along a good pair of sunglasses in case the sun is too strong for your eyes when driving.
Travelling more of Vietnam and looking for more nature spots? Don't miss Dalat, a lover's paradise surrounded by lakes and mountains.
Essential resources for travelling in Vietnam
Travel Insurance – It's a good idea to have insurance, particularly if you're going to be riding a motorbike. Our personal choice is Safteywing. You can opt for automatic monthly payments, just like a subscription. It can be purchased whilst already travelling and there is no cap on travel duration.
Visa – You are highly likely to need a visa for Vietnam. iVisa is a fantastic website that is super easy and quick to use. You can quickly make a visa application online.
Accommodation – Booking.com is our go-to when looking to pre-book accommodation online. Booking.com tend almost always to have the best rates and a FREE cancellation policy for most properties.
Overland transport – Our go-to website for overland transport is Bookaway. They have routes all over Vietnam and host a range of transport modes and companies. It is easy to book online and have your ticket sent to your phone.
Tours & Activities – If you want to book tours and activities for Vietnam online, make sure to check out Get Your Guide. Get Your Guide takes the stress out of booking activities abroad. You will also find a range of benefits, such as skip-the-line passes, lunch included in your tours, and so much more.
Like this Hoi An to Hue post? Pin it for later!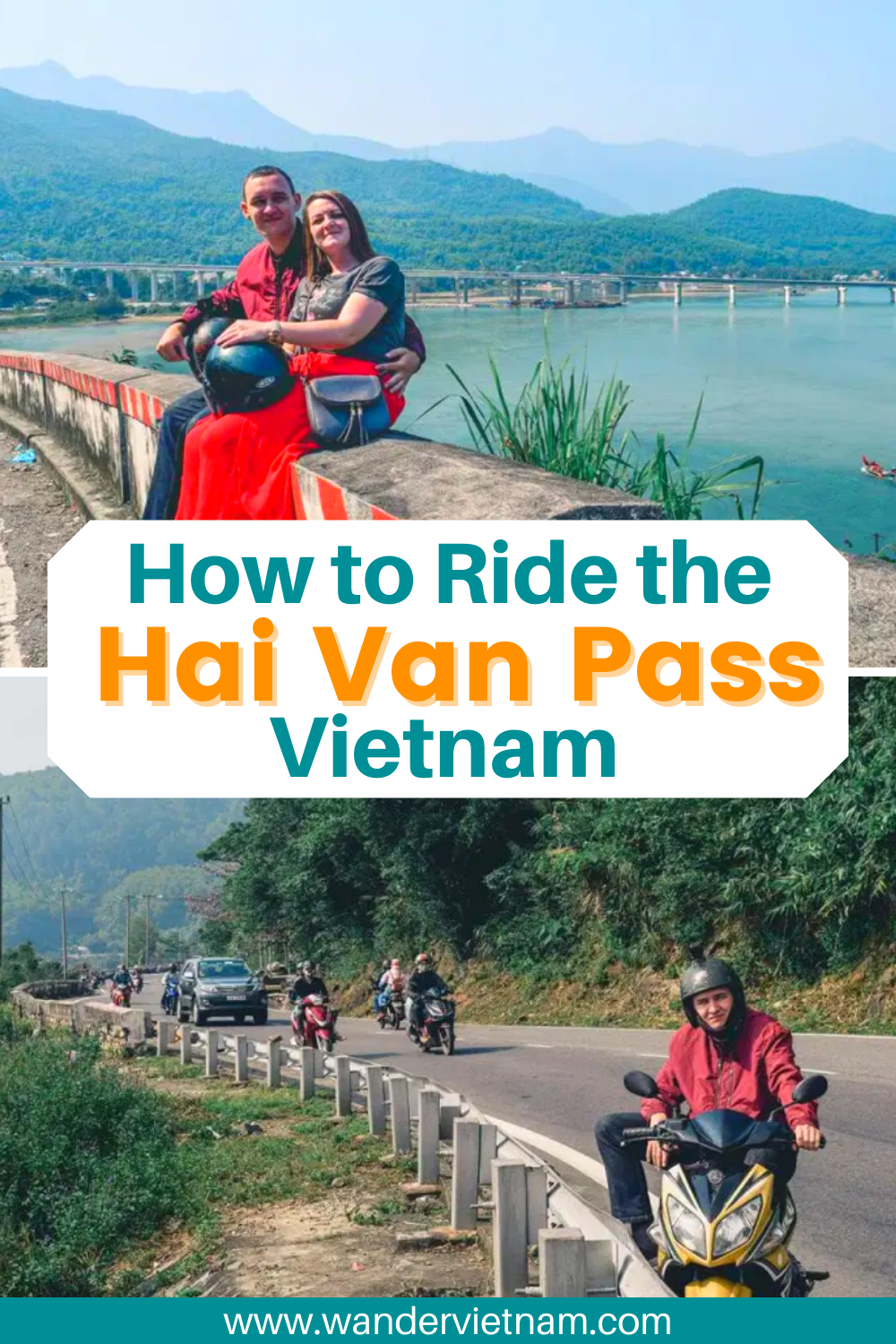 *We were given a complimentary motorbike by Hue Motorbike Tour. All opinions are our own, based on our experience.*