If you're planning a trip to Vietnam, there are a few things that you need to know before you go. Here we have compiled a list of 31 essential travel tips to Vietnam. You will find everything, from tips you must know before you leave, to common tourist scams.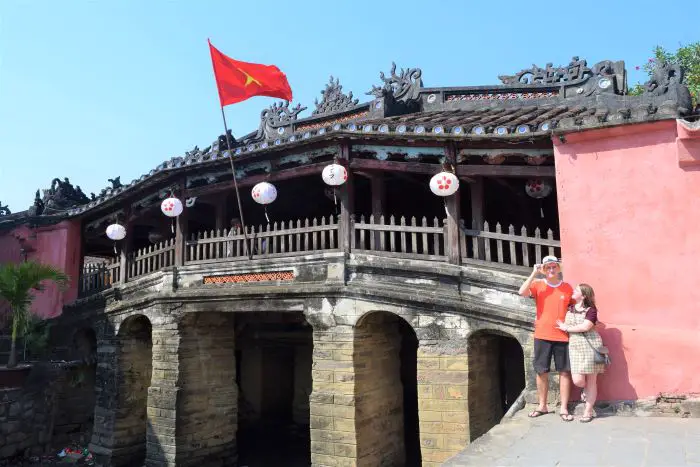 Disclosure: Wander Vietnam contains affiliate links. If you click on these links and make a purchase, we will earn a small commission at no extra cost to you. You can find our full disclosure policy and privacy policy here.
Vietnam travel tips before you leave
1. Don't forget your visa
The first, and most important, on this list of travel tips to Vietnam is your visa. Vietnam has strict entry requirements. Unlike backpacking in Thailand, where citizens from the UK and the USA get 30-day free visas on arrival, Vietnam requires that citizens from most countries have visa approvals before arriving. If you're from the UK, you can now get up to 14 days of free entry without the need for a visa. However, if you wish to stay longer, you must apply for a visa. Make sure to check your government's travel advice page to be sure. You can also click here to check if you need a visa.
2. Be mindful of the weather
The weather can impact your trip to Vietnam. Be mindful of the weather and region you intend to visit before booking. For example, if you're heading away to chase the sun, you probably want to avoid the north of Vietnam from December through to March, as this is when temperatures drop to as low as 10°C. If you want to head to the beaches in southern Vietnam, you will want to avoid the rainy season, which usually lasts from May to November.
3. Pack for all weathers
If you're on a backpacking trip spanning the entire country, make sure to pack clothes that are suitable for all weather. You will need shorts and T-shirts when you're in the south of Vietnam as the weather is constantly hot. As you move north, temperatures begin to drop. By the time you reach Sapa, you may need a thick coat and scarf to keep you warm.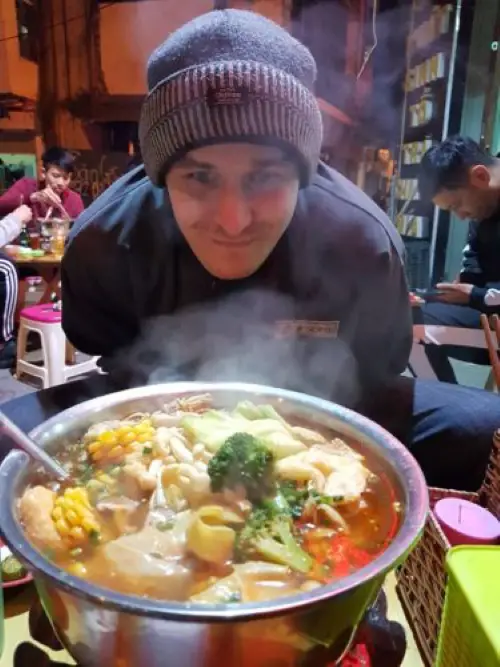 4. Plan your holiday around Tet
Travelling during the national holiday can be wonderful and you may find it extremely pleasant to witness the colourful celebrations. Depending on your outlook and the purpose of your trip, you may wish to plan or avoid your trip around the Tet holiday. If you're in it for a cultural experience and don't mind the crowds in places such as Hoi An, you will be in for a fantastic time. However, keep in mind that most shops and businesses shut down in major cities like Hanoi and Ho Chi Minh City.
5. Don't plan your route too far in advance
If you're on a wider 3-month Southeast Asia trip, it's best not to plan your route too far in advance. Once you arrive, it is super easy to go with the flow. You can book hotels and transport at short notice. You may find you want to stay in a certain town or city longer than you intended. Likewise, you may find that you want to move on quicker than you expected.
6. Vietnam is cheap
You'll be in for a shock when you realise how cheap Vietnam really is! Vietnam is one of the cheapest countries in the entire world. You can get a good night's sleep in a bed for as little as $3 per night, and fill your belly with a bowl of Pho for as little as $1. As for sights and attractions, there are plenty of things you can do by yourself that cost little money. Wander around the many free temples, shop for cheap trinkets at the Hanoi night markets, ride bicycles through endless rice paddies in Hoi An, laze around on beaches in Phu Quoc, or explore mountains in Dalat by scooter.
For a more detailed post on the cost of travelling to Vietnam check out this post!
7. Don't forget travel insurance
Vietnam is generally a safe country to travel to, but that doesn't mean that accidents won't happen. In any case, it's a good idea to take out travel insurance before travelling. A top tip for travel in Vietnam is to make sure your insurance will cover you for riding a motorbike.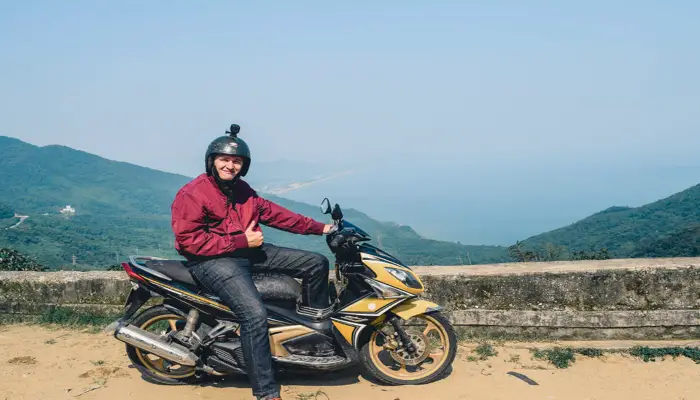 Vietnam travel tips for when you arrive
8. The best bank to use
Withdrawing money from ATMs can often be stressful when you are in a new country. After living in Vietnam for over 5 years, we find that the best ATM to use is CitiBank. This bank allows you to withdraw up to 6,000,000 vnd ($20), in comparison to other banks that have a maximum withdrawal limit on foreign transactions of 3,000,0000 vnd ($130). On the note of using an ATM, always use ATMs in the daylight and preferably use one that is attached to a bank. That way, if there happen to be any issues you can easily just pop inside the bank to resolve them.
9. Use a currency converter on your phone
The currency in Vietnam is the Vietnamese Dong. Once you arrive in this awesome country, you will quickly realise that everyone is a millionaire! $1 is equal to 22,000 vnd. With all the .000s that are added to the currency, working out the conversion rate is not so easy to wrap your head around. Make sure you download an offline currency converter on your phone so you can quickly work out the exchange rate. This will prevent you from overpaying for items and being ripped off.
10. Don't get your banknotes confused
Speaking of money, some banknotes in Vietnam are of similar colour. Whilst the colour is similar, the value is far from the same. For example, you don't want to mix up a 20,000 vnd ($1) note with a 500,000 vnd ($21.73) note. The difference is a little over $20!
11. Be mindful of your valuables
No matter where in the world you travel, you should always keep your eye on your valuables. However, in Vietnam, you should pay particular attention to your valuables when walking on the roadside. We can't tell you how many times we have seen tourists casually standing close to the road with a camera in one hand, whilst looking down at their phone. It is not uncommon for thieves to drive past a scooter and try to rip your valuables from your grasp. Your precious belongings could be gone within a matter of seconds.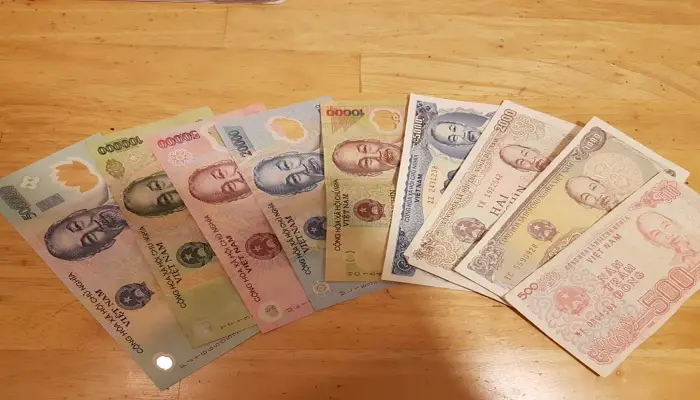 12. Play chicken with bikes but not cars
Can you really say you've been to Vietnam if you didn't cross the roads? Crossing the sea of motorbikes can be a little daunting. The trick here is to walk straight ahead, don't jerk from side to side, and don't try to dodge the motorbikes. They will go around you! In the UK, we look left, right and then cross over the road when there is no traffic coming. If you were to do this in Vietnam, you could spend the entire day trying to cross the road. It's fine to walk out cautiously in front of bikes, but don't try to cross if you can see oncoming cars or buses.
13. Knowing the language goes a long way
Before you start your trip to Vietnam, we recommend you buck up on some basic Vietnamese phrases. Such as, hello, how are you? and how much does it cost? Knowing a few numbers also helps too. Getting to grips with the basics will help you navigate through the country easier and help you when it comes to buying food, drink, tours, and souvenirs.
14. Wifi is available everywhere (almost)
Surprisingly, Vietnam is well connected to the web. Almost every coffee shop and eatery will have wifi that you can connect to for free. So, if you want to avoid splashing out on a sim card and data, there is no need to worry about connecting to the wifi whilst you're out and about.
Vietnam travel tips for getting around
15. Grab taxi is best for getting around cities
If you need to use transport to get around the cities or towns, make sure to download the Grab app. Grab works a little like Uber. Just tap in your pick-up point and drop-off point. The app will let you know the price beforehand. This way, you are unlikely to get taken for a ride around the block and overcharged.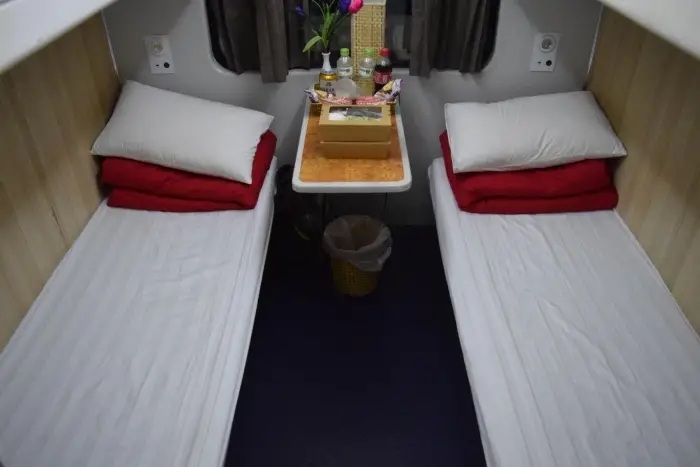 16. No need to book transport too far in advance
If you're using buses or trains to travel through Vietnam, don't stress too much about booking too far in advance. Vietnam is a super relaxed country and you can easily hop on a bus or train on the same day (as long as it is not a major holiday). If you do want to book a few days in advance though, our favourite online booking site is Bookaway. You can search for all the transport providers and book directly on the website and have your ticket sent to your email address. Alternatively, you can usually book transport from your hotel, hostels, or a nearby tourist shop.
17. Motorbikes are great fun but don't go crazy
Riding a motorbike in Vietnam is on almost everyone's bucket list. After all, who wouldn't want to scoot around the mountains in the motorbike capital of the world? Whilst motorbikes are a fantastic way to explore the country, it is important to remember not to get carried away. Always pay attention to the road and always wear a helmet. No one wants to spend the remainder of their trip hopping around in a leg cast.
18. Don't miss these off-the-beaten-path places
Besides the regular backpacking trail, Vietnam has plenty of hidden gems to explore. For example, Dalat, in the Central Highlands is a mountainous paradise, that has been dubbed the honeymoon capital of Vietnam. It is the perfect destination for a lover's retreat. In northern Vietnam, make sure you don't miss out on places such as Ninh Binh, Mai Chau, and Sapa, which are perfect for nature enthusiasts.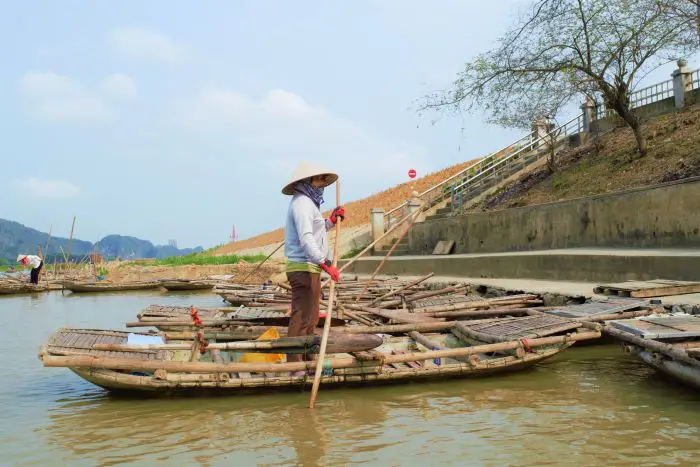 Food & drink travel tips for Vietnam
19. Eat where the locals eat
Our motto is to eat where the locals eat. Restaurants and small roadside food carts that are packed with locals are good signs. We do not doubt that the food is delicious and worth trying.
Street food that you often find by the roadside, served directly from a portable cart, is often the cheapest and most delicious food you will find. Food from these types of places in Vietnam generally costs between 20,000 – 40,000 vnd ($0.87 – $1.75).
21. Avoid drinking tap water at all costs
The tap water in Vietnam is not safe to drink. Whilst you can brush your teeth with it, avoid gulping it down in gallons. Instead, head to one of the local convenience stores to buy bottled water.
22. Make sure the menu has prices
When ordering food, it's good to know how much the meal will cost beforehand. Check the menu for prices. If there are no prices, make sure to confirm the cost with the waiter/waitress beforehand. We have fallen victim to overpriced iced tea a few times in places like Hoi An. Usually, the Vietnamese tea served alongside a meal is free, in local eateries in Ho Chi Minh City and Ha Noi, so it is easy to assume the same for other places in Vietnam.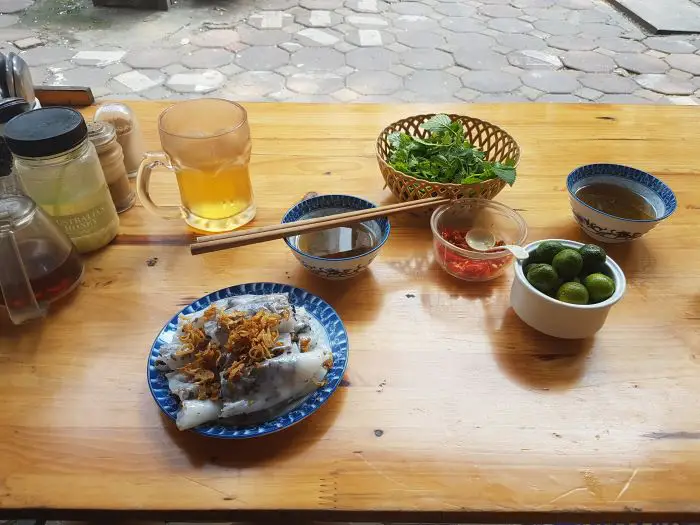 Shopping travel tips for Vietnam
23. Shop around for souvenirs
Vietnamese souvenirs are sold in the millions. Don't settle on the first item you see, at the first shop you see it in. Shop around for the best price. You are highly likely to find the same items at half the price down the road.
24. Get your haggle on
When shopping for trinkets in Vietnam, make sure to haggle. Sellers rarely give you a price expecting you to pay it without any negotiations. A good rule of thumb is to knock off a third of the original asking price.
25. Tipping is not a thing
Unlike in the USA, where tips are common practice, Vietnam doesn't really have a tipping culture. It is fine to leave a small amount of change, but there is no need to add a 10% tip for every meal or journey.
26. Treat yourself to a tailor-made outfit
Vietnam is one of the best and cheapest places in the world to get tailor-made outfits. Hoi An particularly has tailors dotted all over the old town. Outfits can be made within a matter of a couple of days. If you're in Hanoi and are looking for tailor-made dresses, you can pop on down to Hom Market to buy fabric. Prices for tailor-made dresses in Hanoi start from around 250 – 300,000 vnd ($11 – $13).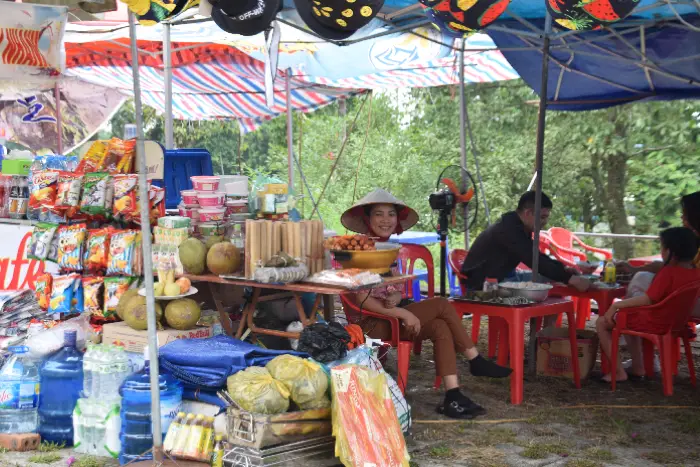 Common scams in Vietnam
27. Motorbike ride around
The motorbike ride-around scam is common in the major cities; Hanoi and Ho Chi Minh City. A local on a bike will approach you and ask if you want a tour of the city on his bike. He will present his badge and a book of testimonies written by other foreigners. When you ask for a price, he will tell you to pay what you think is fair at the end of the journey.
However, when you want to finish the trip, he will stop you away from your hotel and ask you to pay a ridiculous amount of money. This is why it is important to always agree on a price before starting a service. Make sure your negotiations are clear and don't leave any room for misunderstanding. Always stand your ground, and if a seller refuses to give you an upfront price, keep walking and politely decline their offer. It is likely to lead to being scammed.
28. Fruit seller photos
Do you know the ladies that wear the traditional colonial hat and carry two large baskets of fruit over their shoulders? The typical image that may pop into your head when you think of Vietnam. Watch out for the photo scam. They will kindly approach you and ask if you would like to hold their baskets for a photo. In the moment this can seem quite exciting and you may jump at the chance. However, once your camera shutter snaps down, a demand for payment will be made. This isn't to say not to take that photo opportunity, but be aware that you will need to pay a small amount of money for it.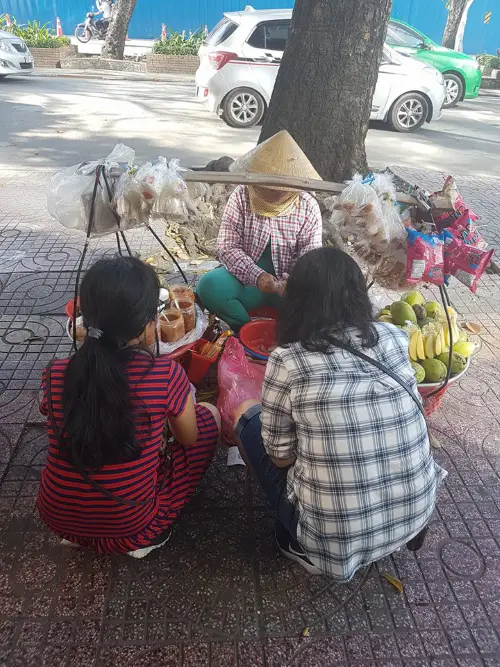 29. Money switch
Some banknotes are similar in colour but have a massive difference in value. For example, take the 20,000 vnd ($0.87) note and the 500,000 vnd ($21.84) note. Scammers use this to their advantage. They will take your higher value note and whip it in their pocket in the blink of an eye and then try to convince you that you paid with the lower value note. Double-check the notes before you hand them over.
30. Petrol jump
If you rent a scooter in Vietnam, there is no doubt you will have to make a call to a petrol station. A known scam here is for the attendant to not reset the pump, resulting in you paying for your petrol and the person's before you as well. Make sure the attendant starts the pump at 0. They should divert your attention for you to check.
31. Shoeshine
Finally on this list of travel tips for Vietnam is the shoeshine scam. The shoeshine scam is common around Bui Vien, Hoan Kiem Lake, and Bia Street in Hanoi. It is often young men that will approach you asking if you would like your shoes cleaned. Once you have agreed on the price they will take your shoes to be cleaned. Once they return with your shoes, you will find new laces, new soles, and other types of shoe repair jobs that you did not ask for. Of course, this is not free and you will have to pay for the extra service. To avoid this, make sure you are clear beforehand that you do not want any other service and that you will only pay what you agreed upon.
Essential resources for travelling in Vietnam
Travel Insurance – It's a good idea to have insurance, particularly if you're going to be riding a motorbike. Our personal choice is Safteywing. You can opt for automatic monthly payments, just like a subscription. It can be purchased whilst already travelling and there is no cap on the duration of travel.
Visa – You are highly likely to need a visa for Vietnam. iVisa is a fantastic website that is super easy and quick to use. You can quickly make a visa application online.
Accommodation – Booking.com is our go-to when looking to pre-book accommodation online. Booking.com tend to almost always have the best rates and a FREE cancellation policy for most properties.
Overland transport – Our go-to website for overland transport is Bookaway. They have routes all over Vietnam and host a range of transport modes and companies. It is easy to book online and have your ticket sent to your phone.
Tours & Activities – If you want to book tours and activities for Vietnam online, make sure to check out Get Your Guide. Get Your Guide takes the stress out of booking activities abroad. You will also find a range of benefits, such as skip-the-line passes, lunch included in your tours, and so much more.
Like these travel tips for Vietnam? Pin it for later!