Saigon vs Hanoi! As we have spent a considerable amount of time in both cities, people often ask us which city is better. Here you will find a thorough comparison between them both. We will cover everything from food, accommodation, nightlife, jobs, weather, and activities.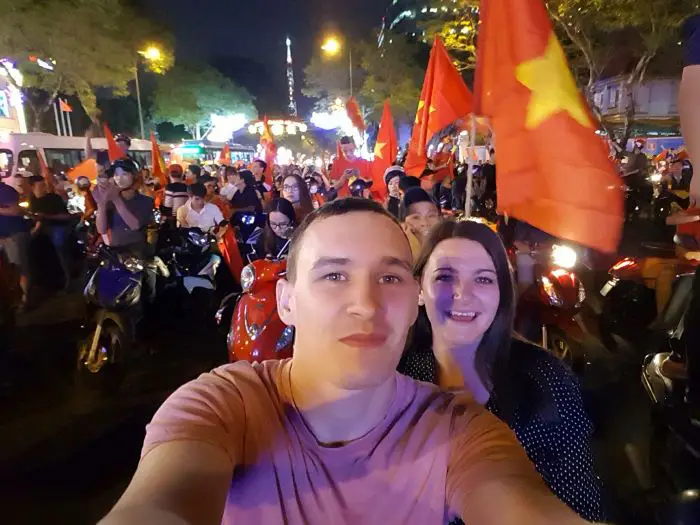 Disclosure: Wander Vietnam contains affiliate links. If you click on these links and make a purchase, we will earn a small commission at no extra cost to you. You can find our full disclosure policy and privacy policy here.
Is Saigon or Hanoi better? First impressions
Saigon is a huge metropolis
If you open up Google Images and search both Hanoi and Saigon, you will see a very distinct difference. You can see for yourself; Saigon is a huge, vibrant and colourful metropolis with many tall buildings growing from the streets below. We recall leaving Saigon one summer and returning to a brand-new skyscraper under construction and a metro system in the making. Saigon is a booming city with lots of international influences and investments. If you need convincing of this, there are 14 McDonald's restaurants currently in Saigon, compared to just 2 in Hanoi.
Hanoi is scattered with lakes & nature
Hanoi, on the other hand, boasts a more peaceful setting with a greener touch and a traditional atmosphere. To elaborate, there are lots of lakes scattered throughout the city. It's a welcoming difference to see a group of men fishing by the lake, or even the sight of giant swan peddle-boats in the distance, rather than the exhaust fumes from the traffic surrounding you. Moreover, Hanoi doesn't change its skin. Our first visit to Hanoi was in 2015, then again in 2017 and 2018. Year after year, it maintains its originality and authenticity, especially in the Old Quarter.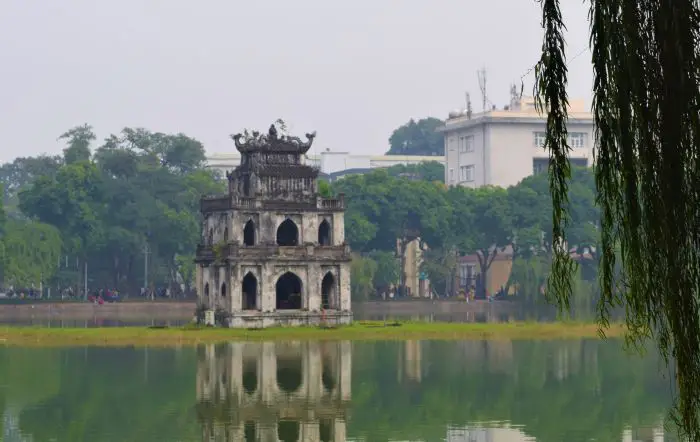 Saigon vs Hanoi for food
Scrumptious food in Saigon
We'll tell you this now, Saigon trumps Hanoi in the food category. Besides the friends we left in Saigon, the thing we miss the most is the restaurants that we visited daily. In our opinion, Saigon has a greater choice of different foods, whether that be local dishes or international foods. We were never more than a 10-minute drive from any type of cuisine that our stomachs desired. Whether that be a full English breakfast from Con Bo Map, an Italian pizza smothered with parmesan at Chef Mama's, or a delicious simple chicken and rice from the cutest local family at Quán Ăn Vặt Hẻm 16, in District 3.
Check out some of the best dishes and restaurants here!
Well-known food dishes in Hanoi
While Saigon offers the best choice of food, we would argue Hanoi has better quality. Many of the Vietnamese dishes we all know and love; phở, bún chả and bánh cuốn, originated in the north. Many long-standing local restaurants have been serving the same dish for over 50+ years. If that doesn't scream quality, we don't know what will. On your visit to Vietnam, be sure to venture out of the touristy Old Quarter, find a restaurant full of locals, and eat the expertly perfected dish cooked at a local restaurant. If you want to take our recommendation, try a dish called nem nướng. You can find the restaurant at 155 Đội Cấn, which is just a short walk from the Ho Chi Minh Mausoleum. Let us know what you think!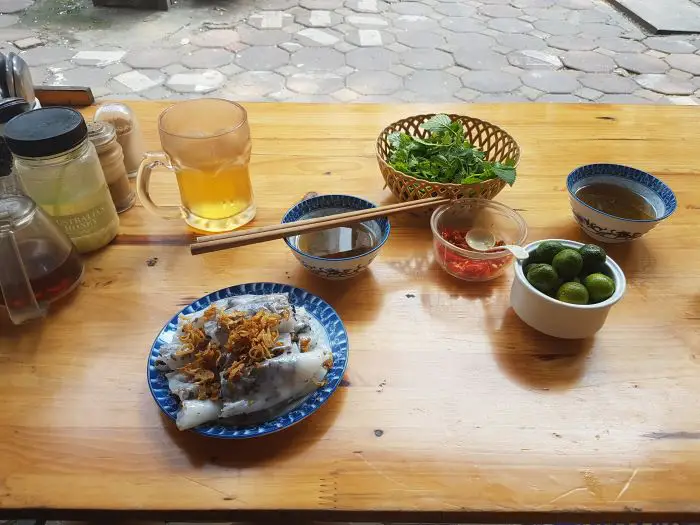 Hanoi vs Saigon for accommodation
We think the topic of accommodation is a difficult one, so it's important to note this is just based on our experiences and opinions. The economy in Vietnam improves year after year, and as both Saigon and Hanoi grow, the outskirts become more desirable, and more apartment buildings begin to appear. The further you stray from the centre of Saigon or Hanoi (District 1 and Old Quarter respectively), the cheaper the property becomes, and the more choice is available. This will come at a cost of increased commutes to work and fewer amenities in the general area.
In Saigon specifically, there are 2 ex-pat districts (districts 2 and 7) with very modern and affordable housing. In our opinion, the trade-off from living in an ex-pat district takes away from the authenticity of living in Vietnam. From our previous research, the price of accommodation in Hanoi is considerably lower than in Saigon, regardless of location. In Saigon, the price of our rent per month was double the amount we paid for our apartment in Hanoi. The only difference was our Saigon apartment looked like an Ikea showroom, thanks to a cleaning service 6 times a week! Now, we live in a cute, homely studio with a large balcony.
Click here for more information on how to find accommodation in Vietnam!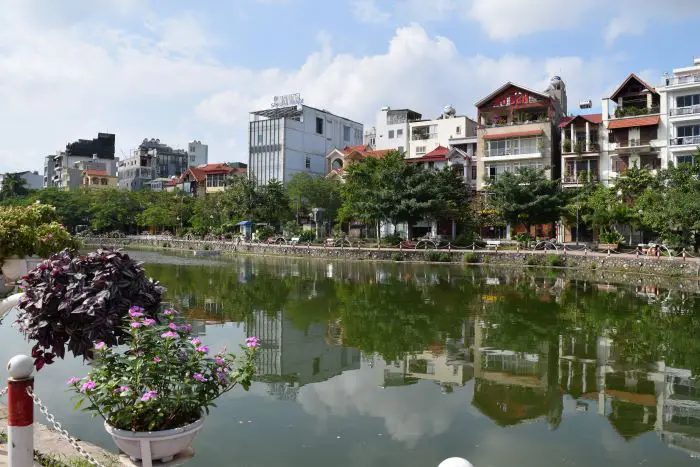 Saigon or Hanoi for work opportunities
The opportunities to find work in Vietnam are similar in both Hanoi and Saigon. We doubt either city is at full capacity in terms of English teaching vacancies; the many Facebook groups would be proof of that. That being said, we would argue Saigon has more choice simply based on the sheer number of English centres within a small radius of a 1 km road. For example, there would be an ILA school at one end, a VUS at the other, and an Apollo school in the middle. Not to mention many other well-known English centre brands dotted in between. The same cannot be said for Hanoi. You simply don't see so many huge English centre empires lining the streets.
From our research, the average salary is slightly higher in Hanoi than in Saigon. This could be for several reasons. The demand for teachers could be higher or the fact that Hanoi is the capital city.
In Saigon expect a salary of $15-20 per hour. In Hanoi expect a salary of $18–25 per hour.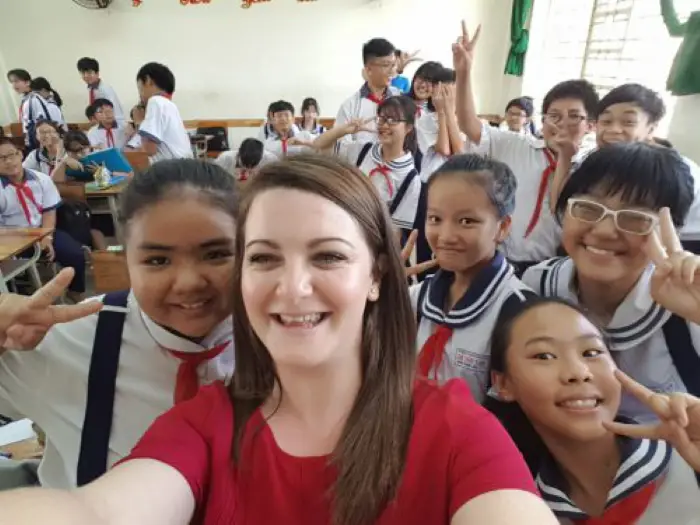 Hanoi or Saigon for the weather
Hanoi's 4 seasons but muggy pollution
After two years in Saigon, we decided to see what Hanoi had to offer. One of the deciding factors to remain in Hanoi for a second year, as opposed to moving back to Saigon, was primarily because of the weather. Hanoi reminds us of the U.K., because during the winter months, between October to January, it's cold (10 – 14 degrees Celsius). We love nothing more than lounging on the couch in our thick winter socks, blankets over our bodies, and sipping hot chocolate whilst tucking into a film.
That being said, there's one major downfall to living in Hanoi, and that's the pollution. After 2 years in Saigon, it never felt necessary to wear a surgical face mask, but upon moving to Hanoi, it's paramount that you don't leave home without it.
Saigon is hot and even hotter
The weather in Saigon is very different! There are 2 seasons as opposed to 4; dry and hot, and wet and hot. For half the year (December to May), the sunbeams down and sizzle your wrists as you commute to and from work. For the other half (June to November), the rain beats down and soaks your shoes and socks; forcing you to teach barefoot for the rest of the day. No matter which city you choose, most of the year will be spent escaping the heat of the sun and the heat from cars and bikes.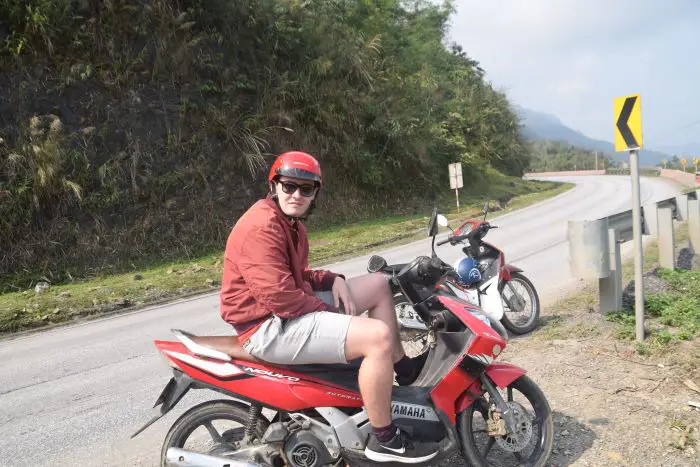 Saigon vs Hanoi for the nightlife
A night out for everyone in Saigon
Whether you choose Hanoi or Saigon, the sound of pounding EDM is inescapable. Depending on your preferences, the nightlife aspect could make or break your decision when choosing which city is right for you. Again, these are simply our opinions from the experiences we've had during our time in Vietnam. Let's get it out of the way first…Bui Vien is the notorious drinking street of Saigon. Tourists love it and ex-pats loath it. If you set your sights outside of the tourist area, you are bound to find a Jazz club, comedy event, sky bar, cinema, bowling alley, or an Irish pub. Whatever tickles your fancy, Saigon will probably have it. Saigon is famous for its craft beer selection. Head over to Pasteur Brewing on Pasteur Street for a glass…or 6. If alcohol isn't your thing, take a stroll along Nguyen Hue walking street, hang out, and marvel at the flower and light displays.
Cheap beer galore in Hanoi
Hanoi's Old Quarter has everything a tourist could want. Ta Hien is where you should eat. The corner of Pho Ma May is where you should drink, a.k.a Beer Street. At the weekend, when the roads are closed, take a walk around Hoan Kiem Lake and lose yourself in the entertainment. People walking cute little dogs, photo opportunities, caricatures, singers, dancers, tattooists, games, snacks, ice cream, skateboarders and backpackers, you name it, Hoan Kiem Lake has it. For ex-pats, most nightlife occurs in Tay Ho (the ex-pat district). If you're on a budget, it's probably best that you avoid Tay Ho. However, for expats, Tay Ho is Western bars and restaurants heaven. If you are craving a big juicy burger or a fancy meal with your other half, Tay Ho is the place to be.
For more things to do in Hanoi at night, don't miss this post!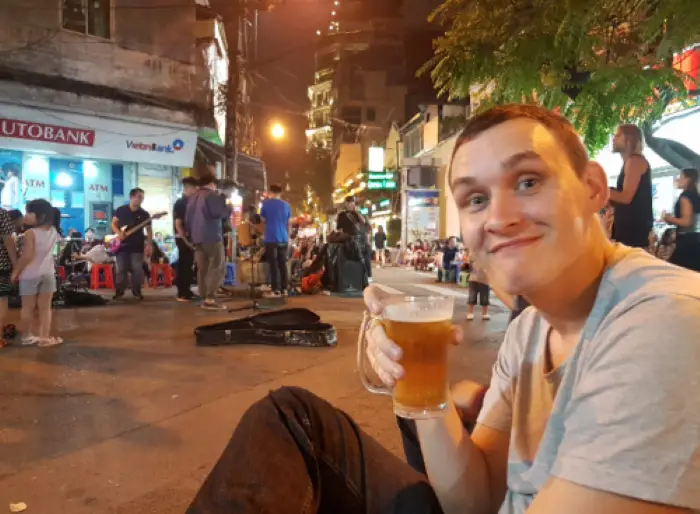 Hanoi vs Saigon for a trip away from the city
Something you might want to consider when deciding where to spend your time in Vietnam is the proximity to other towns and cities. Smaller towns outside of the major cities make for a great weekend break and are a much-needed form of escapism from the hustle and bustle of the big cities.
Trips from Hanoi
Starting with Hanoi, there are tons of places to go that make for a great weekend getaway. Ha Long Bay is the number 1 tourist hotspot outside of the city and is Vietnam's most iconic natural wonder. Take a half-day, full-day or overnight boat tour, and marvel at the incredible limestone pillars rising from the clear blue waters. It's 180 km east of Hanoi and is best reached via private transport as part of a tour.
Cat Ba Island, located 120 km east of Hanoi, boasts similar landscapes to that of Ha Long Bay. It can take around 4 hours to drive there. Whilst you're there, visit the beach, sip beer on the main strip, or try to spot the rare Cat Ba Langur monkeys, native to the island; it's your choice.
Hanoi to Ninh Binh is just 100 km south. Ninh Binh is the perfect place to fill your lung with fresh clean air. Explore via motorbike or bicycle, zigzagging through the rice paddy fields, or hike up a mountain cave, for the most famous selfie spot in Vietnam at Hang Múa.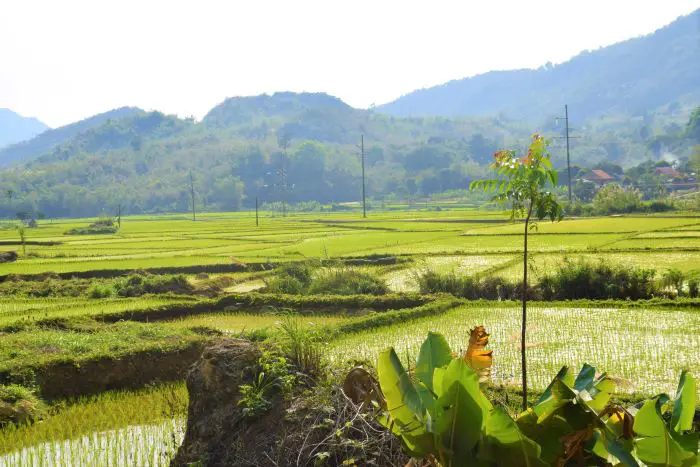 Trips from Saigon
Ho Chi Minh City has its fair share of city escapes too. Head 2 hours south and you will arrive at Vung Tau Beach. Relax by the sea, hike up to a viewpoint of the city and get your fix on the freshest seafood in the region. If you're happy to take an overnight bus, head to Dalat in the northeast for a break from the heat. The small town of Dalat is surrounded by mountains that hide the sun's rays and keep the town cool all year round. Visit the strawberry fields or go canyoning in the wild and abseil down waterfalls.
We hope you enjoyed this comparison and we hope it will help you decide which city is best for you. There are many ups and downs to both cities. The city that is right for you totally depends on your lifestyle and preferences. What is fascinating to one person, could be boring to another. Whilst you ponder on all the pros and cons of Saigon and Hanoi, check out our post on the different types of TEFL jobs, to help you choose which teaching jobs to apply for.
Like this Saigon vs Hanoi post? Pin it for later!