You've probably heard of Vietnam's famous egg coffee, but where is the best place to relax whilst enjoying a refreshing beverage? In this post, we are going to tell you all about Hanoi's cutest coffee shop; the Note Coffee Hanoi. You will find out everything you need to know about this quirky-cool coffee shop, from how to get there, what's on the menu, and more.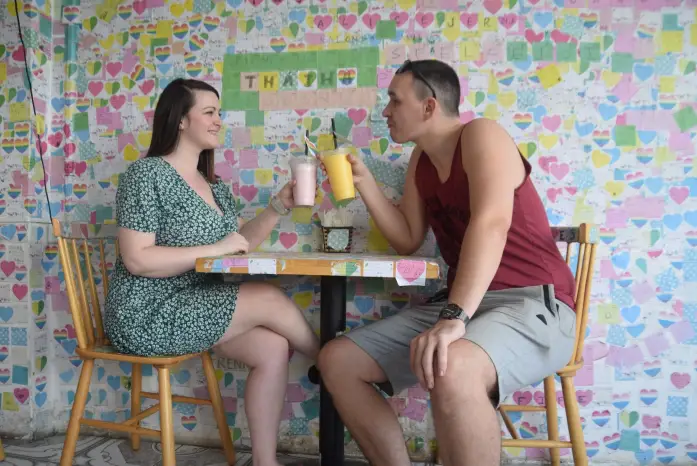 Disclosure: Wander Vietnam contains affiliate links. If you click on these links and make a purchase, we will earn a small commission at no extra cost to you. You can find our full disclosure policy and privacy policy here.
What is so special about the Note Coffee Hanoi?
First off, let's start by saying that Note Coffee is no ordinary coffee shop. Just like Taiwan is famous for its bubble tea, Vietnam is famous for its coffee. Hanoi has thousands of coffee shops dotted along the main roads and tucked down every nook and cranny, but Note Coffee offers a different kind of experience. From the moment you roll up, you will be welcomed with beaming smiles and friendly waves by the Note Coffee team.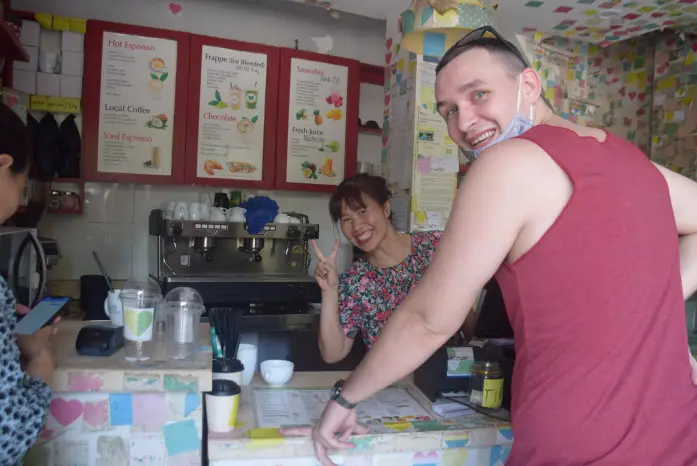 As you enter the shop, the draw of this place is apparent. There are hundreds of thousands of notes left by visitors from all over the world. The entire coffee shop, over 4 floors, is plastered with small cute sticky notes. Most notes boast inspirational quotes and life lessons, with the odd one or two rude funnies to make you giggle. You could easily spend hours roaming the cafe and reading the wise words of fellow travellers from around the world. Whilst you're at it, be sure to create your mark by writing out your own mantra to share with the world.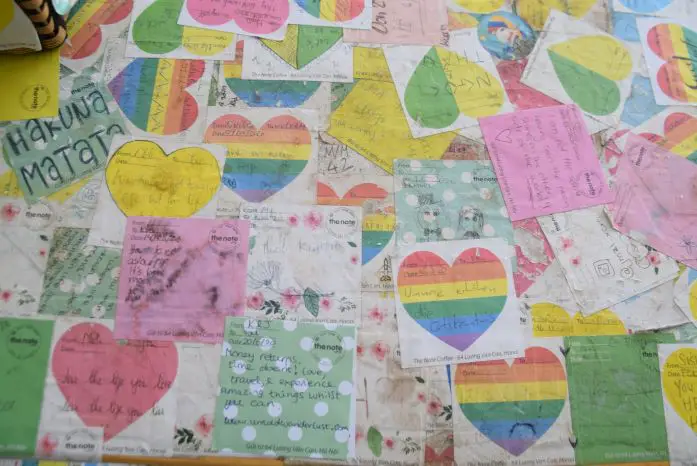 Aside from the sticky note concept, the staff are exceptionally friendly, making it easy for you to return several times during your trip to Hanoi.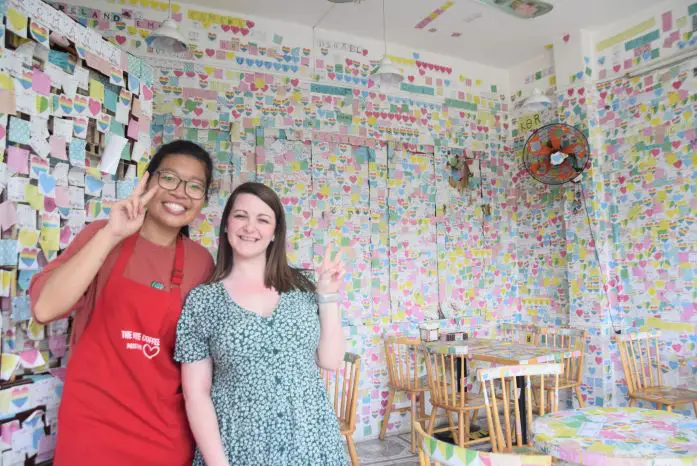 The Note Coffee Hanoi menu
As you would expect in any coffee shop, the menu offers a variety of drinks. Hanoi's famous egg coffee, coconut coffee, a range of fruity-flavoured teas, and smoothies are just to name a few. Downstairs at the checkout area, there is also the option to indulge in a variety of cakes and small snacks. The prices are quite reasonable too! We have attached a photo of the menu below so you can get a feel for what you may like to order before you go.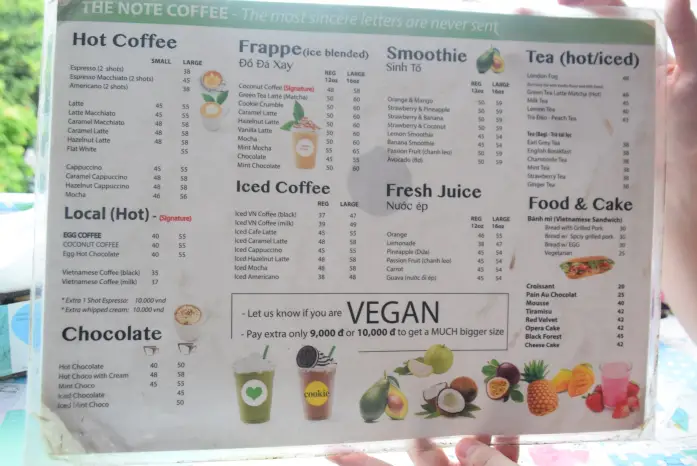 If you're a true coffeeholic, you'll probably want to wrap your lips around an egg coffee. Otherwise, we fully recommend the smoothies, which themselves come with a nice handwritten note from the staff. Katie opted for the orange mango smoothie, whilst Jake took the waitress' advice and delighted his taste buds with a strawberry coconut smoothie.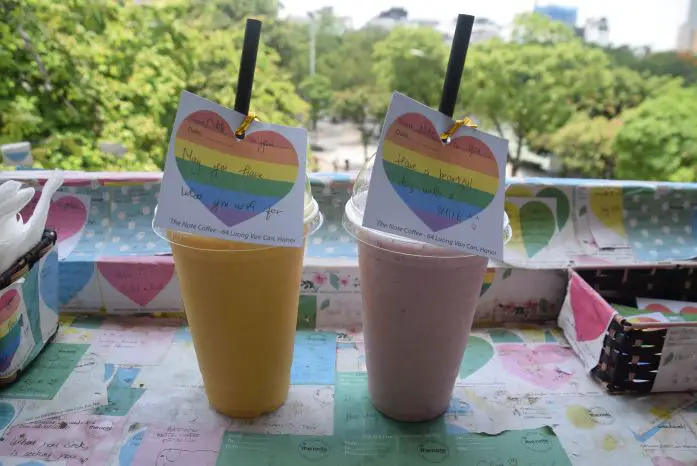 Where is Note Coffee Hanoi located?
Note Coffee Hanoi is advantageously located right next to Hoan Kiem Lake. Hoan Kiem Lake is regarded as the most popular place for locals and tourists to spend their mornings and evenings taking relaxing walks with family and friends. The exact address is:
64 Lương Văn Can, Hàng Trống, Hoàn Kiếm, Hà Nội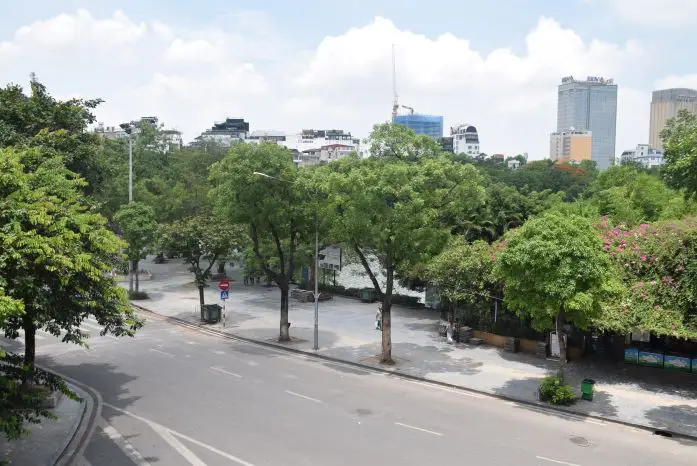 How to get to the Note Coffee Hanoi
Walk
Note Coffee Hanoi is conveniently located in the tourist district, with plenty of hotels and hostels within walking distance. If you happen to stay in the area, we recommend you walk. You can download Maps.Me on your phone to help you navigate. Just be careful of your surroundings and avoid using your phone on the main road. If you need to check your phone for directions, turn away from the road and hold your phone firmly, to avoid opportunists on bikes swiping it out of your hands.
Taxi
If you're not within walking distance, you can easily take a taxi. We recommend downloading the Grab app. The app works just like Uber. You can order a taxi and see the price beforehand. There is no need to book in advance. Taxis generally arrive within 5 – 10 minutes of placing an order. With the Grab app, you can choose to ride comfortably in a car or opt for a scooter taxi.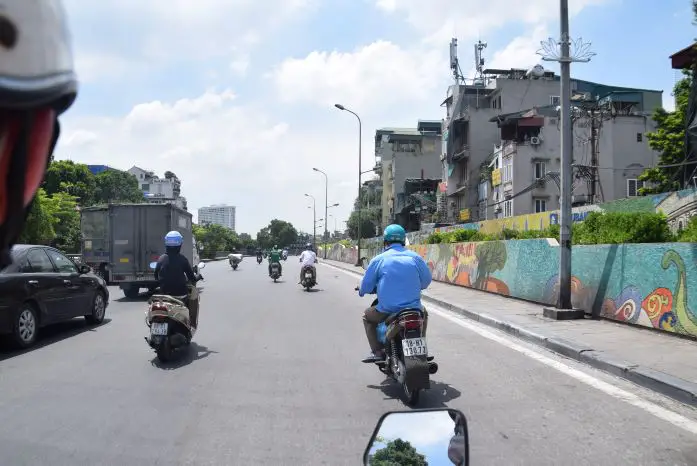 Drive yourself
If you're on a motorbike trip in Vietnam and have your own transport, you can easily drive there yourself. Whilst the roads around the lake are closed off to vehicles during the weekends, you can still park outside of the coffee shop. Head to the address of the Note Coffee, and you will see metal barriers in front of you. Just turn off your engine and walk your bike to the coffee shop, which is just a few doors down on your right-hand side.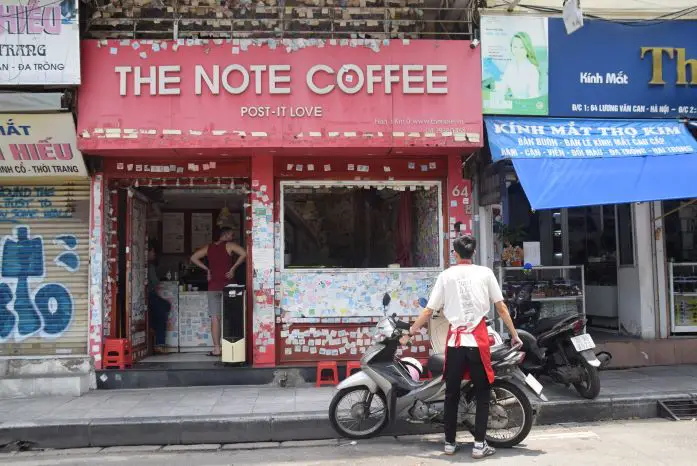 Other things to do in the area
With the Note Coffee shop in a prime location, there are tons of things to do nearby. We fully recommend you take a walk around the heavenly Hoan Kiem Lake, which is teeming with life, particularly on the weekends. Furthermore, Thang Long Theatre is just a stone's throw away. Here you can kick back and relax whilst watching the majestic water puppet show. If you happen to be in the area past 6 pm, you are also just a very short distance away from the bustlin' Hanoi Night Market, which is perfect for picking up those essential Vietnam souvenirs. Finally, if you've had enough coffee and cake and want to switch to a more party-vibe atmosphere, head over to Beer Street for cheap as chips cups of beer.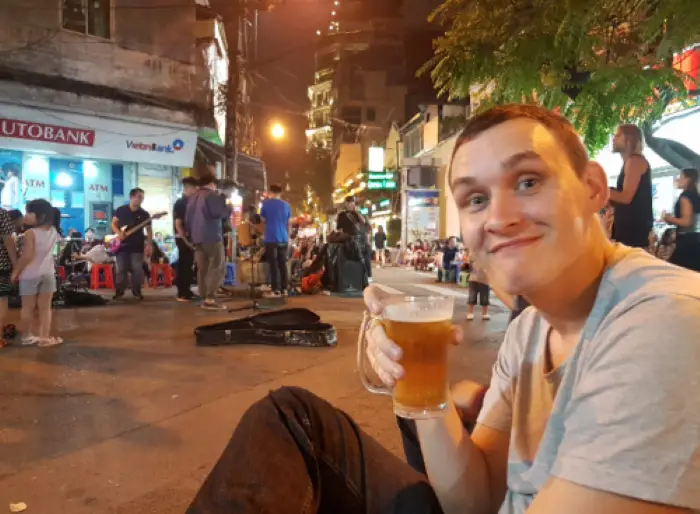 Where to stay in Hanoi
Acoustic Hotel & Spa – A stunning modern hotel in the heart of Hanoi. This hotel is perfect for those who want a relaxing stay in Hanoi to either start or end your Vietnam adventure. The hotel boasts large comfy beds, TVs, spa services, and a lovely rooftop bar for you to kick back and relax at the end of the day.
Nexy Hostel – A relatively new funky hostel that is in an excellent location; just 500 meters from Hoan Kiem Lake. The rooms are modern, clean, and cosy. The hostel has both dorm rooms and private rooms, making it perfect for couples on a budget and for solo travellers who want to meet other people in the bar area.
For more deals on properties in Hanoi CLICK HERE!
Essential resources for travelling in Vietnam
Travel Insurance – It's a good idea to have insurance, particularly if you're going to be riding a motorbike. Our personal choice is Safteywing. You can opt for automatic monthly payments, just like a subscription. It can be purchased whilst already travelling and there is no cap on travel duration.
Visa – You are highly likely to need a visa for Vietnam. iVisa is a fantastic website that is super easy and quick to use. You can quickly make a visa application online.
Accommodation – Booking.com is our go-to when looking to pre-book accommodation online. Booking.com tend almost always to have the best rates and a FREE cancellation policy for most properties.
Overland transport – Our go-to website for overland transport is Bookaway. They have routes all over Vietnam and host a range of transport modes and companies. It is easy to book online and have your ticket sent to your phone.
Tours & Activities – If you want to book tours and activities for Vietnam online, make sure to check out Get Your Guide. Get Your Guide takes the stress out of booking activities abroad. You will also find a range of benefits, such as skip-the-line passes, lunch included in your tours, and so much more.
Like this Note Coffee Hanoi post? Pin it for later!