A trip to Vietnam is a once-in-a-lifetime opportunity and you will most certainly want to take home some unique memorabilia to remember your fantastic adventure. Here we have 27 of the best Vietnam souvenirs that you must buy whilst in Vietnam. The list includes everything, from a classic conical hat, right down to some more obscure items, such as propaganda posters and whacky kids' hats.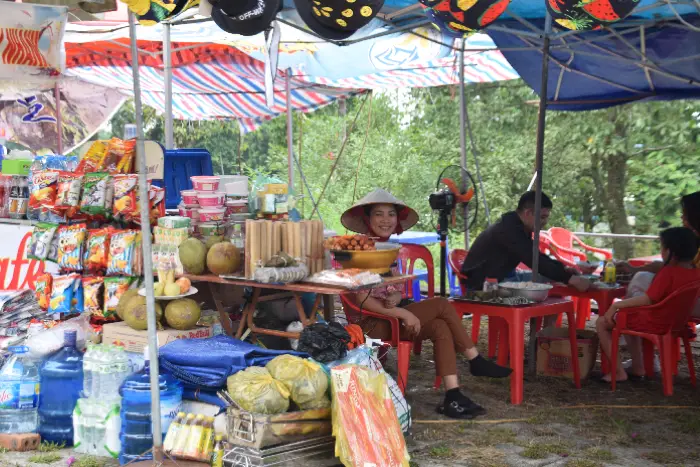 Disclosure: Wander Vietnam contains affiliate links. If you click on these links and make a purchase, we will earn a small commission at no extra cost to you. You can find our full disclosure policy and privacy policy here.
Awesome Vietnam souvenirs
1. Traditional hat (nón lá)
The nón lá hat is the traditional symbol of Vietnam and is worn by many locals regardless of their sex, age, or social class. A nón lá is usually the number one souvenir for holidaymakers to acquire on their travels in Vietnam. They are great for snapping photos in and make for an exotic souvenir. However, a nón lá is mainly used as a sun protector for farmers who spend long hours in the rice paddies. They are typically made from simple materials such as bamboo, palm leaves, and bark from moc trees.
Price: 20,000 – 50,000 vnd ($0.86 – $2.15).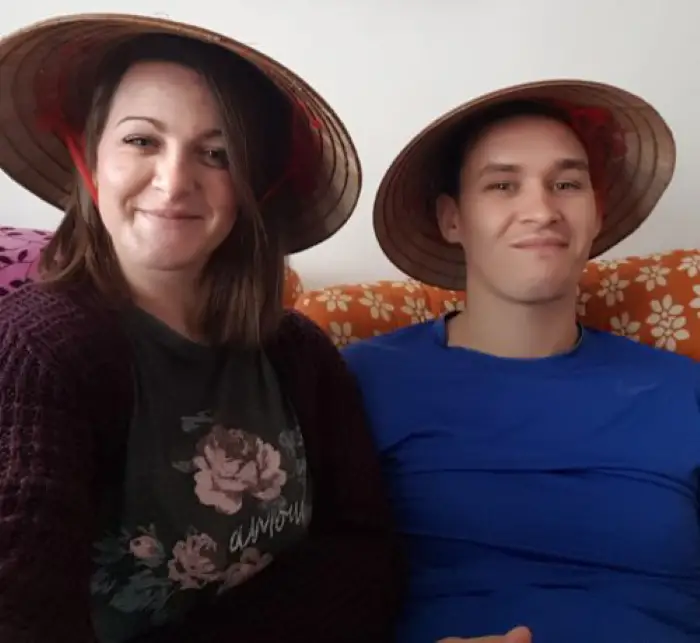 2. Traditional dress (áo dài)
The áo dài is a stunningly elegant national garment of Vietnam, worn by both men and women. Although, more commonly worn by women. It consists of a tight-fitted long dress with slits up the side worn over long pants. The garment is usually worn for special occasions, such as Tet (Lunar New Year), Mid-Autumn Festival, and weddings.
Price: 250,000 vnd ($10.77) for one from the market, or 700,000 vnd+ ($30.71) for one tailor-made. You can buy materials from Ben Thanh Market in Ho Chi Minh City, or Hom Market in Hanoi.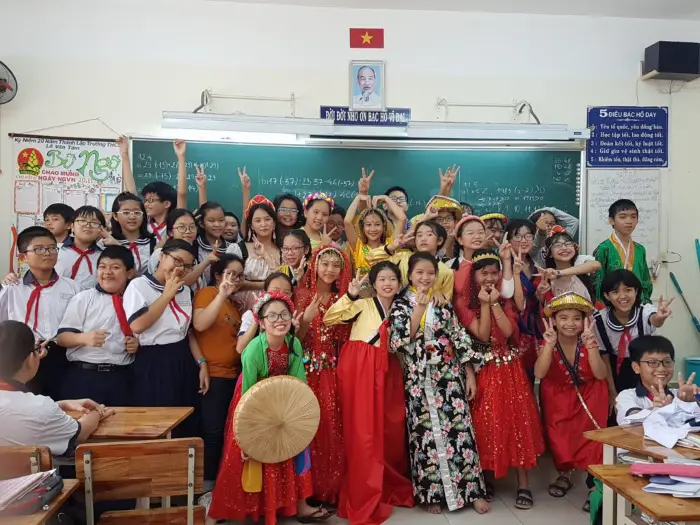 3. Guoc moc (wooden clogs)
Now you have your conical hat and áo dài, you may as well complete the look with a pair of guoc mocs. Guoc mocs are traditional wooden clogs that are usually worn with an áo dài. Whilst this type of shoes have been part of the Vietnamese culture for thousands of years, before the use of leather and plastic shoes, they are sadly fading away. However, they still make for a lovely souvenir, even if you don't plan to wear them.
Price: 100,000 – 200,000 vnd ($4.31 – $8.62).
4. Chopsticks
No doubt that by the time your adventure in Vietnam has come to an end, you will be a pro at using chopsticks. Chopsticks are one of the main utensils when it comes to cooking and eating in Vietnam. So, what better way to reminisce about the mouth-watering Vietnamese food that you blessed your taste buds with? Make sure to grab a few pairs of chopsticks so you can try to replicate some of the dishes at home and feel the authentic pinch of picking up your food.
Price: 40,000 vnd ($1.72) for a pack of 10 plain wooden chopsticks.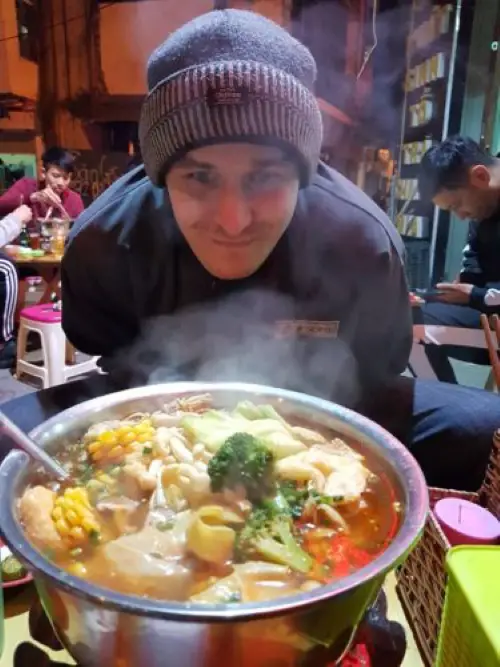 5. Paintings
Whether you're taking a stroll around the shops or sitting enjoying a drink on Beer Street, the opportunity to purchase a beautifully hand-painted picture always presents itself. Arts and crafts are very much part of the Vietnamese culture, so you are sure to find many locals sitting outside of their shops or homes working on their mesmerising artwork. The best thing about buying a painting is that you can carefully roll it up and it won't take up much space in your luggage.
Price: 250,000 vnd ($10.77) for a small hand painting without a frame. Prices vary depending on size and detail.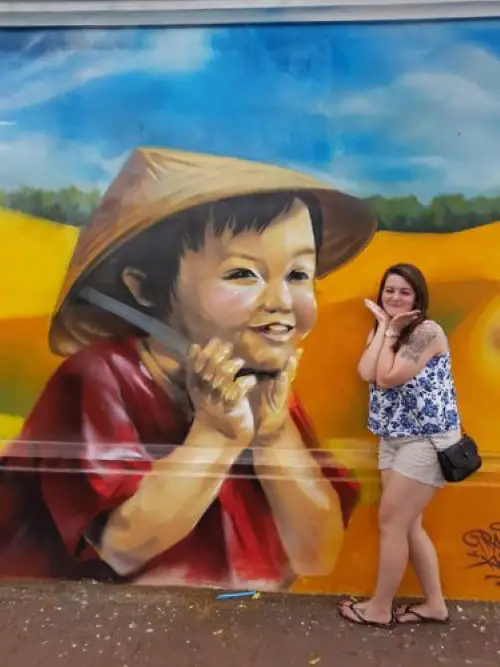 6. Shuttlecock toy (đá cầu)
A đá cầu is a popular toy for both children and adults in the region of Southeast Asia and China. As you roam the parks in Ho Chi Minh City and Hanoi, you will notice many locals enjoying a kickabout with an item that resembles a shuttlecock. The shuttlecock is made only from feathers, washers, and a hitting disk. Why not buy one to take home with you? They are fun for all the family to try their hand at!
Price: 30,000 vnd ($1.29).
7. Children's hats
The craze in Vietnam, particularly during the winter months, is these cute fluffy hats. Kids love them! Not only do they keep you feeling toasty from the evening chill, but the ears also bop up and down when the paws of the hat are pressed. Even if you don't have any kids to buy one for, they also make for a fun tool for teaching English online. You're sure to grab your students' attention!
Price: 100,000 vnd ($4.31).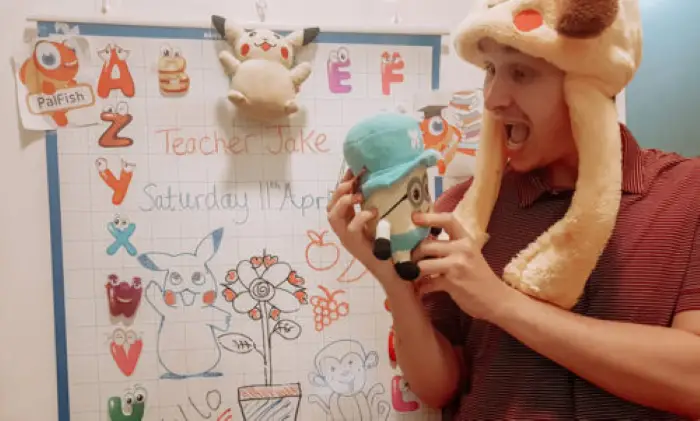 8. Fruit outfits
Ah, the famous fruit outfits that are worn by young backpackers. These funky sets of shorts and t-shirts are a great way to add colour to your wardrobe and have fun memorabilia to sport during the summer months in your home country. They are also great if you're continuing your travels around Southeast Asia and need to pick up a few new items of clothing. You can find these styles of clothes from Hanoi Night Market or Ben Thanh Market in Ho Chi Minh City.
Price: 80,000 vnd ($3.44) for a T-shirt and 50,000 vnd ($2.15) for shorts.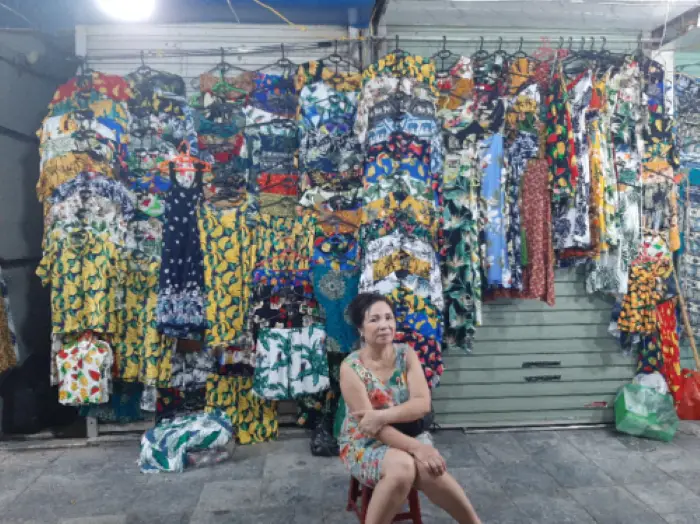 9. Pop-up cards
If you're looking for a small item that doesn't add weight to your suitcase, a pop-up card is perfect. These cute colourful cards are handmade by locals and often depict Vietnamese women carrying a fruit basket or dressed in the traditional ao dai. They will come in handy for Birthdays and other special events. You're family and friends are sure to love them.
Price: 50,000 vnd ($2.15).
10. Coffee beans
Coffee lovers out there are bound to want to take home a few packets of Vietnamese coffee beans. Vietnamese coffee is among the best in the entire world, and locals certainly pride themselves on it. Everywhere you go in Vietnam, you will never be more than a few feet away from a coffee shop. By the way, we totally recommend out check out the Note Coffee! Treat yourself to a pack of freshly ground coffee. You can buy these on the markets or even at popular coffee shops such as Phuc Long, Coffee House, or Kafa. Whilst you're at it, you may as well also invest in a phin. A phin is the coffee filter used to make the rich and heavenly delicious Vietnamese ice-coffees.
Price: Vary depending on the brand of coffee. You can pick up cheap bags for 80,000 vnd – 120,000 vnd ($3 – $5).
11. Vietnamese candy
Vietnam is not only famous for its crafts and coffee but also for its confectionery. Make sure to take a few packs of sugary goodness home with you. The most popular candy made in Vietnam is coconut candy, rice cakes, dried fruits, chocolate, and a variety of nuts. You can buy these types of candy from pretty much any major supermarket, or even local convenience stores. You will also find a few of these items in the food section of markets.
Price: 50,000 vnd – 250,000 vnd ($2.15 – $10.74) depending on the type of candy and quantity. Coconut candy is on the lower end, and dried fruits and nuts are on the higher end.
12. Lacquerware
Lacquerware products in Vietnam are distinctive in style and take skilled workers to create these beautiful high-quality items such as bowls, plates, cups, dishes, and vases. The art of lacquerware dates back to the 1930s and is influenced by French colonial times. Any lacquerware product from Vietnam, no matter how big or small, would be the perfect gift for an art lover.
Price: You can buy small items from 60,000 vnd ($2.58). Prices can hike past 3,000,000 vnd ($128) for larger items, such as tables and chairs.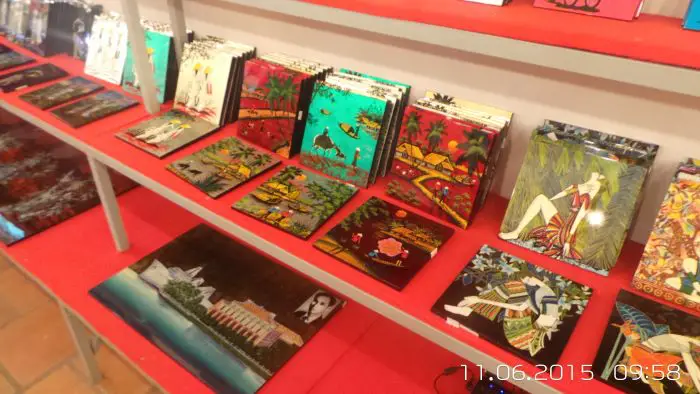 13. Lanterns
Take the opportunity to spoof up the decor in your house or garden. Lanterns are an integral part of festivities in Vietnam. During the Mid-Autumn festival and Tet (Lunar New Year), you will find plenty of lanterns adding a colourful classic charm to the cities of Vietnam. You can typically find lanterns being sold on the markets in any major city. Although, Hoi An is the most famous place to purchase a picturesque light.
Price: 40,000 vnd – 100,000 vnd ($1.72 – $4.30) depending on the size.
14. Silk products
Silk products are aplenty in Vietnam, particularly in Hanoi where the famous Van Phuc Silk Village is located. A trip to the village will not only allow you to buy some of the finest quality silk, but you will also have the opportunity to witness the entire weaving process. Scarves and ties make for the perfect silk gifts!
Price: 150,000 vnd ($6.45) upwards depending on the product and the detail in the designs.
15. Ceramic pottery
Ceramics and pottery items are Vietnamese specialities. If you have extra time in Hanoi, we fully recommend a visit to Bat Trang Pottery Village. Here you will have the opportunity to purchase some incredible vases made from Bat Trang porcelain. We understand that most people won't be able to lug a gigantic vase back to their home country, that's why we recommend you take the opportunity to make your own small vase, plate, or cup.
Price: 50,000 vnd ($2.15) to make your own and paint it.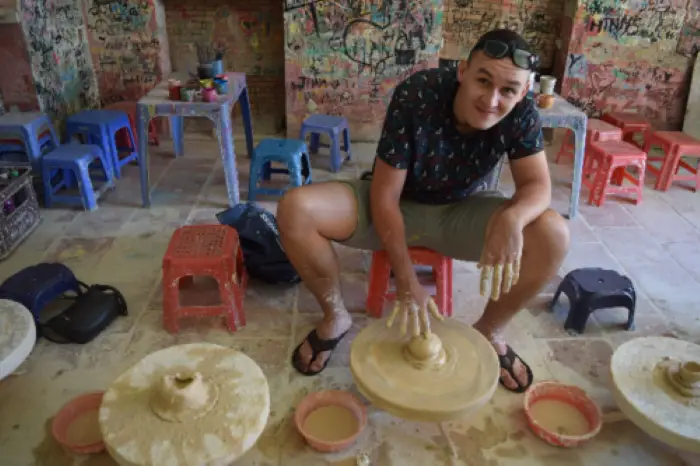 16. Bamboo products
Another popular Vietnam souvenir is a bamboo item, such as a piece of cutlery, basket, or hat. Any bamboo product would make for the perfect gift for the eco-conscious loved one in your life. Even a simple bamboo straw is a quirky stocking filler that will help save the environment.
Price: 50,000 vnd ($2.15) upwards, depending on item, size, and design.
17. Hand-embroidered products
Another craftmanship that the Vietnamese are highly talented at, is hand embroidery. The art of hand embroidery in Vietnam dates back to the 17th century and has been passed down through generations. There is ample choice, from curtains, tablecloths, handkerchiefs, scarves, and more.
Price: 120,000 vnd ($5.16) upwards. The price depends on the complexity of the design.
18. Tea
Whilst Vietnam is more famed for its coffee, the tea selection is also something to write home about. There is tea in almost every flavour you can think of! You will also find that trà đá (Vietnamese iced tea) is a popular drink that is served at the side of the road and in almost all of the local restaurants. It's often cheaper than a bottle of water. Reminisce your Vietnam holiday with a bag of loose tea leaves.
Price: 40,000 vnd ($1.73) per 200g bag of local tea.
19. Hmong skirts
If a trip to Sapa is on your radar, don't pass up the opportunity to add a unique Hmong-style skirt to your Vietnam souvenir collection. These colourful skirts are distinctive to the Hmong women who live in the remote villages of Sapa and other Northern provinces in Vietnam. You can easily find these kaleidoscope-style clothing dotted around markets in Sapa town.
Price: 150,000 vnd ($6.45).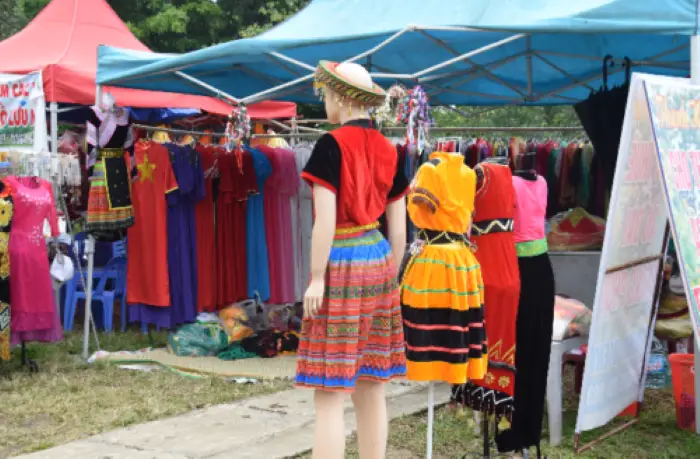 20. Musical instruments
For a really quirky Vietnam souvenir idea, consider purchasing a traditional Vietnamese musical instrument. In particular, look out for a sao truc (bamboo flute), dan nguyet (two-string guitar), and dan nhi (two-cord fiddle).
Price: Prices vary depending on the quality of the instrument and where you purchase it.
21. Magnets
No doubt there's someone in your family that collects magnets. Lucky for you, Vietnam has many designs to offer. Might I recommend one with a cone hat?
Price: 30,000 vnd ($1.29).
22. Football shirts
Not many football teams share the same kit colour as Hanoi's local team, yet we would argue purple is a wonderful colour and a perfect addition to your collection of football memorabilia. Alternatively, if pink is more your colour, go ahead and sport the wonderfully coloured Saigon football shirt instead.
Price: 100,000 vnd ($4.30).
23. Postcards
An oldie but goldie! Postcards are nostalgic souvenirs that are sure to put a smile on a loved one's face. Vietnam has no shortage of them, so you will find it easy to pick one up from almost any souvenir shop. To make it extra special, you may want to post it from the famous Saigon Central Post Office in Ho Chi Minh City.
Price: 30,000 vnd ($1.29).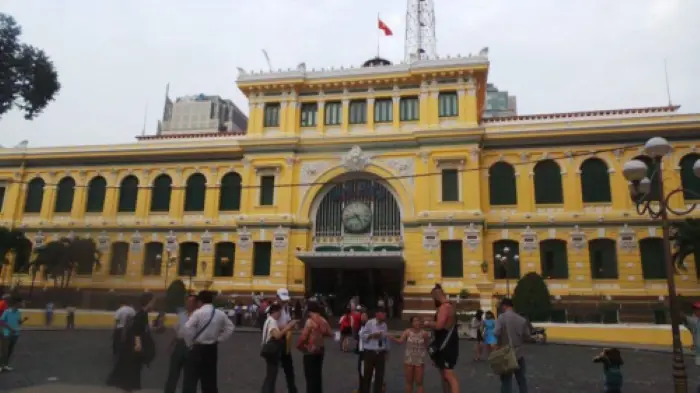 24. Flip-flops made from tyres
During the Vietnam War, Vietnamese soldiers make their shoes from the same material used for car tyres. An interesting fact is that the flip-flops were designed with a symmetrical shape so that the enemy could not track the direction of the footprints. Enjoy your treasure hunt searching for this wartime-inspired souvenir.
Price: 150,000 vnd ($6.45).
25. Tailor-made suits
If you need a new suit for work or a special occasion, Vietnam is the perfect place to get one tailor-made. There are plenty of tailors in the major cities, but we recommend you get one made in Hoi An. After all, getting a tailor-made outfit is one of the best things to do in Hoi An.
Price: Prices vary massively depending on what item of clothing you want to make. Expect to pay 700,000 vnd ($30.28) + for a dress and 3,000,000 vnd ($129.76)+ for a two-piece suit.
26. Propaganda posters
These wartime posters make for the perfect gift for history buffs. Vietnamese propaganda posters were used to raise morale and for various other promotions. Nowadays, they are an interesting item to own and serve as a reminder of the Vietnamese victorious past and certainly make for a cool souvenir from Vietnam.
Price: 250,000 vnd ($10.74) upwards.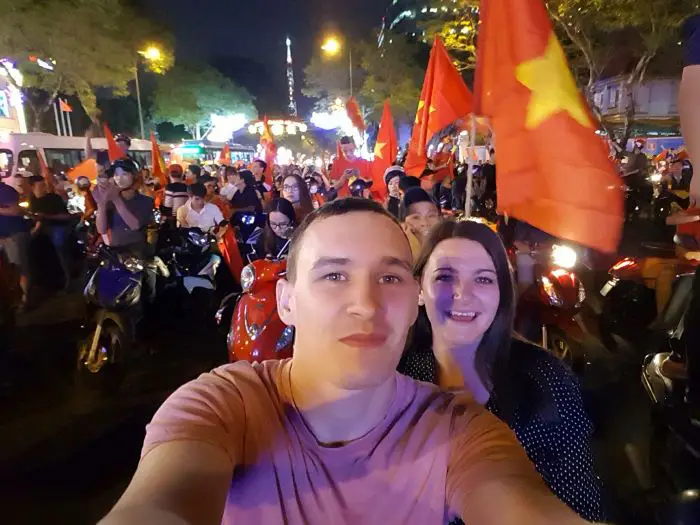 27. Hand fan
Finally on this list of Vietnam souvenirs, is a good ol' hand fan. You will almost certainly be thankful for it if you're travelling in Vietnam during the summer months. The summer months are scorchio, so it makes sense to treat yourself to one of these perfectly crafted hand fans that flutter their bright colours as you waft up it up and down.
Price: 50,000 vnd ($2.15)
Essential resources for travelling in Vietnam
Travel Insurance – It's a good idea to have insurance, particularly if you're going to be riding a motorbike. Our personal choice is Safteywing. You can opt for automatic monthly payments, just like a subscription. It can be purchased whilst already travelling and there is no cap on travel duration.
Visa – You are highly likely to need a visa for Vietnam. iVisa is a fantastic website that is super easy and quick to use. You can quickly make a visa application online.
Accommodation – Booking.com is our go-to when looking to pre-book accommodation online. Booking.com tend almost always to have the best rates and a FREE cancellation policy for most properties.
Overland transport – Our go-to website for overland transport is Bookaway. They have routes all over Vietnam and host a range of transport modes and companies. It is easy to book online and have your ticket sent to your phone.
Tours & Activities – If you want to book tours and activities for Vietnam online, make sure to check out Get Your Guide. Get Your Guide takes the stress out of booking activities abroad. You will also find a range of benefits, such as skip-the-line passes, lunch included in your tours, and so much more.
Like this Vietnam souvenir post? Pin it for later!