Travel agents don't advertise the local nightlife in adverts and leaflets, which is why Hanoi's Beer Street can go unnoticed. So, we're here to bring some attention to a unique and unforgettable evening experience. Find everything you need to know about Beer Street in Hanoi, from the experience, location, opening times, and how to get there.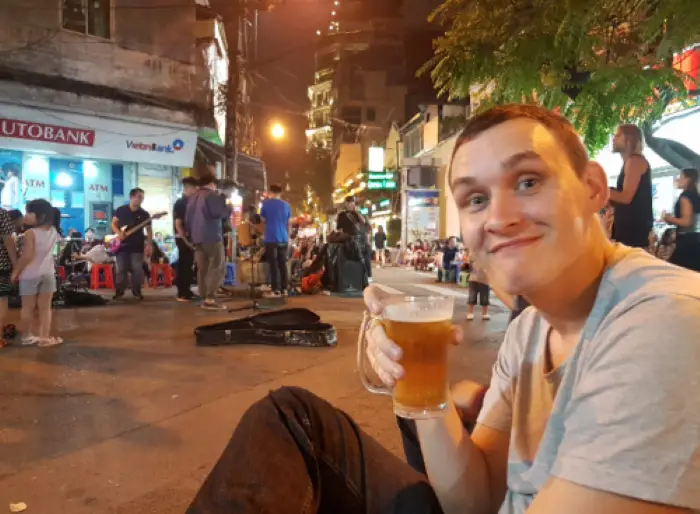 Disclosure: Wander Vietnam contains affiliate links. If you click on these links and make a purchase, we will earn a small commission at no extra cost to you. You can find our full disclosure policy and privacy policy here.
What is Hanoi Beer Street?
Beer Street is simply the quintessential nightlife spot in Hanoi for locals, backpackers, flashpackers, and holidaymakers alike. It's a street lined with fresh kegs of beer, where people from all over the world flock to sit on colourful tiny plastic stools at tiny plastic tables that spill out onto the pavements. The beer here is also one of the cheapest beers in the world. At only 7,000 vnd – 10,000 vnd per cup, you can easily have one of the best nights out in Hanoi for less than $5. Although the beer contains only 4% alcohol, it will only take a few cups for you to feel a little tipsy. So, don't drink too much if you're planning a bus journey from Hanoi to Ninh Binh the following morning!
The Beer Street Hanoi experience
Different Bia Hoi spots
Having been to Beer Street enough times, we've gotten to know all the different makeshift establishments to drink at. When you first come to Beer Street, the owners of each spot will try their best to grab your attention and encourage you to take a seat at their table, often while shouting "Hello beer!". For the most part, the beer and the ambience are the same at each spot, however, we have our favourite location. Right in front of the live music and next to the Havana Club.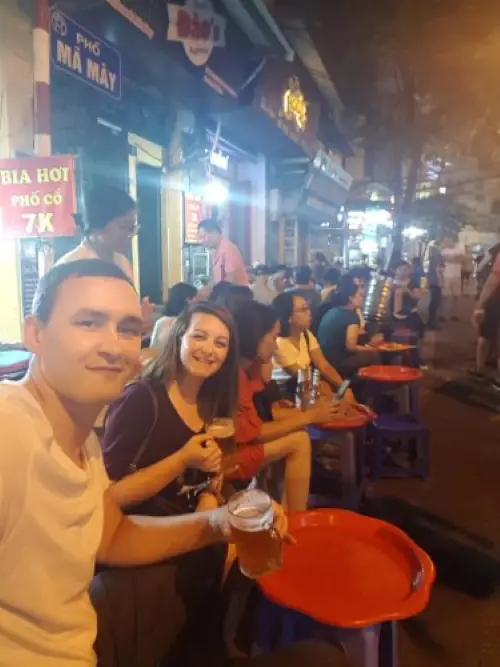 Live music
If you're lucky to visit Beer Street on Fridays or Saturdays, you'll be treated to a performance of live music between 8-10:30 pm. Most songs are sung in Vietnamese, but that doesn't stop tipsy foreigners from mumbling along to the tune whilst dancing around the drum kit and enjoying the vibe. The cheap beer accompanied with free entertainment, make this spot a great place for those on a budget in Vietnam to hang out.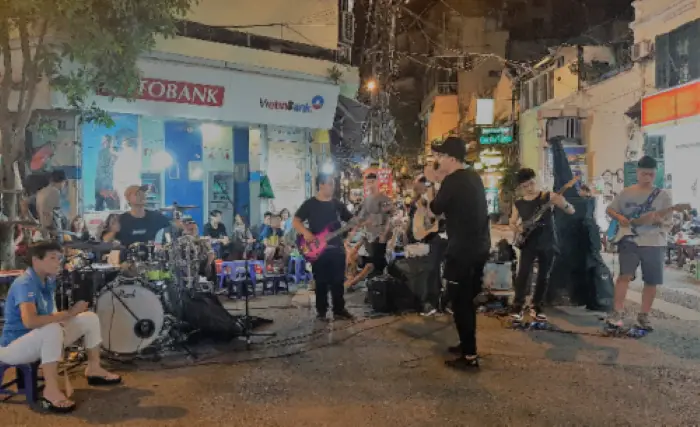 Travel the world from your tiny stool
One of the best aspects of a night out on Beer Street is sitting around a table, meeting fellow travellers and ex-pats. We often find ourselves shoulder to shoulder with people from all around the world, enjoying the local brew and clanging our cups together in different languages. You can experience the diversity of the world from the comfort of your tiny stool!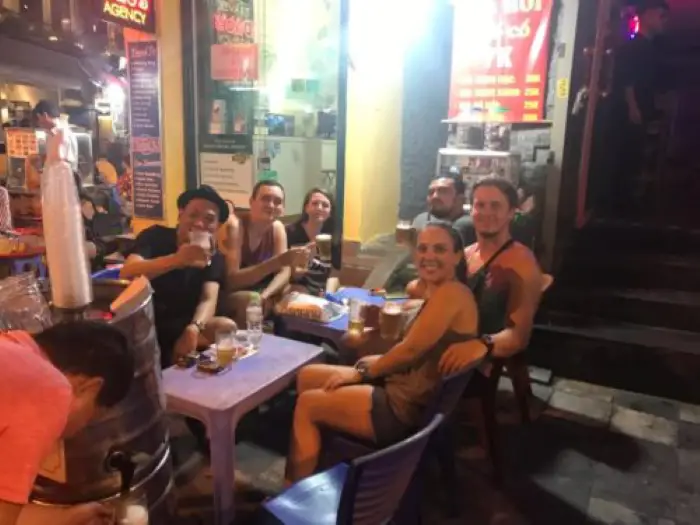 Where is Beer Street?
Beer Street sits along a curved road, between 1 Pho Ma May and 9 Pho Ma May. It's in the heart of the Old Quarter where you will also find many restaurants, tour agencies, and accommodations in this area too.
How to get to Beer Street
Walk
Beer Street is conveniently located in the tourist district, with plenty of hotels and hostels within walking distance. If you happen to stay in the area, we recommend you walk. You can download Maps.Me on your phone to help you navigate. Just be careful of your surroundings and avoid using your phone on the main road. If you need to check your phone for directions, turn away from the road and hold your phone firmly, to avoid opportunists on bikes swiping it out of your hands.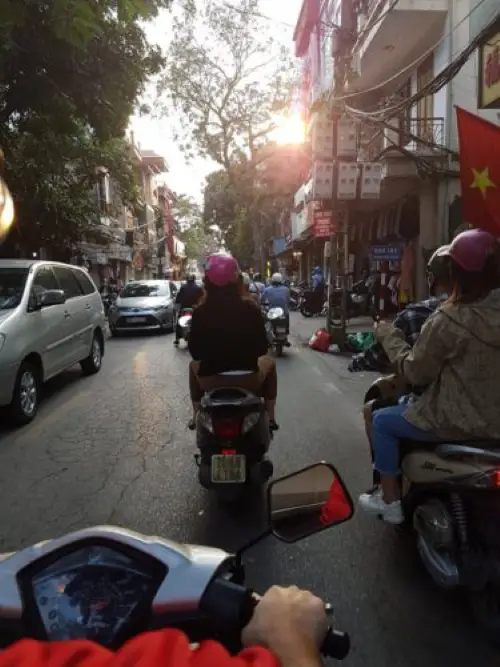 Taxi
If you're not within walking distance, you can easily take a taxi. We recommend downloading the Grab app. The app works just like Uber. You can order a taxi and see the price beforehand. There is no need to book in advance. Taxis generally arrive within 5 – 10 minutes of your ordering. With the Grab app, you can choose to ride comfortably in a car or opt for a scooter taxi.
Whichever mode of transport you choose, we recommend you head for 118 Tran Nhat Duat. From here, you're just a few minutes walk away from your Bia Hoi experience. Most roads around Pho Ma May Street and Hang Buom Street are closed to vehicles on the weekend, making it difficult for cars and bikes to drop you off. From the drop-off point of Tran Nhat Duat, just take your first right and walk through the barricades onto Hang Chin Street. At the top of Hang Chin Street turn right onto Pho Ma May Street…and ta-da! Take a seat and enjoy the night! If you plan to visit Beer Street during the weekdays, you can simply just order your taxi to 1 Pho Ma May.
Opening and closing times
Whilst you can take a stroll down Beer Street at any time of the day, the vendors only come out in force to serve you up some fresh beery goodness at around 5:00 pm every day of the week. Due to a curfew, the police start to turf people out of their seats at midnight. Unfortunately, this curfew is strictly enforced and vendors who refuse to close up shop, risk their chairs and tables being thrown into the back of the police truck and confiscated.
Once the police have passed by, you're still welcome to scrape the bottom of the barrel whilst standing up. Usually, vendors are still happy to pour you a beer until 12:30 – 1 am. After that, you can either call it a night and head to bed or continue the party at one of the local bars such as Havana or Tiki Bar, which are located on the same street.
Tips for visiting Hanoi's Beer Street
Toilets in the area
There will come a point in the evening when it's time to break the seal. At first glance, it may seem like there are no toilets around, but there are! Just ask the vendors and they will point you in the right direction. The toilets are usually tucked away down a nearby alleyway. Make sure you have a pack of tissues with you!
Food
If you're feeling peckish halfway through the night, there are plenty of eateries nearby. On Hang Buom there is a row of Banh Mi shops that are open until the early hours of the morning, as well as some street vendors selling kebabs and fried goods from a cart. If all that fails, there is always Circle K, from which you can pick up a sandwich or a pot noodle.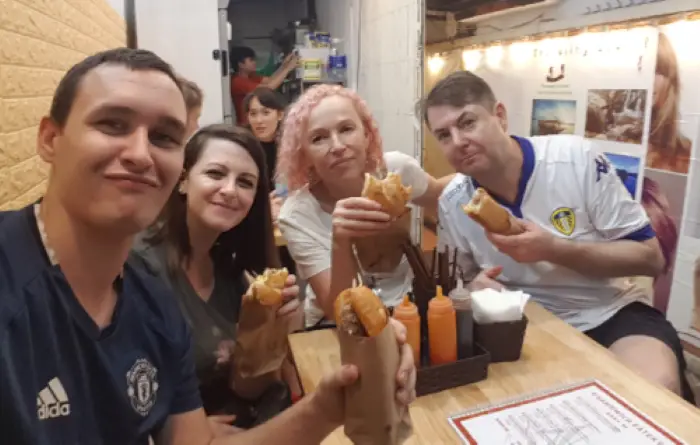 Shoe shiners
Be wary of shine shiners asking to fix and clean your shoes. Most of them mean well but don't allow them to push you to have more work done than you initially agreed upon. To have your shoes polished, you can expect to pay between 30,000 – 50,000 vnd. Be clear that this is all you want! They will try to glue bits and pieces and replace your laces for added costs.
People selling items
During the evening, you may find that local sellers will approach your table to see if you want to buy anything. They are usually selling small items such as lighters, chewing gum, toothpicks, and hair bobbles. Some are even selling typical Vietnamese souvenirs. Most items are priced at 10,000 vnd ($0.43)
Get a pitcher instead of a cup
If you're with a group of mates, consider getting a pitcher instead of a cup. It will be easier and quicker for you to fill up your drinks. Pitchers of Bia Hoi cost around 70,000 vnd ($3).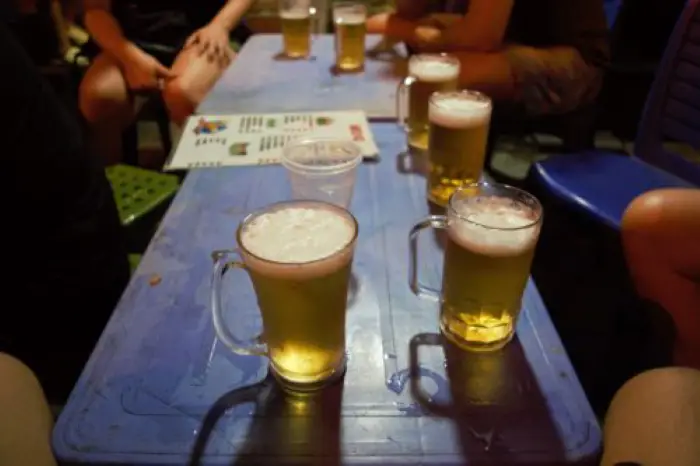 Getting home at the end of the night
At the end of the night, be careful when hopping into taxis. We recommend you order a Grab taxi so you know exactly how much you need to pay. If you do attempt to get a street taxi, whether that be a car or bike, be prepared to barter. Street taxis usually whack on a tourist tax. If you're not sure of how much your journey should be, you can always check Grab for an accurate price.
Click here for more general travelling in Vietnam tips!
Other things to do nearby
Before chugging down cheap beers, there are ample other things to do at night in Hanoi. If you fancy kickin' back and relaxing with a majestic water puppet show, just head over to the famous Thang Long Theatre. Tickets are just 100,000 vnd ($4.28) and shows take place every evening of the week. Furthermore, Hoan Kiem Lake is teeming with life at night, so you can opt for a leisurely walk around the romantic lake. Or, if you're in the mood to hunt for a bargain, you can head over to Hanoi Night Market. From Hanoi Night Market, you can branch off to Beer Street by turning onto Hang Buom Street.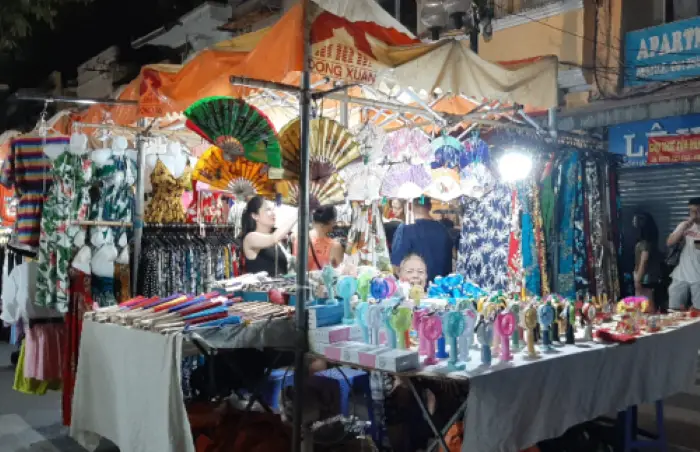 Where to stay in Hanoi
Acoustic Hotel & Spa – A stunning modern hotel in the heart of Hanoi. This hotel is perfect for those who want a relaxing stay in Hanoi to either start or end your Vietnam adventure. The hotel boasts large comfy beds, TVs, spa services, and a lovely rooftop bar for you to kick back and relax at the end of the day.
Nexy Hostel – A relatively new funky hostel that is in an excellent location; just 500 meters from Hoan Kiem Lake. The rooms are modern, clean, and cosy. The hostel has both dorm rooms and private rooms, making it perfect for couples on a budget and for solo travellers who want to meet other people in the bar area.
For more deals on properties in Hanoi CLICK HERE!
Essential resources for travelling in Vietnam
Travel Insurance – It's a good idea to have insurance, particularly if you're going to be riding a motorbike. Our personal choice is Safteywing. You can opt for automatic monthly payments, just like a subscription. It can be purchased whilst already travelling and there is no cap on travel duration.
Visa – You are highly likely to need a visa for Vietnam. iVisa is a fantastic website that is super easy and quick to use. You can quickly make a visa application online.
Accommodation – Booking.com is our go-to when looking to pre-book accommodation online. Booking.com tend almost always to have the best rates and a FREE cancellation policy for most properties.
Overland transport – Our go-to website for overland transport is Bookaway. They have routes all over Vietnam and host a range of transport modes and companies. It is easy to book online and have your ticket sent to your phone.
Tours & Activities – If you want to book tours and activities for Vietnam online, make sure to check out Get Your Guide. Get Your Guide takes the stress out of booking activities abroad. You will also find a range of benefits, such as skip-the-line passes, lunch included in your tours, and so much more.
Like this Beer Street Hanoi post? Pin it for later!