Moving abroad is exciting! A big aspect of relocating is finding a new place to call home. Here is the ultimate guide with everything you need to know about finding accommodation to rent in Vietnam. We will cover how you can find expat accommodation, the different types of accommodation, the pros and cons of different districts to live in, and essential tips for viewing and moving into your new home.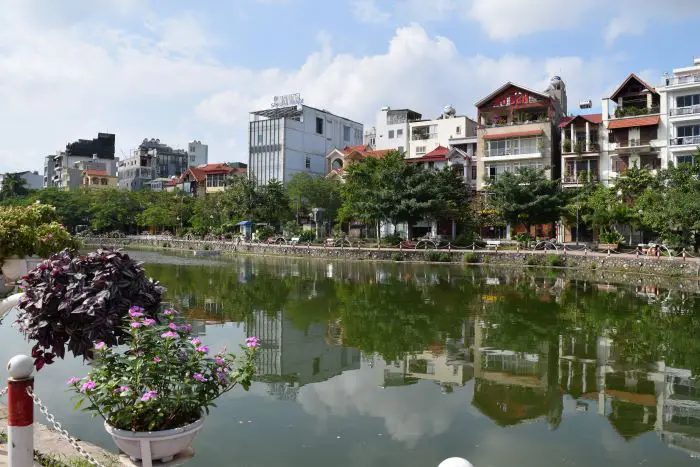 Disclosure: Wander Vietnam contains affiliate links. If you click on these links and make a purchase, we will earn a small commission at no extra cost to you. You can find our full disclosure policy and privacy policy here.
Where to search for accommodation
Let's just start by pointing out that finding accommodation to rent in Vietnam is as simple as ABC. So easy in fact, that on all 3 of our house-hunting expeditions, we have waltzed into a property within a matter of days. One time, we trudged off a 5-hour flight from Japan with nothing but each other and our backpacks. That same morning, we viewed 3 properties, headed to the bank, put down a deposit, and moved in, all within the space of an afternoon! Now how is that for a quick-moving story?
Like finding a teaching job in Vietnam, Facebook is your best friend. You will find many estate agents that bombard Facebook groups with accommodation to rent. You can also post a message yourself with your requirements in the hopes that an agent contacts you with something suitable. Here is a list of Facebook pages you can check for accommodation to rent in Vietnam:
Housing/Apartments for rent in Saigon – Vietnam
Housing for expats in Ho Chi Minh City
Aside from Facebook groups, you can also check the websites we have listed below. However, we have found that contacting agents through their website is often difficult and replies via email come back in snail form; SLOOOW. If you do like the look of a property, there is no harm in sending an email or making a quick phone call.
Types of housing available for expats
Firstly, it's important to know the different types of accommodation that are available for expats to rent in Vietnam.
Shared houses
The most common type of accommodation available for expats is shared houses with other expats. The house is usually a typical Vietnamese-style house; tall and narrow. Houses in Vietnam span over 4, 5, or even 6 floors. A typical layout is to have a kitchen and living room on the ground floor and 1 or two bedrooms on each floor. Each room normally has an en-suite bathroom or at least one bathroom between two rooms. The very top floor is often a rooftop space for hanging out and hosting parties. Shared houses are fully furnished, and you will only need to bring yourself and the basics, such as clothes and toiletries. It is also a good idea to bring new bedsheets too.
Important points about shared accommodation
Meet other expats – This style of accommodation is great for those who are arriving in Vietnam by themselves. They are a great way for you to meet other expats and share the experience of living in a new country together.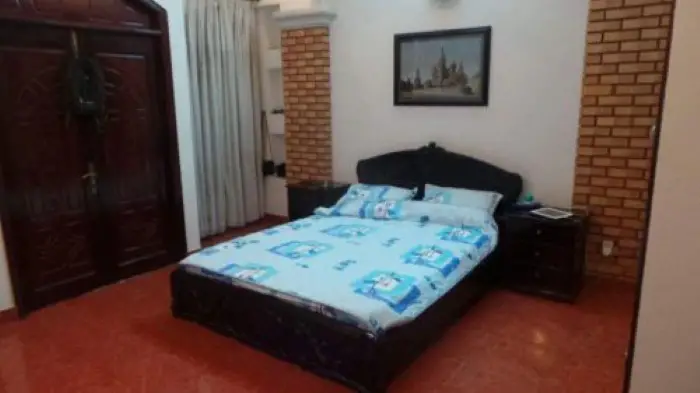 Usually the cheapest – As you are sharing the cost of the house with others, you will find that renting a room is cheaper than renting your own place. Most places (not all) offer just the rooms to rent, so there's no need to worry about finding a group of people to share the house with. For a room in a Vietnamese-style house, expect to pay in the region of $150 – $250 per month, excluding electric and water bills. Bills will be split between the occupants of the household.
Decoration may not be to your taste – The decoration and colours of these types of properties are not always to the taste of foreigners. Coming from the UK, we may well be used to neutral-coloured walls and floors, but here in Vietnam, you don't know what to expect. Will the walls be painted red? Will the floor be tiled green? Who knows! Spin a colour wheel to find out.
Not for the introvert – Living with a group of people you don't know and have never met, maybe a nightmare for some as you run the risk of personalities clashing. No one wants to live in a hostile environment.
Apartments
Another common type of property to rent in Vietnam are apartments. Living in this type of accommodation means that you will be responsible for paying the entire monthly rent. If there is more than one bedroom, you are free to get a group of friends together and split the rent. You can find full-serviced apartments and non-serviced apartments.
Serviced apartments are often newly built and fully furnished. Serviced apartments include a cleaner that will clean your apartment on the days set out in your contract. Last year in Ho Chi Minh City, our cleaner came 6 times a week, did our laundry, and changed the sheets. However, different apartment complexes differ in the amount of cleaning services that they offer. Non-serviced apartment, simply means you will not have the luxury of cleaners and security guards.
Important points about living in an apartment
Cleaners – Having a cleaner is great for the lazy bones out there. You won't need to take time from your busy schedule of exploring and drinking teaching to clean your apartment.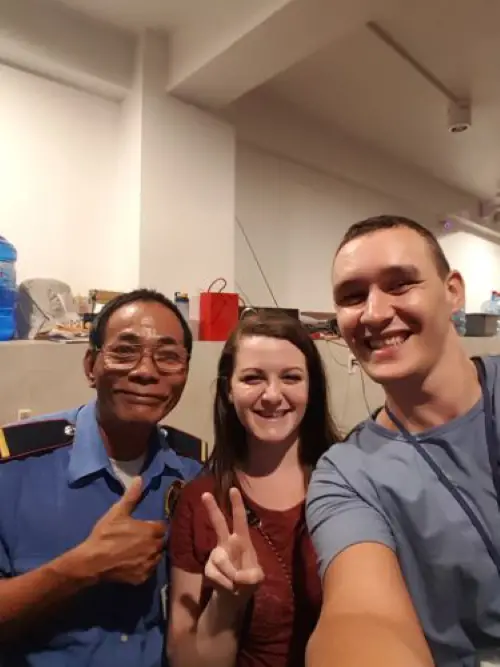 Modernity – Serviced apartments are often newly built and therefore the walls, floor, and furnishings are usually neutral. Meaning, you have the option to add colour and decoration as you like. That being said, you may also feel like you are living in an Ikea showroom for a year if you choose not to add ornaments and decorations yourself. We felt like this last year in Ho Chi Minh, as we point-blank refused to buy loads of decorations to just leave them behind 8 months later.
Feeling lonely – Living in an apartment by yourself can be quite lonely. If you are a family person that is used to living with family or friends in your home country, this can be a difficult transition of having to live and cook for yourself each night.
Price – Prices of apartments are generally more expensive than renting a room in a shared house. For a non-serviced apartment expect to pay between $300 -$450 per month and $450+ for a serviced apartment. The price will rise considerably more depending on the number of bedrooms and facilities offered. For example, an apartment with a rooftop swimming pool will cost more than a small apartment building with no swimming pool.
Homestay exchanges
Finally, there are a few homestay exchanges available. This means that you can stay at a local person's home in a spare bedroom in exchange for a service you will provide for the family. Often, this is teaching English to them or their children for a set number of hours per week.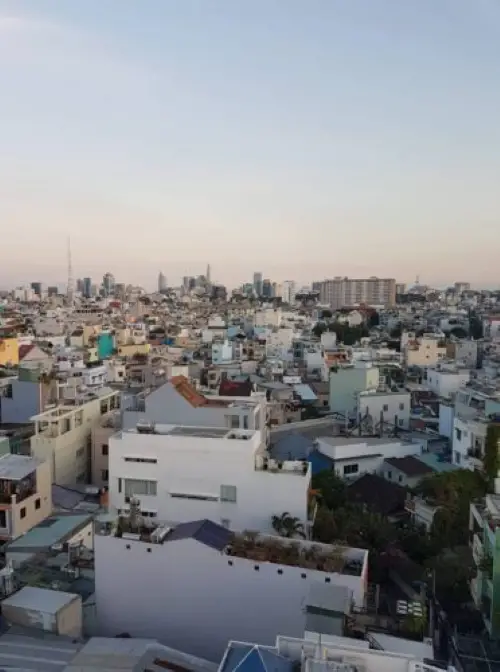 Important points about homestay exchanges
The cheapest option – In exchange for English lessons, this type of accommodation in Vietnam is FREE. This is great for those on a very tight start-up budget.
Difficult to find – These types of opportunities are not as common as shared houses or apartments. Therefore, they are difficult to find. Now and then you may see this type of accommodation spring up on one of the Facebook groups.
Feel like you are always on the clock – You may feel like you never get a break from work. As you will teach English both at home and the office, you may find yourself without space to truly unwind from teaching.
Choosing a district
There are so many districts in both Hanoi and Ho Chi Minh City and you must choose the right one for you. The district you choose to live in can make or break your experience of living in Vietnam. Therefore, we recommend you find an Airbnb for a few days to check out the area before you commit long-term. Here is a breakdown of the most popular districts for expats in each city and their pros and cons.
Ho Chi Minh City districts
Ho Chi Minh City is broken up into a staggering amount of 24 districts, with District 1 being the heart of tourism. The city is extensive, and it can easily take up to 1 hour to travel from District 1 to District 12. From the backpacker-swarmed streets in District 1 to rural farmland and rice paddies in District 12, there is a massive contrast between the districts.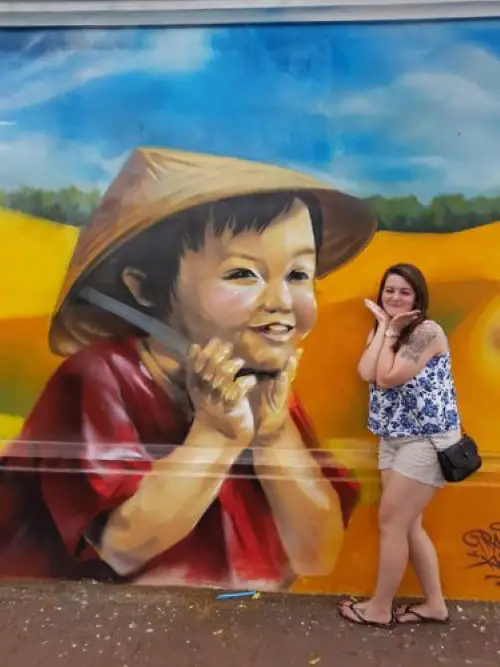 Popular districts where we see most accommodation for rent for expats are in the following areas:
District 2 – The Thao Dien area of District 2 is overrun with expats. If you're looking for a home away from home, with warmer weather but all the home comforts such as Western food, English-speaking people, and Western shops, Thao Dien is for you. Apartments here are modern and tend to be cheaper than modern apartments in local areas.
District 7 – Phu My Hung area of District 7 is also an expat paradise, similar to Thao Dien. Apartments here are modern and relatively cheap in comparison to modern apartments in local areas.
District 1 – Home of entertainment, businesses, and the notorious Bui Vien Street for drunken late-night backpacker parties. D1 is a place where you can have it all, but most expats who are staying in Vietnam for longer than a few months will run away eventually in favour of a calmer district.
District 3 – The best of both worlds! D3 is situated near D1, so you're close enough to the heart of the city, but also far enough away for a more local atmosphere. There are many expats, locals, and tourists staying in this area.
Phu Nhuan and Binh Thanh – Phu Nhuan and Binh Thanh are the business and industrial districts respectively. They are also a popular choice for expats, but not as popular as District 2 and District 7. Here you will find narrow alleyways, small local businesses, and the odd foreigner every so often.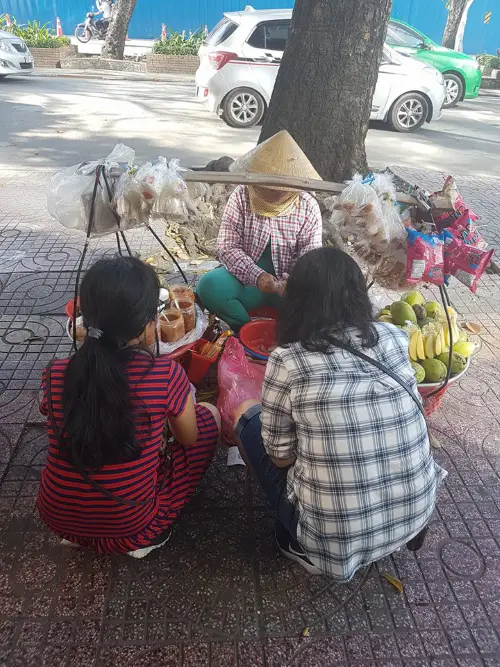 Hanoi districts
Unlike Ho Chi Minh City, Hanoi has fewer districts and is easier to travel from one side of the city to another. Here are a few of the main districts to consider:
Tay Ho – Similar to Thao Dien in Ho Cho Minh City, Tay Ho is expat central. Tay Ho is home to most foreigners living in Vietnam with trendy bars and popular nightclubs. It's quite ironic too, in that its name translates to 'West Lake' and there are so many Westerners living there.
Hoan Kiem – The heart of the Old Quarter and tourist district! Hoan Kiem is a beautiful district with plenty of amenities and entertainment. However, this does come at additional costs in comparison to other districts.
Ba Dinh – Ba Dinh has a great mix of locals and other expats. There are plenty of restaurants, lakes and parks. After riding around the different districts when we first arrived in Hanoi, it was easy for us to decide that Ba Dinh was the perfect district for us.
Dong Da – Dong Da is similar to Ba Dinh in terms of expat numbers, but it feels much more chaotic and doesn't quite have the charm that Ba Dinh does. However, if your work is close to Dong Da, you should consider it.
If you're still torn between Saigon and Hanoi, make sure to check out this Saigon vs Hanoi post!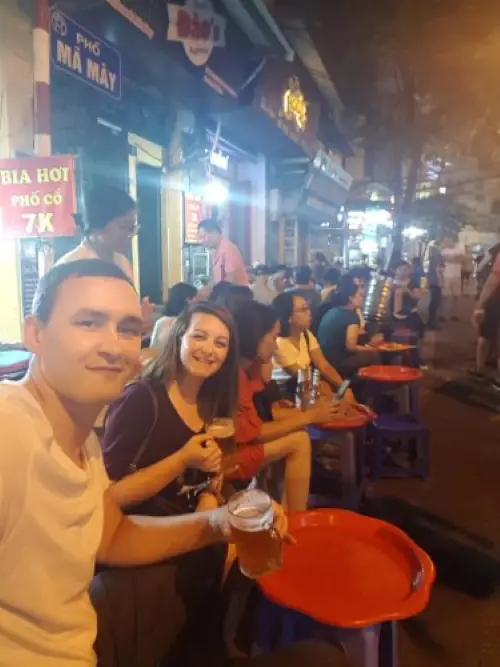 Tips when searching for accommodation in Vietnam
Make a list of facilities that are essential for you
Make a list of things you want the accommodation to include. For example, do you want a swimming pool? Do you want a cleaner? Maybe you want lots of wardrobe space? Or do you need large windows?
Set a budget
Work out your finances beforehand and set a realistic budget. It is easy to look around at accommodation and be tempted to increase your budget. But look at the bigger picture and try to stick to a suitable budget. For example, one year we decided to increase our budget for a pool, thinking we would use it 24/7. Did we use it? Yes. Only about FIVE times! Overall, it was not worth the extra cost.
Understand the different districts
Do you want to be in an area swarmed with other expats? Or do you want to get down with the locals? As mentioned above, the type of district you live in could make or break your once-in-a-lifetime experience in Vietnam.
Be clear-cut about your requirements
When reaching out to agents, whether that be via Facebook, email, or in person, be explicit about what you want. Agents have a split personality; they can be both helpful and annoying. You show interest in any accommodation and they will show you tons of available properties. On the surface this is great. On the flip side, half of those properties won't even meet your requirements. They could be way over budget or have no windows. Make sure the agent knows and understands exactly what you want and don't want. Be nice, but be firm and say NO when they traipse you around town looking at complete shitholes.
Think about the bills
It's a good idea to ask about the bills too. What is included in the monthly rental price and what is not? Is electricity included? If not, how much is it per kilowatts (KW)? We are currently playing 3,500 VND per KW. Are the water rates included? What about gas for cooking? All these are things you will need to factor into your budget.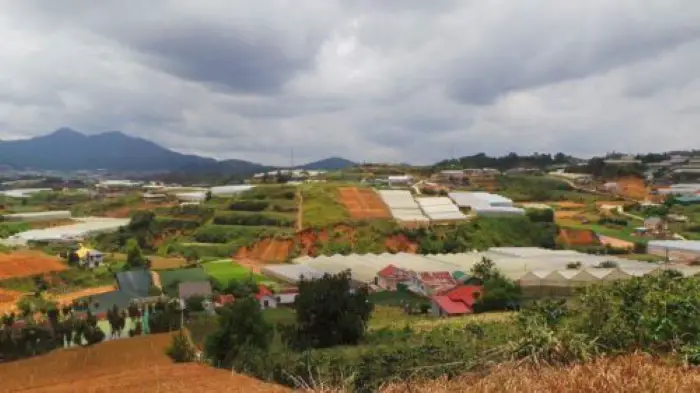 What to look out for when viewing accommodation to rent in Vietnam
Does the property match the photos?
Agents will often use photos of newly refurbished accommodation that was taken back when the pyramids were built.
Sunlight and windows
Natural sunlight may be essential for some, especially us. Make sure that there is good lighting. You will be surprised at how much a dark room can get you feeling low.
Mould and damp
Check the walls and behind the furniture to make sure there is no mould or dampness. This could play havoc with your health.
Check the electrics work properly
Make sure the electrics are all intact and working properly. Take a phone charger with you to see if the outlets work.
What cooking facilities are there?
Do you love frying up a bacon butty in the morning or cooking a healthy homemade dish? Whilst there are plenty of street vendors around, a delicious home-cooked meal won't go a miss occasionally.
Who lives around you?
Ask questions about the other tenants in the house or apartment complex. Are they expats? Or are they locals? Are there many families around?
Check out the neighbourhood
Don't just fall in love with your accommodation, make sure you love the neighbourhood too. It's no good living in a neighbourhood where you are cut off from essential amenities such as shops, restaurants, and even hospitals.
Ask questions
Don't be afraid to ask questions. No matter how silly or trivial they may seem, if you want to know something about the property, you are well within your rights to get the information.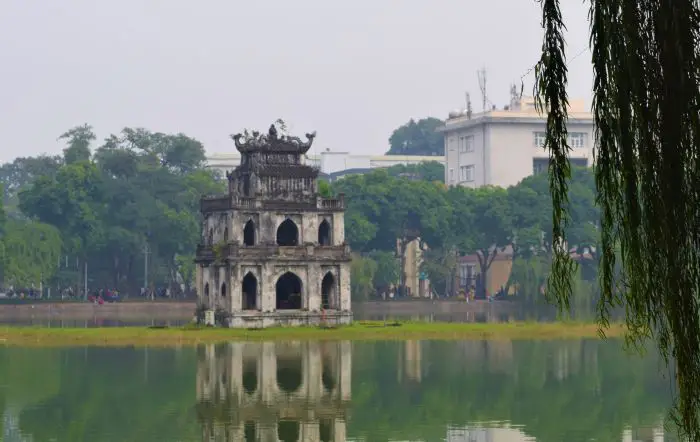 Signing contracts and dealing with deposits
Registering your stay with the police
When you rent in Vietnam, the landlord must register your stay with the local police. This is the law! If a landlord refuses to do this, this is a major red flag and you should leave the property well and truly alone. If you get into any sort of legal battle or contractual disagreement, you won't have a leg to stand on as you are staying there illegally.
Make sure the monthly rent is stated in Vietnamese Dong
You will often find that accommodation is quoted in US Dollars, but you will pay the monthly rent in Vietnamese Dong. When it comes to signing the contract, make sure that the rent is written in Vietnamese Dong to avoid any price fluctuations or disagreements with the exchange rate each month.
Make sure the contract states the start and end dates
Ensure that the housing rental contract states the start and end date. Without an end date, you have no date to go by to hand in your notice and rightfully get your deposit returned.
Put down a deposit and 1-month rent upfront
In order to rent in Vietnam, most landlords require you to put down a deposit, usually equal to 1-month rent and 1-month rent upfront. Make sure your contract states you have put down a deposit.
We hope you have found this guide to finding accommodation to rent in Vietnam useful. Make sure to get in touch if you have any questions. In the meantime, check out ways to prepare for your move to Vietnam!
Like this post on how to find the best accommodation to rent in Vietnam? Pin it for later!