Sun World Ba Na Hills Resort is a newly built French-inspired park that is home to the recent media uproar about the Golden Hand Bridge. However, whilst the bridge is undoubtedly the star attraction, the resort has a whole lot more to offer! Here is everything you need to know about a day trip to Sun World Ba Na Hills Resort in Danang, Vietnam. Find out how to get there, entrance costs, the ideal route, and more.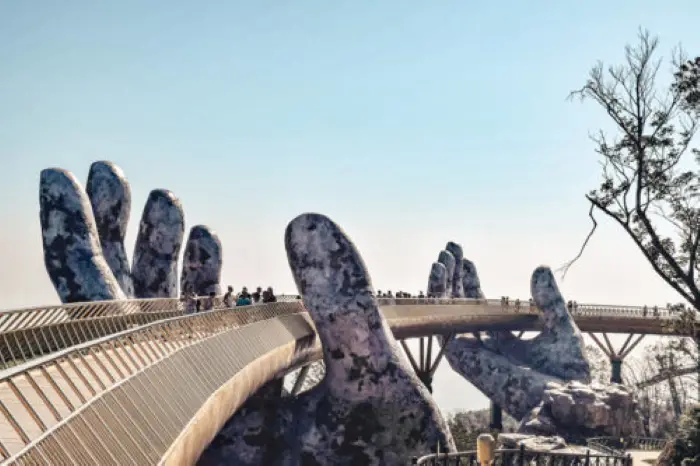 Disclosure: Wander Vietnam contains affiliate links. If you click on these links and make a purchase, we will earn a small commission at no extra cost to you. You can find our full disclosure policy and privacy policy here.
What is Sun World Ba Na Hills resort?
Sun World Ba Na Hills is a brand-new mountain development. It was once home to over 200 villas that were inhabited by a French population in 1991. Today, you can admire the unique French-inspired architecture, that somewhat gives you a magical feeling like being at Disney World. The resort boasts hotels, restaurants, a games arcade, rides, and live entertainment. Even if you don't plan on staying overnight in the resort, a day trip is 100% worth the effort. So, if you have a few days in Danang make sure to delegate one of those days to a trip to Ba Na Hills. Trust us! It's totally worth adding to a backpacking Vietnam itinerary!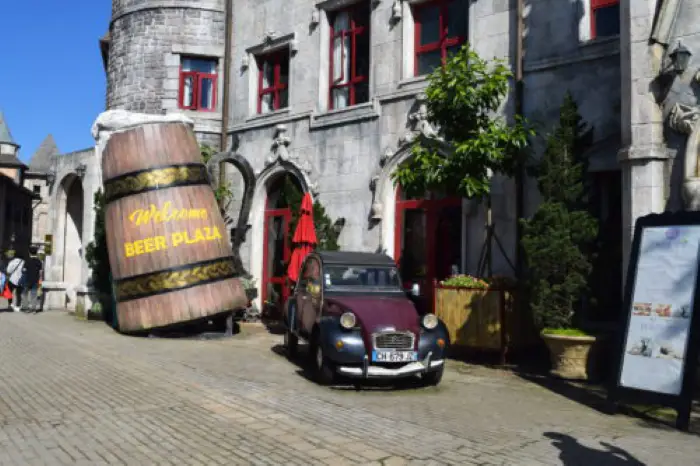 How to get to Sun World Ba Na Hills
Ba Na Hills Resort is located 25 km west of Danang City Centre. The route is pretty much straight forward and you can easily find Ba Na Hills pinned on google maps or maps.me.
Self-drive to Ba Na Hills
The cheapest way to get to Ba Na Hills is to rent a motorbike and drive there yourself. Motorbike rental costs 100,000 – 150,000 vnd ($4 – $7) per day. You will also need to put petrol in your tank. Petrol is super cheap, and you can easily fill up a motorbike tank on around 50,000 vnd ($2.16). If you're self-driving, we recommend mapping Ba Na Hills on a map before you set out to avoid getting lost. Although, the route is very easy to navigate once you get on the main road out of Danang City. If you have previously taken on the Hai Van Pass by yourself, you should have no problems at all driving to Ba Na Hills from Danang.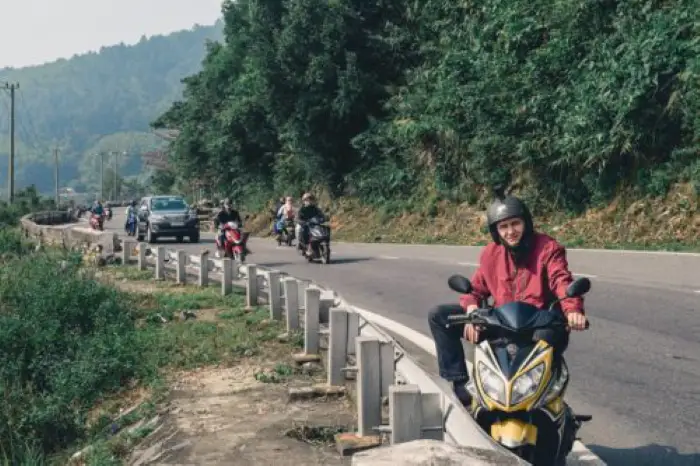 Take a Taxi
If driving a motorbike isn't your thing, then you can easily take a taxi. Taxi companies such as Vinasun or Mai Linh usually run by meter, therefore, we would recommend booking a Grab car or a Grab bike. With Grab you can see the price beforehand, so you know exactly how much you will need to pay.
Take a tour of Sun World Ba Na Hills
Thirdly, you can book a tour from your hotel or a tour company in Danang or Hoi An. Tours are an easy and efficient way to get there stress-free. Tours often include everything from transport, entrance tickets, and food. However, with this luxury comes additional costs. A tour costs between 1,200,000 – 1,300,000 vnd ($50 – $60) per person.
Entrance fees & opening times to Sun World Ba Na Hills resort
When you arrive, you will see a massive car park. The ticket office and entrance are easy to locate from the car park. Prices as of February 2018 are listed below:
Adult: 700,000 vnd (Approx $30) Child: 550,000 vnd (Approx $24). Whilst this may seem expensive for Vietnam, it is well worth working it into your Vietnam budget.
Prices include the cable car up and down, the funicular, access to the golden bridge, access to the French-inspired town, most games in the arcade, toboggan ride, and indoor vertical drop ride.
What's not included: The wax museum, which costs 100,000 vnd ($4.32) per adult and any food you buy.
Opens: 7: 30 am
Closes: 9 pm
For more information, you can visit the Ba Na Hills Resort's official website.
Arrive & purchase your tickets
When you arrive at the resort you will need to park your bike or car, and then walk across the car park. Before entering the cable car, you will need to purchase your entrance ticket from the ticket office. We arrived at 7:30 am during Vietnam's busiest holiday (Tet) and we managed to get tickets easily without any waiting.
Cable car & Golden Hand Bridge
Similar to the cable car at Tianmen Mountain in China, the cable car at Ba Na Hills is one of the longest cable car rides in the entire world! The ride takes 20 minutes to reach the top. There are 5 cable car routes to choose from. Depending on which cable car you choose, you will end disembark at different sections of the park. If you arrive early in the morning, we recommend taking the cable car that leads out onto the Golden Hand Bridge. It's the perfect spot to start the day; catch the sunrise on an almost empty bridge, whilst snapping away at the Insta famous attraction that overlooks the lush green mountainous area.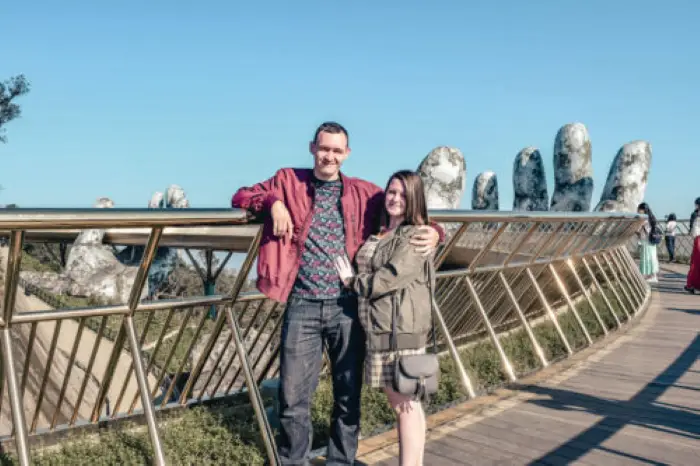 Feel magical walking around the French Village
Next up, head to the French Village to wander around the French-inspired town. Walking around the area will make you feel like you are in a completely different country or world! It kind of reminded us of a Harry Potter movie, with the stone Gothic architecture and buildings that resemble minarets.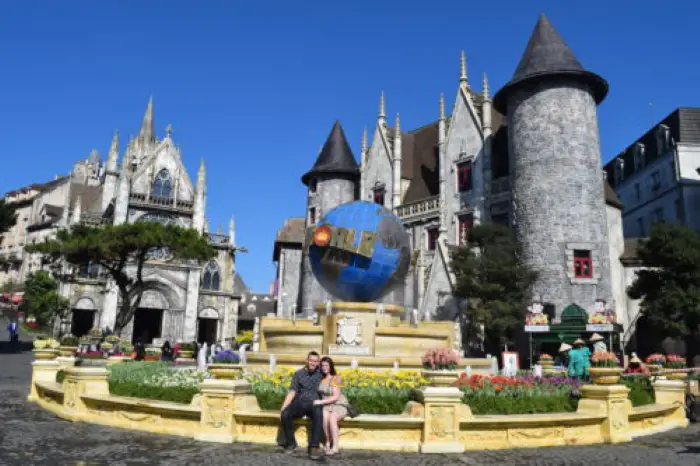 Relax in the spiritual zone
After walking through the French Village, you will come to a cute little zen zone, dotted with pagodas and temples. It's a lovely place to relax and get some peace a quiet.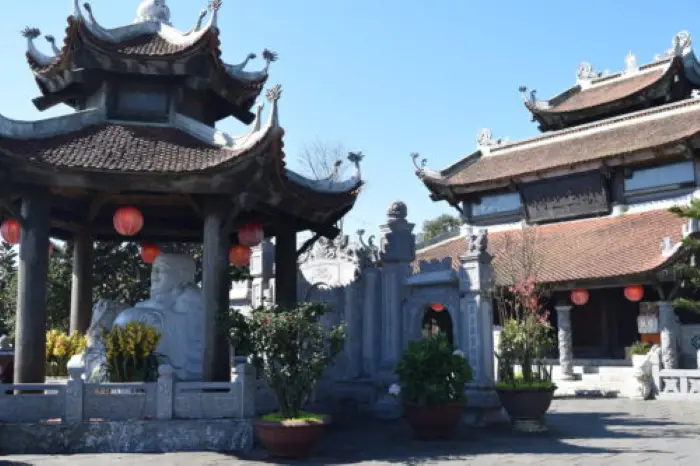 Whiz around on the Toboggan
After some relaxing time in the spiritual zone, it's time for some fun. Head back to the French Village and hop on the toboggan to whizz through the twisting tracks. The toboggan is FREE, as it is included with your entrance ticket. The best bit…you can ride as many times as you wish!
Tuck into some delicious food
By now you're probably feeling a little hungry. There are many restaurants to choose from around the French Village. All of them are roughly the same price for the same type of food. We opted for chicken and chips with an extra-large beer, which cost us a little under $8. If you don't fancy chicken and chips, there are plenty of Russian grills to choose from too.
Be a kid again at Fantasy Park (amusement zone)
After food, it's time for more fun! Head into the 3-story amusement to fill your boots with all types of games; computer games, dance games, and more. It's a gamer's paradise down there! Fancy a shooting game? Or a car game? Or even a boogie on the interactive dance floor? There is plenty of choice for all kinds of personalities. You could spend hours playing games and experiencing the 4D and 5D cinemas.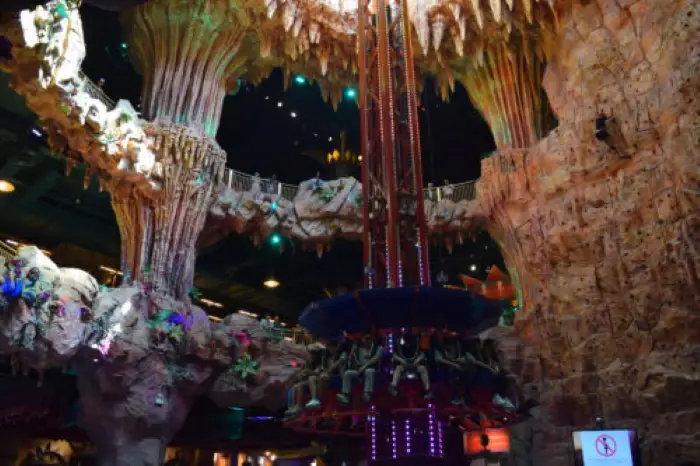 Le Jardin d'Amour – Flower gardens
Finally, after the entertainment and fun, it's time to unwind before heading home. Jump on the funicular to the flower gardens. There are many beautiful gardens and seating areas for you to enjoy the gardens and relax. Wander around and take in nature!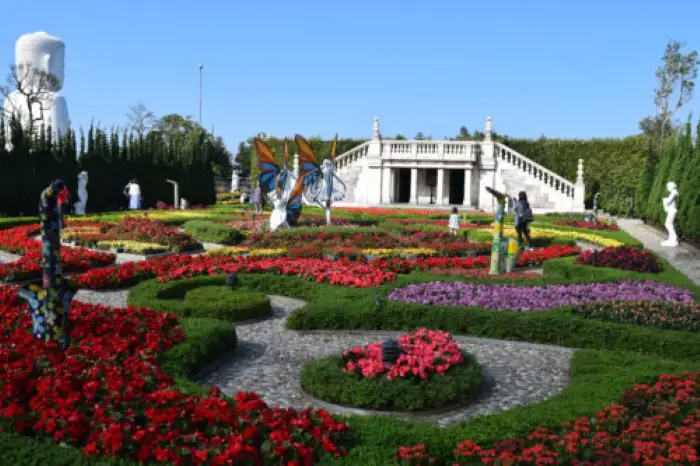 Head home
A day out at Sun World Ba Na Hills Resort can take anywhere from 4 to 8 hours. We went at quite a slow pace, took our time taking photos, played plenty of games, and relaxed in the restaurants and gardens. We arrived at Ba Na Hill at 8 am and didn't leave until 4 pm. After such a long day, we were ready to hop back on our bike and return to Danang City.
Where to stay in Danang
Feeling luxurious: Sofiana My Khe Hotel – A luxury hotel and unbeatable rates. The hotel has a stunning swimming pool, hot tub, and modern rooms. Ditch Bali's fancy floating breakfast for a floating breakfast overlooking Danang's beach in Vietnam.
Budget private room: Homestay Halley – A great homestay for couples looking for budget-friendly accommodation. The rooms are modern and well-equipped.
Dorm life: The Secret Garden – A modern hostel in the heart of Danang. The hostel boasts pod-style beds, which are fab for added privacy.
For more prices and deals on properties in Danang, CLICK HERE.
Essential resources for travelling in Vietnam
Travel Insurance – It's a good idea to have insurance, particularly if you're going to be riding a motorbike. Our personal choice is Safteywing. You can opt for automatic monthly payments, just like a subscription. It can be purchased whilst already travelling and there is no cap on the duration of travel.
Visa – You are highly likely to need a visa for Vietnam. iVisa is a fantastic website that is super easy and quick to use. You can quickly make a visa application online.
Accommodation – Booking.com is our go-to when looking to pre-book accommodation online. Booking.com tend to almost always have the best rates and a FREE cancellation policy for most properties.
Overland transport – Our go-to website for overland transport is Bookaway. They have routes all over Vietnam and host a range of transport modes and companies. It is easy to book online and have your ticket sent to your phone.
Tours & Activities – If you want to book tours and activities for Vietnam online, make sure to check out Get Your Guide. Get Your Guide takes the stress out of booking activities abroad. You will also find a range of benefits, such as skip-the-line passes, lunch included in your tours, and so much more.
Like this Sun World Ba Na Hills post? Pin it!