Moc Chau Island is home to Vietnam's new coolest attraction; a 632-meter-long glass bridge that has already been crowned with a Guinness World Book of Records title! The island itself is a fun place to visit for all the family, with zip-lining opportunities, arcades, entertainment, and places to eat. In this post, you will find essential information for visiting Moc Chau Island. Find out all about the activities to do on Moc Chau Island, the cost of visiting, how to get there, and more.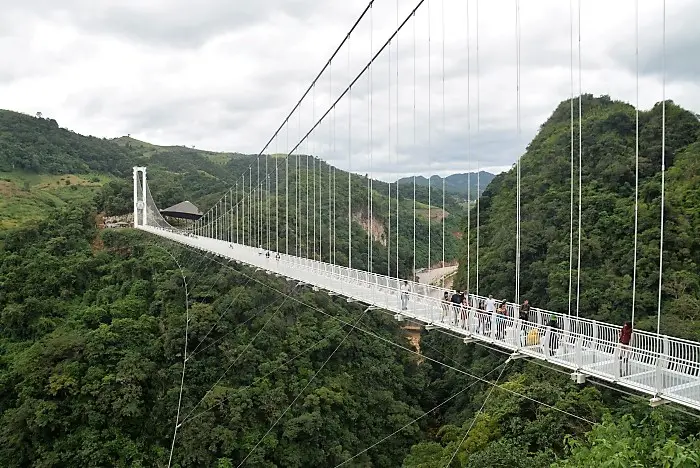 Disclosure: Wander Vietnam contains affiliate links. If you click on these links and make a purchase, we will earn a small commission at no extra cost to you. You can find our full disclosure policy and privacy policy here.
Things to do on Moc Chau Island
Walk the glass bridge
The main attraction of Moc Chau Island is the glass walking bridge. Visitors can brave the walk across whilst peering down at your feet at the abundance of greenery 150 meters below. The bridge snakes around the edge of a mountain for even more of a wow factor.
Zip-line to the bottom of the Island
Once you have finished your walk across the glass bridge, you can either opt to walk to the island area, take one of the free buggies that drive around the park or strap into a harness to whizz down to the bottom on a zip-line. The zip-line suspends you directly above the island and nature. The cost for an adult to take the zip line is 180,000 vnd. The cost for a child is 120,000 vnd.
Ride the slides
Another fun activity on the island is riding the rainbow slides. Visitors can take one of the buggies to the top of the slide departure point. Once you reach the top, hop into a rubber tube and take a whirl down to the bottom, bumping up and down as you go. The cost to ride the slides is 90,000 vnd for 2 turns or 120,000 vnd for 4 turns. Note: You can buy 2 or 4 turns and share the tickets with other people in your group. We purchased 4 turns and were able to use 2 each.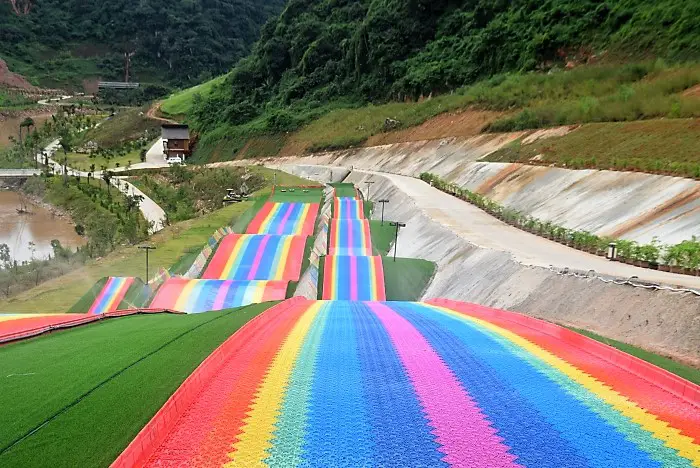 Arcades
Located on the Island is the Batcave games centre. The arcade has typical arcade equipment consisting of air hockey, driving simulator games, a dance floor, and other typical arcade games. Unlike the arcades located on Ba Na Hills in Danang, where the games are free to play, you will need to purchase coins. Coins to play are sold in bundles starting from 100,000 vnd for 20 coins.
Restaurants
Finally, if you're feeling peckish there are a few restaurants on the island. The main restaurant area sells typical Vietnamese food, hot drinks, and a selection of soft drinks. If you're seeking more Western-style food, there is a restaurant called F&G, which sells french fries and fried chicken.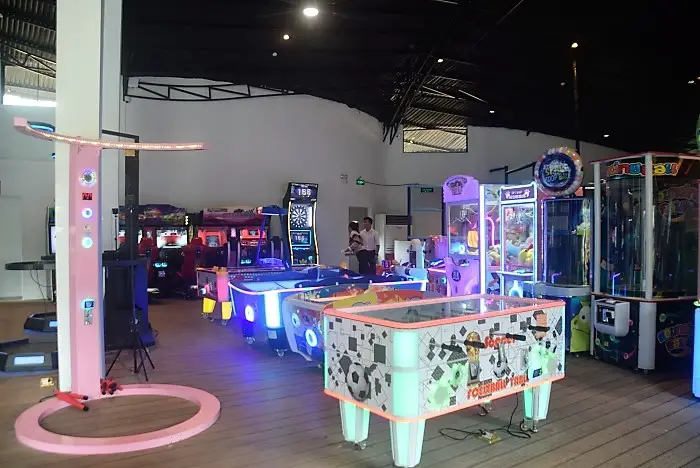 Cost of visiting Moc Chau Island
The cost for an adult to visit the glass bridge only is 550,000 vnd and a further 100,000 vnd to visit the Island on a weekday. To visit the glass bridge only on a weekend or public holiday the price is 650,000 vnd and a further 150,000 vnd to visit the island.
The cost for a child to visit the glass bridge only is 350,000 vnd and a further 60,000 vnd to visit the island on a weekday. For a child to visit the glass bridge only on a weekend or public holiday the price is 450,000 vnd and a further 100,000 vnd to visit the island.
Children under 1 meter can visit for free at all times.
How to get to Moc Chau Island from Hanoi
The easiest and most cost-effective way to reach Moc Chau is to take a minivan or bus from Hanoi. Travellers can take the luxury minivan buses for around 280,000 vnd one the way. The journey takes 4 – 4.5 hours. Buses leave at regular intervals during the day from various locations around Hanoi City. You can check different bus times, and pick-up points on Bookaway for an easy booking experience. Once you arrive in Moc Chau, you can rent a motorbike from your accommodation and drive to Moc Chau Island. If renting a motorbike is not for you, taking a taxi is your only other option.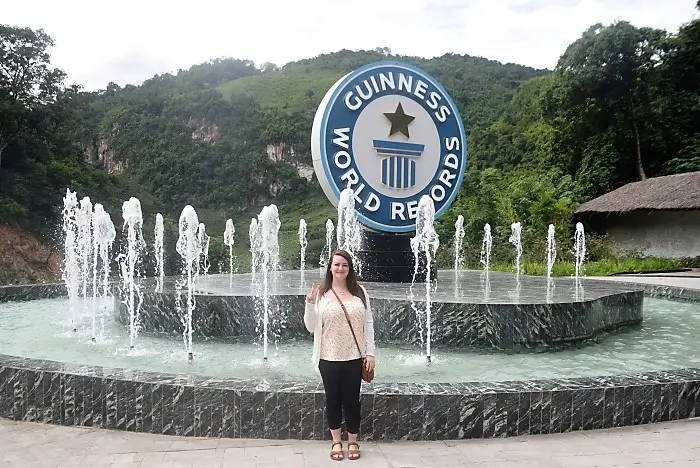 Where to stay in Moc Chau
There are plenty of places to stay in Moc Chau, but one of the highly rated places where we stayed was MAMA's House. We stayed in a private room with a balcony. The room itself was clean and cosy and the views and scenery were perfect for enjoying a morning tea. MAMMA's House is set back enough for a relaxing, quiet stay, but close enough to Moc Chau town for you to nip out to the shops or grab local food if you need to. Aside from the room, MAMA's House also offers hotpot and BBQ for the evening meal. If you wish to take advantage of this (which we highly recommend you do as the food options in town are quite limited), you need to inform the guesthouse a few hours in advance so they can prepare your meal for you.
Essential resources for travelling in Vietnam
Travel Insurance – It's a good idea to have insurance, particularly if you're going to be riding a motorbike. Our personal choice is Safteywing. You can opt for automatic monthly payments, just like a subscription. It can be purchased whilst already travelling and there is no cap on the duration of travel.
Visa – You are highly likely to need a visa for Vietnam. iVisa is a fantastic website that is super easy and quick to use. You can quickly make a visa application online.
Accommodation – Booking.com is our go-to when looking to pre-book accommodation online. Booking.com tend to almost always have the best rates and a FREE cancellation policy for most properties.
Overland transport – Our go-to website for overland transport is Bookaway. They have routes all over Vietnam and host a range of transport modes and companies. It is easy to book online and have your ticket sent to your phone.
Tours & Activities – If you want to book tours and activities for Vietnam online, make sure to check out Get Your Guide. Get Your Guide takes the stress out of booking activities abroad. You will also find a range of benefits, such as skip-the-line passes, lunch included in your tours, and so much more.