The Thang Long Water Puppet Theatre Hanoi show is one of the top-rated attractions in Hanoi. A trip to Hanoi wouldn't be complete without a stop-by at the theatre. The show narrates the lives of countrymen and tells tales of local traditions. It is one of the top-rated attractions in Hanoi. Here's what to expect.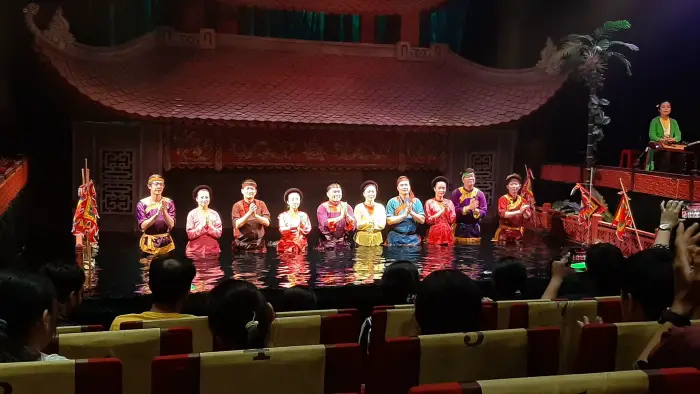 Disclosure: Wander Vietnam contains affiliate links. If you click on these links and make a purchase, we will earn a small commission at no extra cost to you. You can find our full disclosure policy and privacy policy here.
What to expect at the Thang Long water puppet theatre show
The water puppet show revives the 11th-century art form of puppetry. The water puppet depiction is believed to have originated from farmers in the Red River Delta. The show stems from a time when the rice paddies flooded, so local villagers would create entertainment by practising puppetry whist waist-deep in water. Today, the puppeteers perform over the water whilst hiding behind a bamboo screen.
Rather than one long show, there are 17 short sketches to enjoy, each featuring different sets of water puppets that perform dances, folk tales and legends. As well as the water puppet show, visitors can also enjoy the performance of a Vietnamese orchestra who plays traditional music to accompany the show using bamboo flutes, drums, and bells.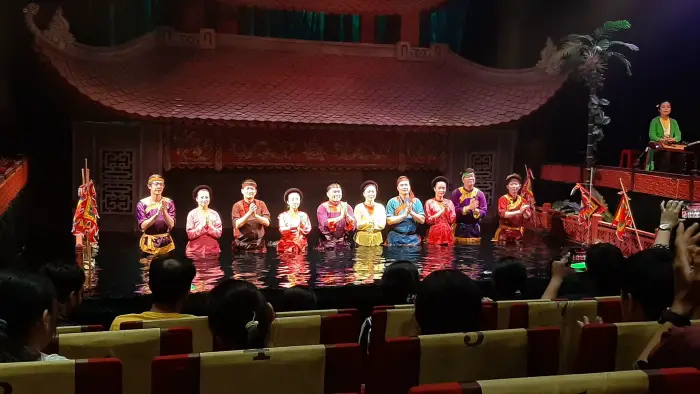 Where is the Thang Long water puppet theatre?
The Thang Long water puppet theatre is located in front of the ancient Sword Lake, known locally as Hoan Kiem Lake. The lake is hard to miss as it is also another popular nighttime attraction that both foreigners and locals enjoy visiting at the weekend. It is also next to Hanoi's Old Quarter and the popular beer street, where most tourist base themselves for the duration of their stay. Here is the full address of the theatre:
57B P. Đinh Tiên Hoàng, Hàng Bạc, Hoàn Kiếm, Hà Nội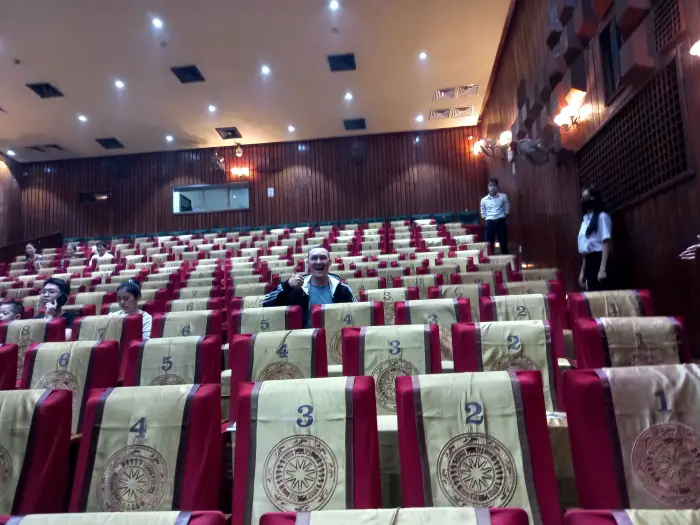 How to get there
The easiest and cheapest way to get there would be to walk from your accommodation if you're staying in the Old Quarter. Most tourists would be within walking distance. You can use Google Maps or Maps.Me to guide you.
If you're not within walking distance, another effective way to get there would be to take a car taxi or motorbike taxi. When taking taxis in Vietnam, we always recommend using the Grab app to book, as you can see the fare beforehand and it minimises your risk of getting ripped off or taken for a ride by the driver.
Be aware! The theatre is facing Hoan Kiem Lake, which gets blocked off to road traffic on Friday evenings, Saturdays, and Sundays. You will need to walk a hundred meters or so if you take a car or motorbike on these days.
Water puppet show Hanoi timings
There are multiple showings throughout the day, each lasting 50 minutes per show. The times for shows are as follows:
Monday – Sunday:-
15:30 pm
17:00 pm
18:30 pm
20:00 pm
21:15 pm
Sunday:-
How much does it cost to watch the water puppet show?
The price of a ticket varies depending on your seat. The closer to the stage your seat is, the more expensive the ticket is. The seats on the first 5 rows cost 200,000 vnd per person. The middle section costs 150,000 vnd per person, and the back seats cost 100,000 vnd per person. You can book tickets in person at the theatre, contact the theatre directly, or book online beforehand or as part of a guided tour.
Here are the details if you wish to contact the theatre directly:
Tel: (84-024) 3 824 9494, 3 825 5450
Email: [email protected]
Website: www.thanglongwaterpuppet.org
Where to stay in Hanoi
Acoustic Hotel & Spa – A stunning modern hotel in the heart of Hanoi. This hotel is perfect for those who want a relaxing stay in Hanoi to either start or end a Vietnam adventure. The hotel boasts large comfy beds, TVs, spa services, and a lovely rooftop bar for you to kick back and relax at the end of the day.
Nexy Hostel – A relatively new funky hostel that is in an excellent location; just 500 meters from Hoan Kiem Lake. The rooms are modern, clean and cosy. The hostel has both dorm rooms and private rooms, making it perfect for couples on a budget and for solo travellers who want to meet other people in the bar area.
For more deals on properties in Hanoi CLICK HERE!
Essential resources for travelling in Vietnam
Travel Insurance – It's a good idea to have insurance, particularly if you're going to be riding a motorbike. Our personal choice is Safteywing. You can opt for automatic monthly payments, just like a subscription. It can be purchased whilst already travelling and there is no cap on the duration of travel.
Visa – You are highly likely to need a visa for Vietnam. iVisa is a fantastic website that is super easy and quick to use. You can quickly make a visa application online.
Accommodation – Booking.com is our go-to when looking to pre-book accommodation online. Booking.com tend to almost always have the best rates and a FREE cancellation policy for most properties.
Overland transport – Our go-to website for overland transport is Bookaway. They have routes all over Vietnam and host a range of transport modes and companies. It is easy to book online and have your ticket sent to your phone.
Tours & Activities – If you want to book tours and activities for Vietnam online, make sure to check out Get Your Guide. Get Your Guide takes the stress out of booking activities abroad. You will also find a range of benefits, such as skip-the-line passes, lunch included in your tours, and so much more.