When looking into TEFL jobs in Vietnam, you will quickly realise that there are a variety of different jobs; some that involve weekends, some that are just a few hours a week, some with large class sizes, and even one-to-one classes. In this post, we are going to take you through the different types of TEFL jobs in Vietnam, so you can decide which one is best for you. No need to waste time applying for jobs that may not suit your style of work. Just read this article so you know the ins and outs of what each type of job entails.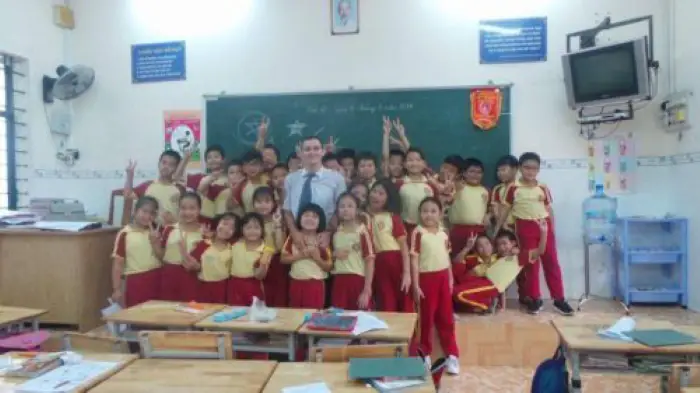 Disclosure: Wander Vietnam contains affiliate links. If you click on these links and make a purchase, we will earn a small commission at no extra cost to you. You can find our full disclosure policy and privacy policy here.
Language Centre TEFL jobs in Vietnam
Work hours and days
Language centres primarily cater for children and young people. Most classes run during the evenings, from 6 pm-10 pm, and all day during the weekends. The hours can vary slightly depending on the language centre. Teachers usually have two consecutive days off during the week. Work hours are between 15–30 hours per week. If the language centre offers adult classes, you may get some hours during the daytime too.
Length of classes
Each class is between 60–90 minutes long. The length of each class will depend on the language centre and the age and level of the learners. For example, classes with young learners will only be an hour-long, due to their attention span. Whereas students studying IELTS, with aspirations to study abroad, may study for 90 minutes or more.
Class size
Classes are small. It is unlikely that there will be more than 20 students in a language centre class.
Age of students
As mentioned previously, language centres usually cater for primary and secondary school learners. The occasional language centre may offer classes for adults.
English language ability of students
The English-speaking ability of students in language centres often tends to be higher than the level of students in public schools. This is often because the students are dedicated to learning English outside of the public school setting and have had considerably more lessons.
Teaching materials
Language centres usually provide all of the equipment that teachers need. They will provide books, paper, and stationery. There are also projectors for teachers to plug in their laptops, to play videos, songs, and interactive ESL games.
Visa assistance
Any legitimate company will help you get the correct work permits and visas to work legally in Vietnam.
Qualifications needed to work in language centres
A 3-year university degree is often required, along with a TEFL certification to work legally in language centres. Language centres often require native speakers but sometimes employ non-natives if they have a proficient level of English.
Average pay/salary
Pay scales can range depending on your experience, the centre you work for, and which city you are based in. In Ho Chi Minh, expect a pay range of $15-20 per hour. In Hanoi expect a pay range of $18–25 per hour. If you have a salary contract, you will need to fulfil your set hours. In the more popular language centre chains, like ILA, there is a pay-scale system. If you are a new teacher, you will be on the lower end of the pay scale, and your salary will rise for each year you teach with ILA. Whereas, in the smaller language centres, the pay is generally the same each year, unless you negotiate.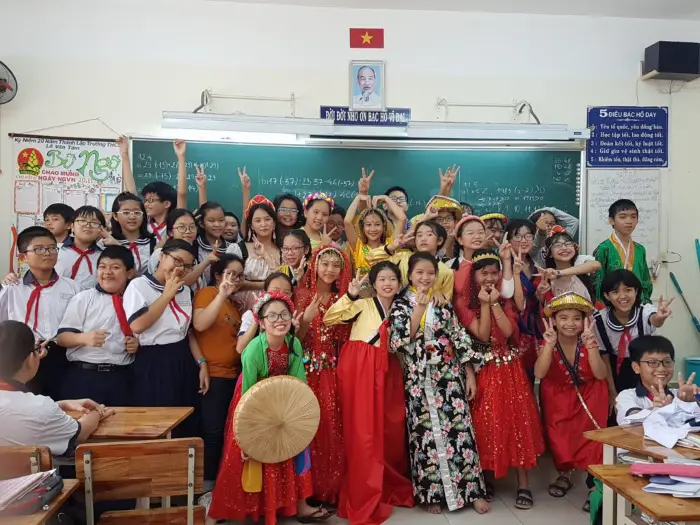 Advantages of working in language centres
Language centre work is great for those who like working nights and prefer to spend their mornings in bed away from the daytime heat. Also, the classes are easier to manage as they are much smaller than in public schools. Centres also provide teachers with more teaching material and equipment, so there is no need to buy your own.
Disadvantages of working in language centres
The main disadvantage of working in a language centre is the weekend and evening hours. These hours may not be suitable for some people, especially us. We wouldn't want to be waking up, and hangin' around waiting for work all day. We prefer to be in our pj's and a film on by 9 pm on a weekday night.
Public School TEFL jobs in Vietnam
Work hours and days
Public schools are open from Monday to Friday, and sometimes Saturday mornings. When we taught in HCMC, some teachers taught on Saturday mornings, but we have yet to experience a weekend class whilst in Hanoi. It's safe to assume that when working for a public school, your weekends will most likely be free. If you cherish your weekends as much as we do, don't be afraid to request that you don't work weekends.
The school day starts around 7 am and finishes at 5 pm. During the school day, from around 11 am–2 pm, there is a long break. However, just because the school is open during these hours, doesn't mean that you will teach a full schedule. A standard workweek can be as little as 15 hours, and as much as 25…30 if you absolutely love money teaching. Different schools have different schedules, but once you have been given a school and a schedule, it is likely to remain the same until the end of the school year.
Length of classes
In secondary schools, classes are 45-90 minutes long. Primary school classes are 35-45 minutes long.
Class size
There is a large number of students in public school classes. Expect up to 60 students! However, this is not always the case. Depending on the class and the school, you could have between 30–60 students.
Age of students
The public school system is broken up into 3 sectors; primary school (Grades 1 – Grade 5), secondary school (Grades 6 – Grade 9) and high school (Grades 10 – 12).
Teaching materials
There are very few teaching materials in public schools. There is usually just a chalkboard and chalk. If the school is 'well-off', there may also be projectors and speakers. You will be provided with the books that you need to teach from. Popular books to teach from are, "Family & Friends" for primary school, and 'Tieng Anh' for secondary school. Good luck with the "Tieng Anh" books! They are pretty much outdated, so if you are given a newer book, such as 'Access' or 'Sparks', count your lucky blessings.
Visa assistance
Teachers who work in public schools are not employed directly by the school. Teachers are employed by a language centre (as mentioned above), which sends their teachers out to public schools. The language centre will be responsible for helping you obtain the correct documents to work legally in Vietnam. The language centre will also be responsible for paying your wage.
Qualifications needed to work in public schools
To work in public schools, you need the same teaching qualifications as you need to work in language centres. A degree and a TEFL certificate!
Average pay/salary
Similar to language centre work, the pay is between $15–25 per hour. The wage depends on the company you work for, and the location in Vietnam you work. The pay is generally higher in Hanoi than it is in Ho Chi Minh City. Hourly rates in HCMC start from $18 and go up to $21. In Hanoi, hourly rates start from $20 and go up to $25. If you're on an hourly rate, it is important to remember that you will not get paid if classes get cancelled. Teachers often feel the brunt of this during exam times, when classes get cancelled for students to do tests in other subjects.
Advantages of working in public schools
The daytime hours! This means that your weekends are free to go backpacking in Vietnam. The teaching hours in public schools allow for the normal working day that you may be used to in your home country. It is nice to be able to get home from a long day at work, put on our PJs and watch endless series and films on Netflix in the evenings. Aside from the work hours being a major advantage, public schools really open your mind to the different education systems across the world. Working in a public school with 60 children in a class can really bring out confidence in people.
Disadvantages of working in public schools
The large class sizes can be problematic. As the classes are so large, it can be difficult for teachers to create good student/teacher relationships. Teachers simply don't have enough time to focus on each student individually. Also, as the class size are quite large, there are plenty of games that you aren't able to do. For example, certain card games, or games that involve moving around the classroom are next to impossible. You really have to get creative when thinking up different ESL games for public school classes.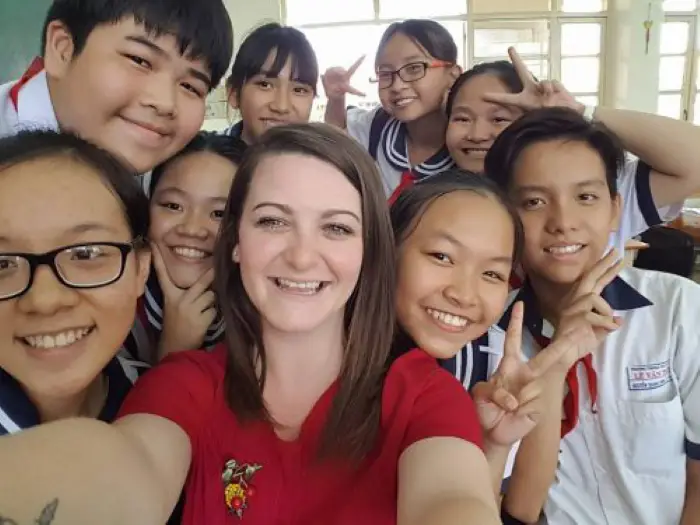 Kindergarten TEFL jobs in Vietnam
Work hours and days
A typical day at a kindergarten starts at 8 am and finishes at 4 pm. If you are a homeroom teacher, you will get a 1-1.5 hour lunch break. If you teach different classes at a kindergarten, your lunchtime will be the same as in public schools. From 11 am-2 pm.
Length of classes
Depending on your role, classes are around 30 minutes to 1-hour. However, if you are a homeroom teacher you will stay with your class all morning and all afternoon.
Class size
There will be no more than 20 students. There will also be 1 or 2 teaching assistants, as the learners are still very young. Teaching assistants are needed in kindergartens as the children need more individual attention. Teaching assistants are Vietnamese and they will help you explain the activities to the children. They will also help you prepare the classroom and tidy up at the end of the day.
Age of students
1–6 years old. Classes will be divided into different age groups. For example, children ages 1-2 will be in one group and so on.
Teaching materials
Expect there to be lots of toys and a CD player for music. The children are usually provided with age-appropriate books too. As it is a kindergarten, there are lots of realia for the teacher to use to help the children understand.
A kindergarten classroom is set up differently from public school classrooms. Public school classrooms are set up in rows, but in kindergartens, the tables are set up in a circle. Having the tables and chairs set up in a circle encourages interactions and is easier for the teacher to see and manage the students.
Visa assistance
Yes, any legitimate company will provide help with this!
Qualifications needed to work in kindergartens
A degree and TEFL certification are often required. Unlike most jobs, in language centres and public schools, there are more job opportunities for non-native English speakers in kindergartens. You only need to look through the many "ESL teacher jobs in Vietnam" Facebook groups to see that the opportunities for non-natives are much higher in kindergartens.
Average pay/salary
The pay is usually based on a salary; meaning you will get paid for the Vietnamese public holidays too. Salaries for this type of position range from $1,200 – $2,000. Unfortunately, the pay gap between native and non-native English speakers does exist in Vietnam.
Advantages of working in kindergartens
Teachers often stay with the same group of students throughout the day. This allows teachers to create great relationships with their students, allowing for better development. As teachers have a small group of students and often stay with the same group(s) during the week, teachers can remember students' names and take note of each student's development. There is nothing like seeing a student develop and grow over the year that you have taught them.
Disadvantages of working in kindergartens
Working with young children can be tiring as you constantly need to be energetic and willing to dance, sing songs, and be a little silly. This style of teaching may not be for everyone. Some may find the teaching topics quite monotonous, and not challenging enough. For example, Jake likes to have a mixture of students to teach; young learners and teenagers. Young learners are fun to teach, but the constant repeating of simple words may get boring for some. Whereas, teaching teenagers or young adults, means that you need to research things yourself, which enables opportunities for teachers to expand their own knowledge of the English language.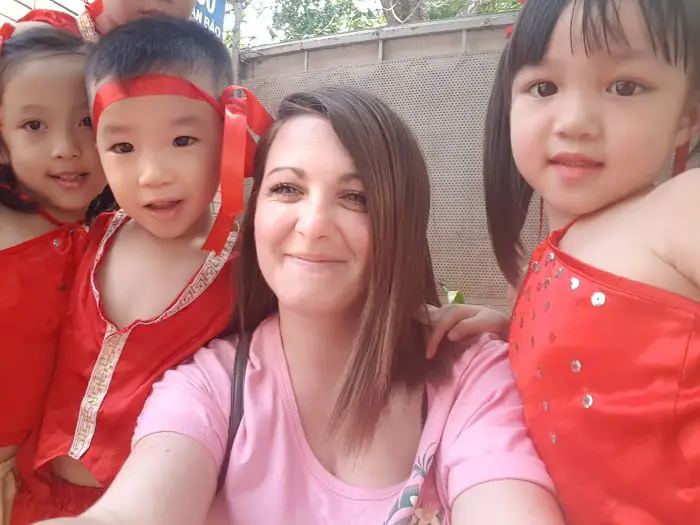 Private School TEFL jobs in Vietnam
Private schools are similar to public schools, except these schools are not government-run. They are privately owned. For example, Vinschool is a popular set of schools in Hanoi that is run by Vin Company.
Work hours and days
The same as public school hours. Monday to Friday from 7 am to 5 pm, with a long break for lunch in-between the day from 11 am to 2 pm.
Length of classes
Classes range from 40 minutes to 90 minutes. The exact length of the lessons depends on the school. Whereas in public schools, you will only see a class once per week for 45 minutes, in private schools, you will see a class more than once. Sometimes up to 4 times per week.
Number of students in the class
The number of students in a class at a private school is a lot lower than in public schools. Expect around 30 students.
Age of students
Grade 1–12.
Teaching materials
You will be provided with books and the classrooms are equipped with projectors, coloured pencils, books, and toys.
Visa assistance
Yes, a legitimate company will insist that you have the correct documents to work legally.
Qualifications needed to work in private schools
A degree and TEFL certification are required. Private schools may also request that you have previous teaching experience.
Average pay/salary
These types of positions are almost always salary based. Pay is upwards of $1,500
Advantages of working in private schools
Private schools are great for an experienced teacher. You get to see your classes more than once per week, which allows more time to focus on their strengths and weaknesses.
Disadvantages of working in private schools
Private schools are still a business and the main goal of private schools is to make money. This may cause conflict for dedicated teachers that may disagree with certain aspects. For example, some parents may be pushy and expect the teacher to give the students lots of homework. Of course, the school will bow to the request of the parents, but some teachers may disagree with this.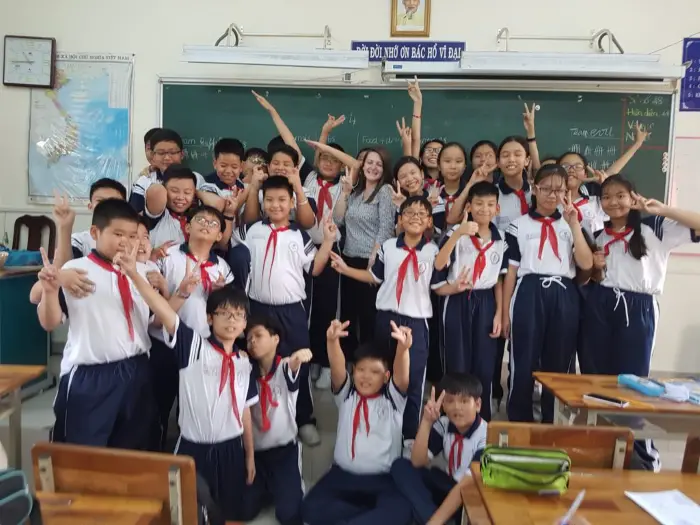 Private Tutoring
Work hours and days
You decide! Do you like waking up early and working? Go for it. Try to find adults to teach during this time as children will be at school. Alternatively, if you are more of a night owl, you will find plenty of work in the evening with children and adults.
Length of classes
As you're the boss of yourself, it is up to you. However, most private students will want at least a one-hour lesson. Pushy parents, and older students dreaming of studying abroad, may even request a 2-hour lesson.
Age of students
The age of the students you teach is totally up to you. Find work within the age range that you feel comfortable with.
Teaching materials
You will need to provide your own. Some students may have a particular book that they would like you to help them study from, but it is also a good idea for you to have your own materials just in case.
Visa assistance
If you are also working for a company alongside taking on private tutoring, your company should be able to obtain you a work permit and visa. However, unlike the other types of TEFL jobs in Vietnam, if one-to-one tutoring is your only source of income, you will need to enter Vietnam on a 3-month business visa. Once this visa expires you will need to leave the country to renew it. A visa agency will be able to help you obtain this type of visa.
Qualifications needed to work privately
There are no set qualifications, but it's better to be honest with your clients as they may request to see your qualifications.
Average pay/salary
You set your own pay. If you have the relevant qualifications, expect $18 upwards.
Advantages of private tutoring
You get to set your own hours and wage. Your schedule is completely tailored to how you like it.
Disadvantages of private tutoring
Income may not be steady. Clients will come and go, and there could be a period of time when work starts to dry up.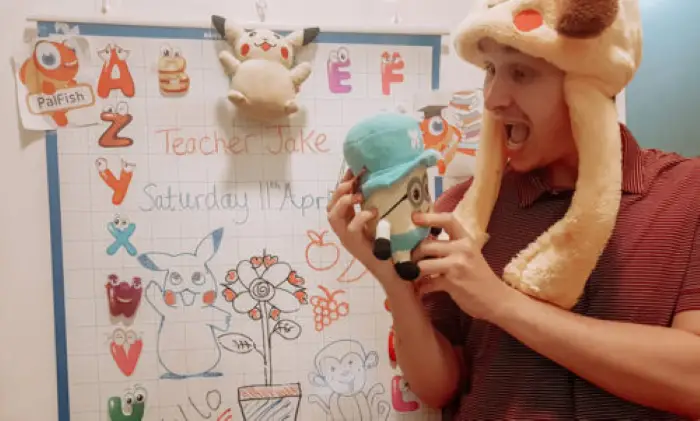 International schools
Although working in an international school is not technically a TEFL job, we thought it was still important to give it a quick mention. Working at an international primary school means that you will teach not only English but all subjects. If you work at an international secondary school, you will teach your specialist subject. This type of work is just like a teaching position in the UK or the USA. You will need to apply for these positions months in advance, and you will need to have a PGCE or equivalent teaching certificate from your home country. For positions at a British International School, you will also need to have a few years of teaching experience too. The pay is much higher than the other jobs mentioned in this post.
Table comparison of the different types of TEFL jobs in Vietnam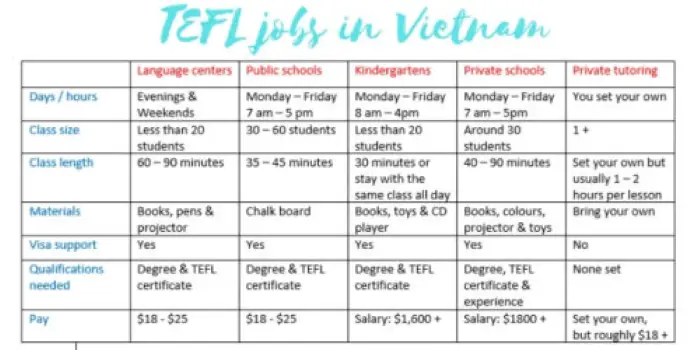 So, now you know the different types of TEFL jobs in Vietnam, which one is best for you? We hope this post has given you a better understanding of how the ESL world in Vietnam works. Let us know if you have any questions by reaching out to us by email or social media. We are happy to share our knowledge. For further reading, make sure to check out our "How to get the best teaching job in Vietnam" post.
Like this post about types of TEFL jobs in Vietnam? Pin it for later!